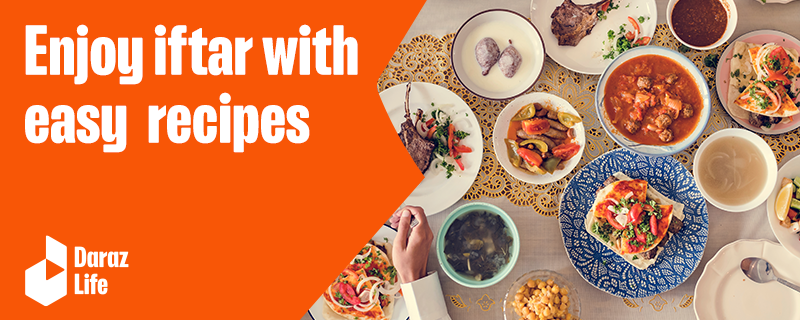 Easy Ramadan Special Recipes – Quick Iftar Recipes for Ramzan with Zarnak Sidhwa!
Ramadan is here and we're all looking forward to the blessings this month brings for all of us. After the daily prayers and worship, the next most important question that arises in our mind is finding different Iftar recipes that everyone would love! This is why, Daraz with Zarnak Sidhwa brings you easy Iftar recipes for Ramzan with an Daraz in-app Ramadan exclusive show Ramzan Recipes Daraz Say!
If you're looking to make something this Iftar and not follow the same old style of pakoras, samosas, and fruit chaat, we have listed some super easy to make Iftar snack recipes and ideas that are not only easy to make but fun as well.
[Ramadan Iftar & Sehri Calendar 2022]
Get ALL your Ingredients from dMart. Shop online for your groceries with exciting discounts and convenience!
[Our Ultimate Guide to Buying Groceries Online from dMart!]
Easy Iftar Recipes for Ramadan 2022 by Zarnak Sidhwa
Find all the Ramadan special recipes that is perfect for a delicious Iftar at home! find the list Iftar recipes for Ramzan below. Top Pakistani chef Zarnak Sidhwa brings you some exciting Iftar food ideas and recipes for Ramzan that you can watch every Monday throughout Ramadan on the Daraz App. Catch all the recipes and videos below!
KUNGPAO CHICKEN
Ingredients:
½ kg chicken breast fillets cubed
1 tsp salt
1 tsp black pepper
2 tablespoons cornflour
2 tablespoons ketchup
2 tablespoons soya sauce
2 tablespoons balsamic vinegar
2 tsp chili sauce
2 tablespoons sesame oil
5 whole dried chillies
1 tsp crushed black peppercorns
1/2 cup dry roasted peanuts
1/4 cup chopped coriander leaves
2 spring onions, cut into 2-inch pieces
Method:
Mix the chicken cubes with salt, pepper and cornflour and mix well. In another bowl, stir together the ketchup, soya sauce, vinegar and chili sauce. Heat oil. Add half crushed peppercorns, dried chillies and stir-fry. Add the chicken and stir-fry until colour has changed. Add the reserved sauce and peanuts and cook until the sauce has reduced slightly and is sticky and has a thicker consistency. Add the coriander and spring onions and toss to coat. Transfer to a serving plate and garnish with ground peppercorns.
EGG FRIED RICE
Ingredients:
Eggs whisked 2
Rice boiled and cooled 2 cups
Spring onions chopped2
Sesame Oil 1 tablespoon
Oil 1 tbsp
Garlic 1 teaspoon
Carrot chopped 1
capsicum chopped 1
Soya sauce 2 teaspoons
Salt to taste
White pepper powder 1/4 teaspoon
Vinegar 1 tablespoon
Method:
Heat oil in a wok, add egg and let scramble, quickly mix and then add the garlic and sauté for 1 minute. Add carrot and capsicum and continue to sauté for another minute. Add rice and cook on high heat for a minute or until the rice is heated through, tossing continuously. Add soya sauce, salt and white pepper powder and mix gently. Mix in vinegar and serve hot, garnished with the reserved spring onion greens.
STIR FRIED NOODLES
Ingredients
150gm egg noodles
1 tbsp oil
1" ginger chopped
2 garlic cloves, chopped
1 carrot, cut into matchsticks
1 capsicum deseeded and thinly sliced
2 spring onions, finely chopped
85g beansprouts
2 tbsp soya sauce
1 tsp white vinegar
Method
Heat oil in a wok stir-fry the ginger, garlic, carrot, capsicum over a high heat for 2-3 minutes. Drain the boiled noodles thoroughly, add to the pan with the onions and beansprouts, stir-fry for 2 minutes. Mix together the soya sauce and vinegar, stir into the pan, then cook for a minute. Serve immediately
SHIKANJBEEN
Ingredients:
Few mint leaves
1 cup Water
Pinch of Black salt
Few Ice cubes
Juice of 2 Lemons
Method:
Blend the mint leaves with water ice cubes lemon juice black salt and serve immediately.
---
Easy Iftar Desserts Recipes for Ramzan
Have a sweet tooth? Then you MUST try these super easy Iftar snack ideas for those who love to have desserts.
FRUITY VERMICELLI DELIGHT
Ingredients :
Milk 1 liter
Colored vermicelli 1/2 cup
Condensed milk 1/2 tin
Cream 1 packet
Strawberry Custard powder 2 tbsp
Corn flour 1 tbsp
Milk 1/2 cup
Fruit cocktail 1 tin
Almonds and pistachioes 2 tbsp
Method:
boil the milk, add colored vermicelli, cook it for 10 minutes. Now take a bowl add custard powder, corn flour, milk mix it well. Then cook it till becomes thick. Now cool a little, add condensed milk and cream. Fold in fruit cocktail, garnish with almonds and pistachios chill and serve.
TRIFLE
Ingredients:
1 sponge cake, cut in cubes
1 tin fruit cocktail
Syrup of the fruit tin
Strawberry jam
1 packet banana jelly, dissolved in 1 cup water
1 packet strawberry jelly, dissolved in 1 cup water
3 tbsp Vanilla custard powder
1 tsp vanilla essence
2 cups milk
3-4 tbsp sugar
2 packets cream, to decorate
2 tbsp icing sugar
Method :
In a deep bowl, lay the cubed sponge cake pieces, sandwiched with strawberry jam, moisten with fruit syrup, add the fruit, cubed jelly pieces and top with vanilla custard, let chill and then top with cream mixed with icing sugar and jelly.
DATE HALWA
Ingredients
200 gm dates pitted and chopped
1 cup milk
1 1/4 cup caster sugar
1/4 cup ghee
100 gm cashew nuts
1/4 tsp cardamom powder
Method
Place milk and dates in a pan and bring to a boil. Lower the heat and cook till thick.
Fry the cashew nuts in half the ghee and keep aside. When dates mixture is thick (looks blended), add the sugar, ghee, and cashews and cook further till mixture leaves sides of pan.
Add the elaichi, mix well and spread in a thin layer on to a greased surface and leave to set.
When cool and set, slice into desired sized pieces and serve.
FRUITY COLADA
Ingredients:
100 grams strawberries, frozen
100 grams pineapple
3 bananas
1 cup coconut milk
2 tbsp sugar
Method :
Purée frozen strawberries, frozen pineapple, bananas and coconut milk in a blender. Add sugar to taste. Serve.
---
Samosas Recipes for Iftar
Ramadan is incomplete without samosas, here Zarnak Sidhwa presents some super different and delicious Samosa recipes for iftar snack recipes!
CHICKEN SAMOSAS
Ingredients:
Chicken breasts, chopped 2
Kashmiri red chili powder- 1 tsp
Turmeric powder- ⅛ tsp
All spice powder- ½ tsp
Fennel powder- 1½ tsp
Coriander powder- 1 tsp
Ground pepper- ½ tsp
Salt- to taste
Oil- 2 tbsp
Onions, chopped 2
Ginger-garlic paste- ½ tbsp
Green chilies, chopped- 1 or 2
coriander, chopped- ¼ cup
samosa patti as required
flour
water
Oil
Method
Cook chicken with Kashmiri red chili powder, Turmeric powder, all spice powder, Fennel powder, Coriander powder, Ground pepper, Salt till done and set aside to cool.
Heat oil, add onions salt, ginger-garlic paste and green chili, saute till onions turn golden.
Add the cooked chicken stir fry for a few minutes, add coriander and remove the pan from the heat, keep aside.
Make a paste using 1 tbsp flour and very little water.
Add the chicken filling into the samosa patti and seal with the flour paste.
Heat oil and deep fry the samosas till golden brown Transfer to a kitchen paper towel.
Serve warm with tomato ketchup or chili sauce.
SMOKY MOONG DAAL SAMOSAS
Ingredients:
Moong Daal 250 gram
Spring Onions 125 gram
Coriander Leaves 1 bunch
Mint Leaves 1/2 bunch
Green Chili 12- 15
Salt to taste
Samosa patti
Charcoal 1 small
Flour paste to seal
Oil for frying
Method
Wash and soak daal for 15 minutes, half boil and then strain and let it cool. Chop spring onions, coriander leaves, mint leaves and green chilies. Mix all these ingredients with daal.
Add salt to taste. Give smoky flavor to the above mixture by heating charcoal on the stove and adding some oil to it. Take a samosa patti, make samosa shape and fill with moong daal filling then seal with flour paste. Deep fry in hot oil and serve with green chutney.
SWEET COCONUT PUFFS
Ingredients
Coconut 250 gm (dessicated)
Sugar 1 cup
Khoya 100 gm
Almonds 1 tbsp (chopped)
Pistachioes 1 tbsp (chopped)
Raisins 1 tbsp
Clarified butter for frying
Green cardamom powder 1 tsp
Rose Water 2 – 3 tsp
Samosa patti for filling
Oil for frying
Rose petals
Icing sugar to sift
Method
Sauté desiccated coconut, sugar, khoya, almonds, pistachios and raisins in clarified butter.
Once golden brown add cardamom powder and rose water, keep aside.
Once cooled down fill in samosa patties seal with water and flour mixture and deep fry in hot oil till golden and serve sprinkled with icing sugar and rose petals.
WATERMELON COOLER
Ingredients:
2 cups Watermelon (chopped)
2 tbsp Roohafza
1/2 tsp Chaat Masala
1/2 tsp Black Salt
Juice Of 1 Lemon
few mint Leaves
Method
Bottom of Form
Top of Form
Bottom of Form
Puree watermelon cubes in a blender, then add Roohafza.
Strain the puree. Add fresh mint leaves, chaat masala, black salt and lemon juice. Refrigerate and serve chilled watermelon cooler in tall glasses.
---
Iftar Fast Food Recipes
Looking to try something different than Pakistani Iftari recipes, then try these fast food recipes for Iftari that you and your kids are going to love!
PITA BREAD PIZZA
Ingredients:
2-3 pita breads
2-4 tablespoons pizza sauce
1⁄4 cup mozzarella cheese, shredded
Pinch of oregano, basil each
olive oil
toppings if any (boiled shredded chicken or sliced sausages or sliced pepperoni etc)
Method
Brush on a little olive oil on the pita. Spread sauce on top. Sprinkle on the shredded cheese. Sprinkle on pinches of oregano, basil and garlic powder. Place on baking sheet, bake for 5-7 minutes at 180 degrees C or until cheese is melted.
CRUNCHY CHICKEN BURGER
Ingredients
2 Chicken breast
½ tsp Salt
½ tsp Black pepper
½ tsp Mustard powder
1 tbsp Vinegar
1 Egg beaten
2 tbsp Milk
2 tbsp Bread crumbs
2 Hot dog buns
2 Lettuce leaves
4 Tomato slices
Honey mustard sauce (as required)
Thousand Island dressing (as required)
Method
Marinate 2 chicken breasts with ½ tsp salt, ½ tsp mustard, ½ tsp pepper and 1 tbsp vinegar. Coat in 1 beaten egg and 2 tbsp milk mixture, then in crumbs, and deep fry in frying pan. Cut the chicken breasts into two fingers and use in the burger, toast the buns with butter, spread with sauce, put 2 lettuce then fried chicken, 4 tomato slices, top with second sauce, cover with bun, serve with fries.
SPICY POTATO WEDGES
Ingredients:
½ kg potatoes, unpeeled, cut into wedges
1 tbsp oil
2 tsp ground cumin
2 tsp red chilli powder
1 tsp ground white pepper
2 tsp salt
1 tsp mango powder
To serve:
Method :
Heat the oil and cook the onions until slightly coloured. Add the ginger, garlic and green chilli and continue to fry until all the liquid has evaporated. Transfer the mixture to a plate, spread out and allow to cool.
Bring a large pan of salted water to the boil and add the potato wedges. Boil for 5-6 minutes, then drain. Place the parboiled potatoes on a baking tray, drizzle with the oil, then toss to coat. Put the tray in the oven and roast at 200 degrees C for 20-25 minutes, or until golden and crisp.
Mix the ingredients for the spice blend together in a small bowl and set aside until you serve.
Into the minced beef, add the onion mixture and all of the remaining ingredients, and mix well. Shape into four patties.
Heat oil and cook the patties until done on both sides.
Sprinkle the cooked potato wedges with the spice blend.
Serve the burgers in buns, with the wedges alongside and some ketchup for dipping.
DATE ALMOND SHAKE
Ingredients:
3 cups chilled milk
10 almonds, blanched and crushed
10 dates, deseeded and chopped
1 large scoop vanilla ice-cream
Method
In a blender, add the dates, crushed almonds and 1 cup of the chilled milk. Blend until the dates are well combined and smooth. Add the remaining milk and vanilla ice-cream. Blend until frothy. Serve cold.
---
Different Ramadan Chaats Recipes
CREAMY FRUIT CHAAT
Ingredients:
2 packets cream chilled
1 cup boiled chickpeas
1 can mixed fruit cocktail
4 bananas sliced
4 guavas chopped
2 apples chopped
1 boiled potato chopped
4 tbsp caster sugar
1-1/2 tsp chaat masala
1/4 tsp black pepper
1/2 tsp salt
Method
Put all fruits in a large bowl. Add cream, caster sugar, black pepper, salt and chaat Masala. Mix well. chill and serve.
PALAK PATTA CHAAT
Ingredients:
12-15 spinach leaves
1 cup gramflour
1 tsp chilli powder
1 tsp salt
1 tsp crushed cumin seeds
¼ tsp soda bicarb
Chaat masala to sprinkle
½ cup curd
1 tbsp sugar
Tamarind chutney
Green chutney
Method
Make a thick batter using gramflour, water, soda bicarb, crushed cumin seeds, chilli powder and salt. Mix well and add in the spinach leaves and heat oil. Deep fry the leaves till crispy and golden. Drain and set aside. Just before serving, place fried spinach leaves in a platter spread curd mixed with sugar over it. Drizzle tamarind and green chutnies. Sprinkle chaat masala and serve.
CRUNCHY CHAAT
Ingredients:
Large crushed papri
2 potatoes cubed and boiled
1 cup chickpeas boiled
1 tsp chaat masala
1 tsp cumin powder
1 tsp crushed red chillies
2-3 cups curd
3 tbsp caster sugar
1tsp salt
Green chutney :
1 bunch mint leaves
1-2 bunches coriander leaves
2-3 cloves garlic
1 tsp salt
1 tsp cumin seeds
Juice of 1 lemon
1-2 tbsp onion
3-4 green chillies
1 tbsp sugar
Tamarind chutney :
½ kg tamarind
2 cups jaggery
1 tbsp crushed red chilies
1 tsp salt
2 tbsp sugar
1 tsp dry ginger powder
1 tsp cumin powder
To sprinkle :
Bareek sev
Small spicy papris
Method
Grind all ing for the green chutney in a blender till smooth. If need be add a little water to make a smooth paste. Chill.
For the tamarind chutney, soak the tamarind with its seeds in a large pan of boiling water. Take out the pulp by sieving it and discard the seeds. Cook pulp with jaggery, crushed red chillies, salt, dry ginger powder and cumin powder. Once thick add in sugar and let dissolve. Cool.
For the chaat, mix together boiled cubed potatoes, boiled chickpeas, chaat masala, cumin powder, crushed red chilies, salt and crushed large papri. Blend the curd with sugar, salt and water and pour over the chaat just before serving. Top with 2-3 tbsp of tamarind chutney and 2-3 tbsp of green chutney and sprinkle over bareek sev and small spicy papris. Serve immediately.
JALJEERA
Ingredients:
Dry Mint Powder 4 tsp
Roasted Cumin Powder 4 tsp
Black pepper Powder ½ tsp
Ginger Powder 1 tsp
Black salt 2 tsp
Salt 2 tsp
Sugar 1 tsp
Dry mango Powder 2 tsp
Juice of 1 lemon
3 tbsp small boondi
Method:
Mix all the ingredients well and store in a clean glass container. To make Jaljeera, mix 1 tsp powder in one glass of chilled water. Add some ice cubes and lemon juice and serve immediately. It can be topped with a tbsp of small boondi too.
---
Make your Zakat Asaan with Daraz with easy online donations. You might also want to know The Zakat Nisab Rate in Pakistan 2021 or check out grocery shopping app in pakistan to get all your iftari groceries delivered to your doorstep!