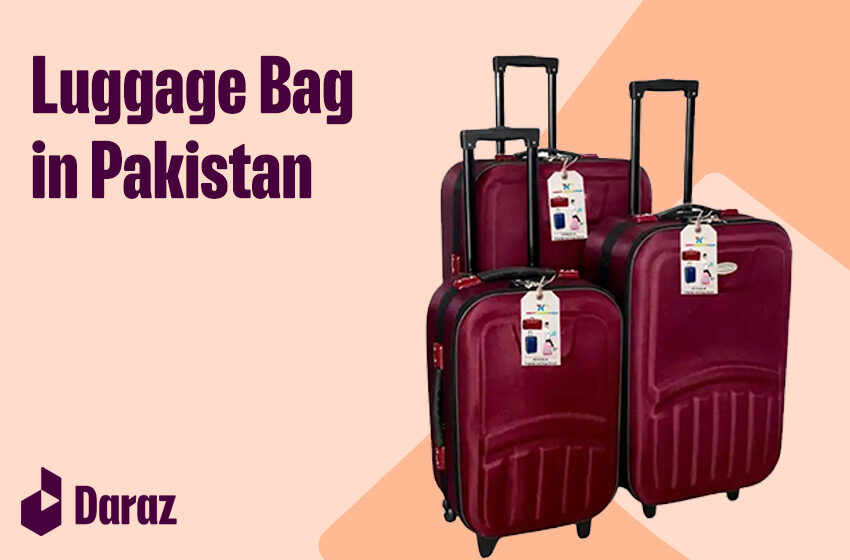 Top 8 Luggage Bag Brand Prices in Pakistan with Options – Complete Guide
In an ever-increasing travel and exploration world, having the right luggage bag can make all the difference. Whether you're jetting off on an exotic vacation or embarking on a business trip, a reliable luggage bag is an essential companion. In Pakistan, various luggage brands offer a range of options to suit different needs and budgets. In this article, we'll delve into luggage bag price in Pakistan, exploring 8 prominent brands and their respective option ranges, presented in a convenient table format.
Table of Contents
Introduction
Top 8 Luggage Brands in Pakistan
Factors to Consider When Choosing a Luggage Bag
FAQs
Conclusion
Top 8 Luggage Bag Prices in Pakistan
Here are 8 prominent luggage brands in Pakistan, known for their quality and diverse range of products:
1. Samsonite
Samsonite is a globally recognized brand known for its durability and innovative designs.
Offers a variety of hard-shell and soft-shell options.
Price Range: PKR 10,000 – 40,000
2. American Tourister
A subsidiary of Samsonite, American Tourister offers stylish and affordable luggage solutions.
Known for vibrant colors and trendy designs.
Price Range: PKR 6,000 – 25,000
3. Delsey
Delsey is synonymous with elegance and sophistication.
Offers a mix of classic and modern designs.
Price Range: PKR 15,000 – 50,000
4. Carlton
Carlton focuses on lightweight and practical luggage options.
Ideal for frequent travelers and those seeking convenience.
Price Range: PKR 5,000 – 20,000
5. JUMP
JUMP is known for its high-end, durable luggage bags.
Offers innovative features like an expandable compression system.
Price Range: PKR 25,000 – 70,000
6. HNLB
HNLB specializes in affordable yet stylish luggage solutions.
Offers a range of sizes and designs.
Price Range: PKR 4,000 – 18,000
7. ABL
ABL is renowned for its youthful and trendy designs.
Offers a variety of backpacks, duffel bags, and suitcases.
Price Range: PKR 3,000 – 15,000
8. Wenger:
A local brand offering budget-friendly luggage options.
Provides a range of sizes and styles to choose from.
Price Range: PKR 2,000 – 10,000
Factors to Consider When Choosing a Luggage Bag
Before we dive into the specifics of each brand, it's important to consider the factors that play a role in choosing the right luggage bag:
Size and Capacity: Depending on your travel needs, you'll want to select a bag that offers ample space while adhering to airline size restrictions.
Material: Luggage bags come in a range of materials, from hard-shell polycarbonate to durable fabrics. Consider the level of protection you need.
Wheels and Handles: Smooth-rolling wheels and ergonomic handles make navigating airports and streets a breeze.
Compartments and Features: Built-in compartments, expandability, and other features enhance the bag's functionality.
Style and Design: Aesthetics matter. Choose a bag that aligns with your personal style.
FAQs
1. How Can I Select the Perfect Luggage Bag for My Trip?
To select the perfect luggage bag for your trip, assess your travel needs, destination, and duration. Consider the size, durability, and features that will enhance your travel experience.
2. Which is the best luggage brand in Pakistan?
American Tourister is the best luggage brand in Pakistan.
Conclusion
As you plan your next adventure, armed with this comprehensive guide, you're better equipped to navigate the labyrinth of options. Choose a brand that resonates with your aspirations and a price range that aligns with your budget. Your luggage bag isn't just a holder of clothes and essentials; it's a reflection of your travel philosophy and style.
Also Read: Philips Air Fryers | Pampers in Pakistan | Pak Fan | Super Asia Washing Machine | PlayStation in Pakistan | Pedestal Fans | Best Inverter UPS in Pakistan | Best Electric Geyser in Pakistan | Best Refrigerator in Pakistan | Best UPS Battery in Pakistan | Car Batteries in Pakistan | How to Buy Refrigerator on Installments in Pakistan | Portable AC in Pakistan | Haier Washing Machine