Taking a Look at Maria B Eid Collection 2021!
Are you looking for the latest Maria B Eid Collection for 2021? Find the best picks from Maria B Eid Collection 2021 in this blog!
Women's lawn in Pakistan is the most running fashion category in Pakistan. If you're looking for the latest Eid Collection , then the Maria B eid collection 2021 from the Maria B sale 2021 has some of the most elegant, whimsical pieces out of any brand. The timeless craft used in each design really sets these apart from other options in the market. Not to mention the variety of colors, cuts, and finishing to give you plenty of choice when it comes to the look you want!
What's New in the Maria B Eid Collection for 2021?
The Maria B Eid Collection 2021 features a mix of gorgeous color palettes from royal bottle greens, deep blue, violets, and reds to light icy blues and teal, dusty pinks, and of course the classic blacks and whites. The latest Maria B Lawn 2021 collection brings to you gharara pants, contrasting dupattas, and flowy cut shirts – all of which seem to be super popular. Longer silhouettes also seem to be the dominant trend as opposed to shorter shirts but with Maria B New collection 2021, you always get a great variety so no matter what your style – you're bound to find something!
Maria B Eid Collection 2021 with Price
If you want to get an idea of Maria B Eid collection 2021 with price, then you must check out the Maria B lawn sale 2021 with price! Here, we've listed some of their latest Maria B summer collection 2021. we've got them listed below to help you choose the one that fits best in your budget.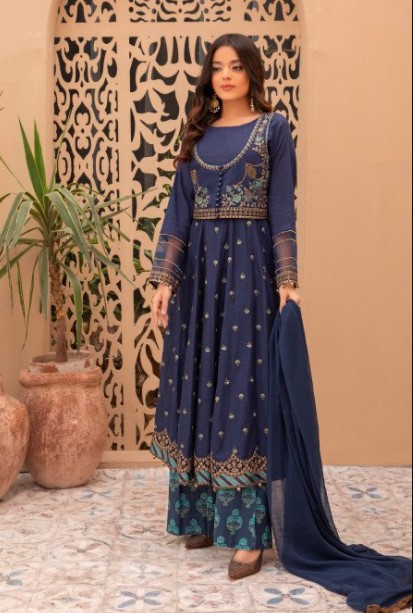 This beautiful deep blue piece with an embellished koti, printed culottes, and frock design is an instant eye catcher! The detailing on the sleeves of this piece from Maria B Eid Collection 2021 is our favorite thing in addition to the dipped neckline of the koti, giving it a modern flare while still being classic and timeless. Definitely one to keep on your 'want' list!
Maria B Eid Collection Price for Suit Blue DW-EF21 – Rs. 15,590
---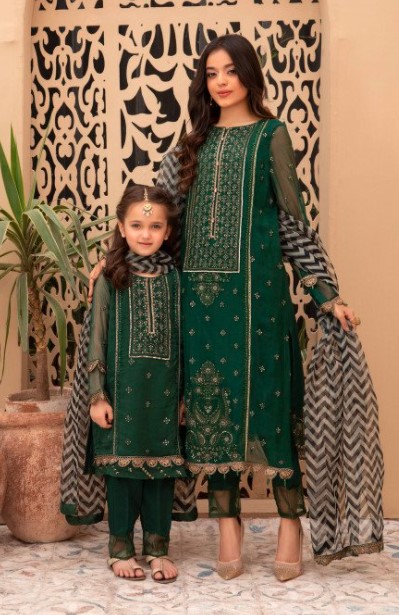 The Maria B latest collection 2021 brings you this beautiful bottle green number is available for Maria B. women and Maria B. kids both. This makes it the perfect outfit to match with your little ones! It's got a really elegant, minimal design and the patterned dupatta adds a great modern touch to an otherwise super traditional color choice and cut.
Maria B Eid Collection price for Suit Bottle Green SF-EF21-10 – Rs. 25,990
---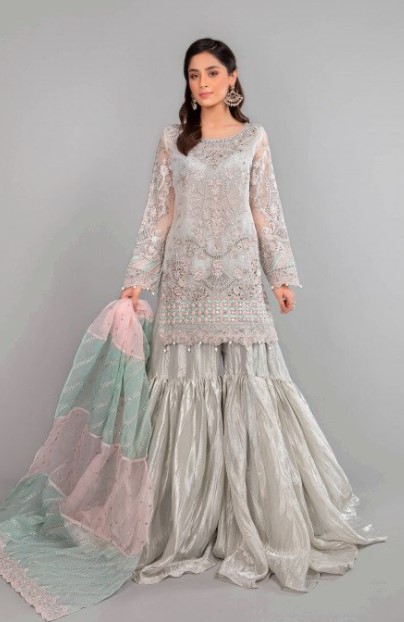 Want to REALLY go all out this Eid? Or maybe you have a formal event coming up and want to hit two birds with one stone? This dress from the Maria B Eid collection 2021 is the PERFECT choice for you! The silver embellished shirt is nothing short of stunning. Paired with metallic tissue gharara pants and a two toned striped organza dupatta, this is the kind of old world charm meets modern woman that will wow people left and right.
Maria B. Eid Suit Silver SF-EF21-16 – Rs. 36,990
---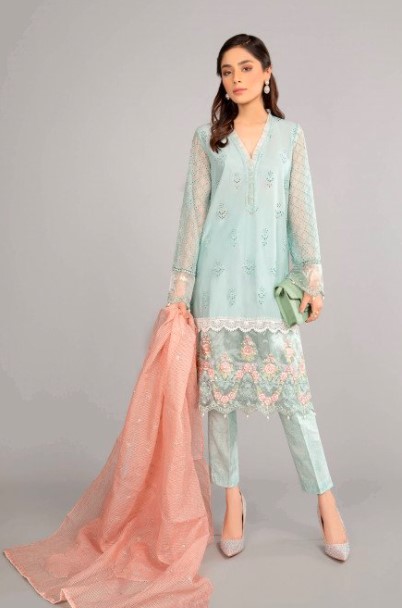 This ice blue and peach suit comes with plenty of minor details that makes the overall effect super feminine. The color palette in this Maria.B eid collection 2021 piece is perfect for hot summer months and the light, breezy cut of the kameez means you'll be comfortable and looking chic all day!
Maria B price for Suit Ice Blue DW-EA20-21 – Rs. 14,590
---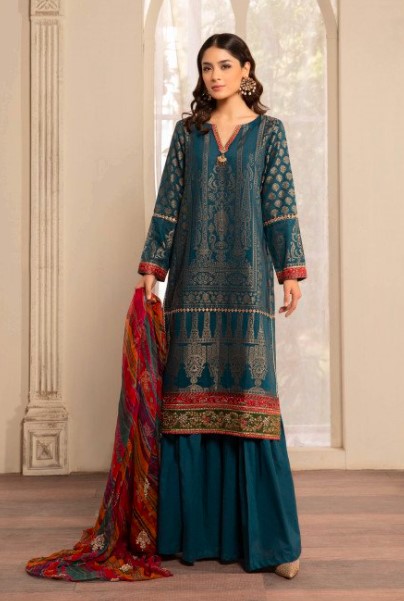 Gharara pants seem to be a staple for this year. And we can understand why! Who wouldn't want light, breathable lawn gharara pants in this heat? This beautiful deep blue number with a screen printed dupatta strikes the perfect balance between stylish and comfy. You'll be so comfy, you might never want to take it off!
Maria B Eid Collection Suit Blue DW-EF21-23 – Rs.12,990
---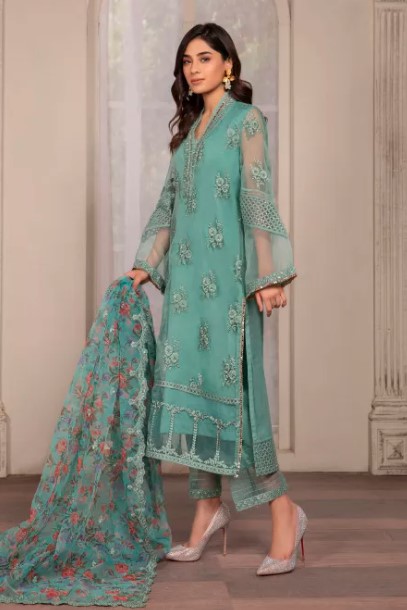 The Maria B lawn collection 2021 is all about unique cuts and color combinations. We're completely obsessed with the dupatta for this piece. The gorgeous color and print goes perfectly in contrast with the rest of the suit. The detailing on the sleeves also wins our hearts! Cool toned colors are always a summer favorite!
Maria B Suit Green SF-EF21-05 price – Rs. 25,990
---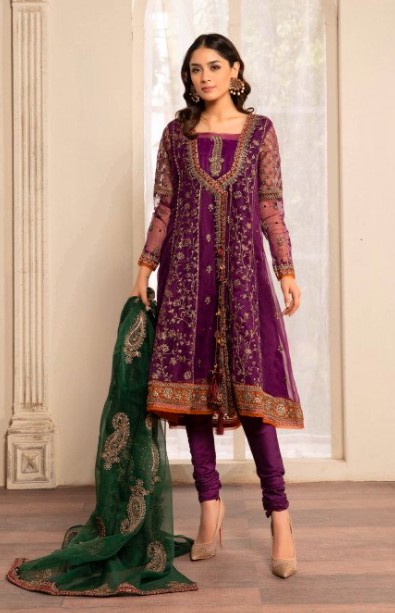 Don't want to be cliched and go for pastels in summers? This deep purple and bottle green suit is for you! The royal colors come together with a gorgeous angrakha cut shirt, churidar pajama and a contrasting dupatta. Perfect for adding to your formal wardrobe once you're done celebrating eid. We can't get enough!
Maria B Eid Collection price Suit Purple SF-EF21-08 – Rs.28,990
---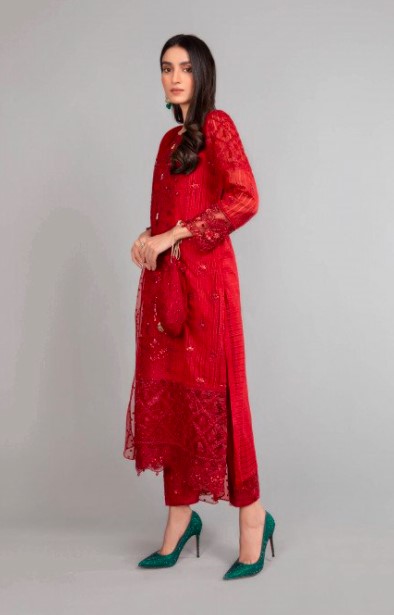 This one from the Maria B Lawn 2021 is a favorite pick for newly wed or soon to be brides. The color, the cut, the simplicity and elegance is so well done it's hard not to fall head over heels. This deep red suit comes with a long kameez, straight trousers, and a stunning net dupatta that makes all the right statements. Bride or not, you can't go wrong with this!
Maria B Suit Red DW-EA20-01 – Rs. 13,990
---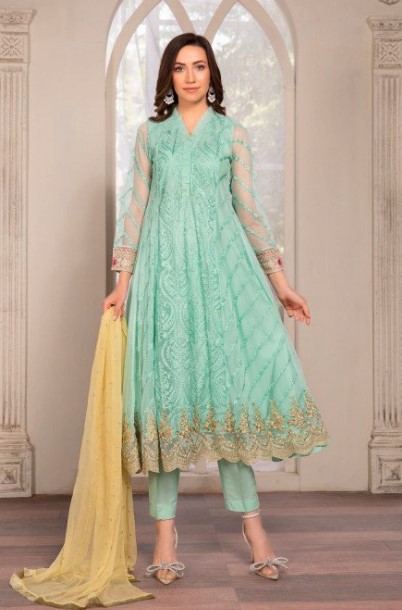 This 4 piece latest Maria B lawn 2021 suit with a contrasting lemon chiffon dupatta brings a pop of color to the season's arguably most popular color. The ghera in the shirt also adds some flare (pun intended) that is going to take your entire outfit up just a notch and make you look absolutely ethereal!
Maria B Eid Suit Ferozi DW-EF21-12 – Rs.16,790
---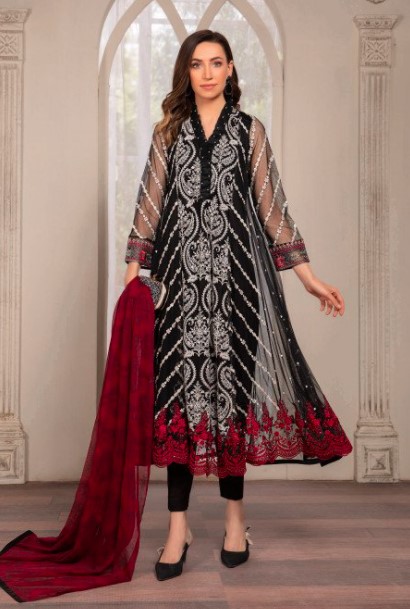 You can never go wrong with a classic black outfit. What makes this particular one even more special is the maroon detailing that gives it just a little bit of extra flare to make you stand out. We're smitten! Who thought the Maria B lawn sale 2021 with price is going to be so amazing!
Maria B Eid Collection Suit Black DW-EF21-12 – Rs.16,790
Which outfit from the Maria B Latest Collection 2021 was your favorite? Let us know! Don't forget to check out the amazing prices, deals, and exclusive fashion launches for the season on Daraz Fashion!
More Fashion Posts You Will Enjoy
Top Picks Maria B Lawn Collection 2021 | Limelight Latest Collection 2021 | Beech Tree Latest Lawn Collection | Maahru Spring Summer Collection 2021