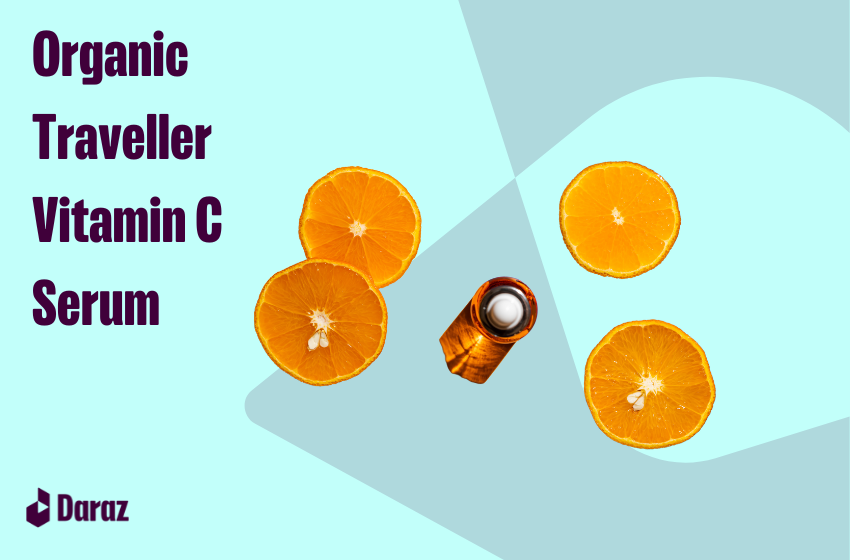 Organic Traveller Vitamin C Serum Review 2023 in Pakistan
Finding organic skincare companies used to be hard work in Pakistan, but now there are so many choices it's honestly great! Gone are the days of unpronounceable chemicals and harmful pesticides – Organic Traveller vitamin C serum is here with natural, cruelty-free ingredients that have no negative environmental impact. What better way to show love for your skin and the planet at once?
We could not be happier about this incredible brand – it's time to make the switch to organic products for a beautiful future! Today in this blog we will be reviewing Organic traveller vitamin c serum
What is Organic Traveller Vitamin C serum?
This product is an all-natural, plant-based serum designed to help reduce wrinkles, brighten skin tone and improve overall complexion. It contains a blend of natural vitamin C extract and other active ingredients, such as rosehip oil and aloe vera juice. This serum is designed to be used twice daily in order to get the maximum results.
Most Important Ingredient
It contains Sodium Ascorbyl Phosphate (SAP) that is a gentle and stable form of Vitamin C, which has been found to be highly effective in skin care. SAP contains some of the finest Vitamin C available and is far less likely to cause irritation to the skin than more traditional forms when compared.
Furthermore, the improved stability makes it much more resistant to oxidation after exposure to light or oxygen, meaning that it can last considerably longer than other serums containing conventional Vitamin C compounds.
Benefits of Organic Traveller Vitamin C serum
Our vitamin C serum offers a number of benefits, including a revolutionary formula designed to give your skin the ultimate glow! This powerful serum contains natural vitamin C extract that helps protect against environmental damage, reduce wrinkles, and even out skin tone. It is formulated to stimulate collagen production and reduce dark spots and hyperpigmentation while providing intense hydration that lasts all day long.
Loaded with natural antioxidant properties, our serum helps to reduce oxidative damage, brighten your complexion and soften wrinkles. Get glowing skin within days with this breakthrough in skincare technology! Bring out your inner radiance with our Organic Traveller Vitamin C Serum!
Package of the Organic Traveller Serum
Let's discuss a little bit about the bottle!
Your skin will quickly absorb the lightweight substance thanks to the pump dispenser's design, which also prevents any sticky residue from being left behind. Compared to a dropper bottle, the pump dispenser will also assure reduced oxidation!
How to use Organic traveller Vitamin C serum?
It is best applied after cleansing your face in the morning and evening. Start by pouring a few drops into your palm and gently patting it into your face.
Be sure to avoid the eye area as this product can cause irritation.
After applying the serum, wait 5-10 minutes before following up with a moisturizer or other skin care products in order to allow the ingredients to penetrate fully for maximum benefit.
If you want your skin to look its absolute best, add the Vitamin C Face and Neck serum to your bedtime regimen!
When applied just before bedtime, this serum will get to work while you sleep, making sure your skin is deeply hydrated and incredibly radiant when you wake up in the morning. Packed with skin-loving vitamins and nutrients, this serum will make your skin look more youthful, healthy and supple with each use.
The light, creamy texture helps this serum to absorb quickly and allows it to work its magic throughout the night, leaving your skin looking and feeling refreshed and beautiful. Stop wasting money on expensive anti-aging creams and start using the Vitamin C Face and Neck serum for your best results
Skin Type
All skin types, especially those with sensitive skin, can use it.
Final verdict: Organic Traveller Vitamin C Serum
Many customers have given glowing reviews to this serum, citing its light texture and ability to reduce skin redness and inflammation. Not only that, but people who have used this serum have found their skin to be softer, more nourished and better protected from the elements. As well as this, it contains Vitamin C, Glycerine and Hyaluronic Acid which, when combined, make it the ideal choice for improving and maintaining healthy, beautiful skin.
FAQS
1. Do you leave Organic Traveler vitamin C serum on all night?
While it won't harm you if you use your vitamin C serum at night, it could combine with other nighttime-only skin care products (like retinol) and lead to skin sensitivity and irritation.
2. What not to mix with vitamin C serum?
Glycolic, salicylic, and lactic acids are examples of AHAs and BHAs that should never be taken with vitamin C. By putting these components together, the pH equilibrium will be disrupted and vitamin C, which is both an acid and unstable, may as well be useless.
Conclusion
After a thorough review of Organic Traveller's Vitamin C Serum, we can confidently say that it is an excellent product for those looking to improve their skin health. The serum contains a high concentration of Vitamin C, which helps to reduce the appearance of wrinkles and age spots while improving skin tone and texture. Additionally, the serum is made with organic ingredients, so you can be sure that you're getting a natural and safe product. Overall, this serum is an excellent choice for anyone looking to improve their skin health and look younger.
Also Read: Physiogel Moisturizer | Derma Shine Facial Kit | Wax Heater in Pakistan | Saeed Ghani Hair Growth Water | Best Duvet Price in Pakistan | The Ordinary Glycolic Acid | Best Hand Cream | Best Whitening Cream | Best Glow Serum | Hand and Foot Whitening Cream | Best Cleanser in Pakistan | Best Retinol Cream | Best Acne Soap | Best Jacket Brands in Pakistan | The Ordinary Peeling Solution