Daraz Pakistan Day deals and vouchers are here and you've a lot to be excited for! If you're not sure how you can make the most of Daraz Pakistan Day sale, then follow this blog:
[Read: How to Make the Most of Daraz Pakistan Day sale!]
Daraz Pakistan Day Mega Deals and Vouchers (2021)
What is Pakistan Day?
Pakistan Day is on the 23rd March when the Pakistan's Resolution was passed. Daraz Pakistan Day is an online shopping festival that offers amazing deals and discounts so that you can celebrate 23 March Pakistan Day the right way!
What are Daraz Pakistan Day mega deals and discounts?
Daraz Pakistan Day mega deals include amazing discounts on a variety of products. You can get the best PK day discounts on iPhone 12, electronics, home and kitchen appliances, and much more!
When do Daraz Pakistan Day mega deals start?
The Daraz Pakistan Day mega deals 2021 are going live on the 17th of March 2021. Until then, add to cart and get ready for the PK Day mega deals.
What is Daraz Pakistan Day Offer?
Daraz Pakistan Day offers include Toyota Yaris 100 CC, iPhone 12, and amazing discounts on 15 million products! Get limitless savings and discounts with Daraz One Rupee Game, Daraz Mission Pakistan, Daraz Shake Shake Vouchers, Discount Offers from our brand partners and so much more!
And if you're curious about how you can win big with Pakistan Day discounts, then keep reading as we've got some exciting things to share!
Collectible Vouchers

Enjoy exclusive pay-cuts with collectible vouchers! Make sure to go to the main campaign page, and collect your vouchers and enjoy your personal discounts.
Also read: How to Use Voucher Codes on Daraz Pakistan Day 2021
Mega Deals
Click on the images to buy
Daraz brings to you some AMAZING Pakistan Day mega deals and discounts on your favorite items! From phones to laptops, TVs and kitchen appliances, everything is here for you!
Mission Pakistan
Mission Pakistan is your chance to win big with Daraz Pakistan Day deals and offers! Just get done with all your missions in time and get a chance to win exciting prizes like iPhone 12, Metro 125 CC bike, Haier Smart LED TV, Realme C1 smartphone and more!
One Rupee Game
Play one rupee game from your Daraz wallet and become part of a lucky draw. If you win the lucky draw, you'll get exciting prizes like a Toyota Yaris 1300 CC car, with a refund of your one rupee!
How to play one rupee game on Daraz?
To play one rupee game on Daraz:
Head over to the app and select a product of your choice available.
Pay Rs. 1 for the product through your Daraz Wallet.
Get chance to win!
Get Bank Discounts with Payment Partners

This Pakistan Day sale 2021, you get bank discounts with many of our payment partners! Buy your favorite picks and enjoy up to 11% off on all your purchases!
Exclusive Deals by Event Sponsors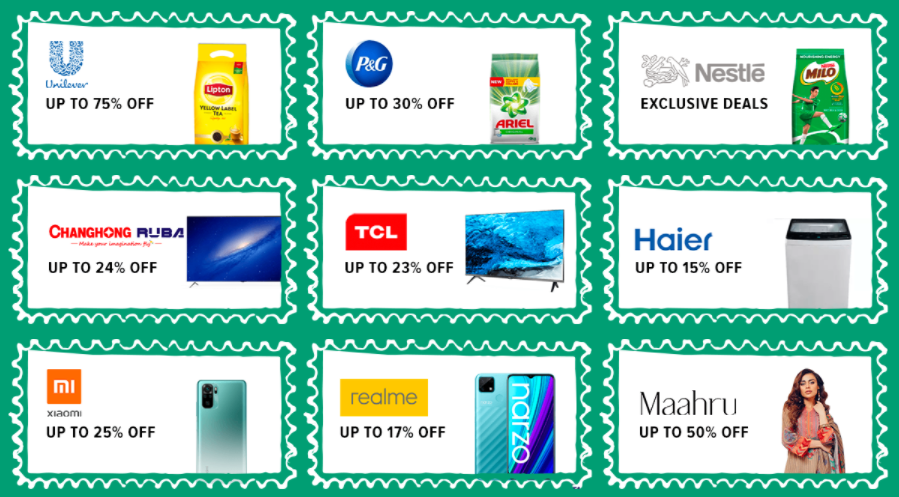 Our event sponsors are offering some amazing deals for you! Check out the deals and save up to 75% off on everything you would want or need!
---
Find out what's new and exciting about Daraz Pakistan Day sale deals and vouchers this year on Daraz Pakistan Day Blog! And don't forget to download your Daraz app to get access to all these exclusive discounts!