Ramadan Charity Made Easy with Daraz Online Donations 2021
Are you looking for ways to donate online in Pakistan? We bring you the simplest and easiest Ramadan charity ideas for 2021!
With Ramadan 2021 in Pakistan upon us, it is time to get generous with your Ramadan charity gifts. A lot of needy people never really know how to ask for Ramadan donation even though they're going through a really difficult time. And many times, a lot of people who want to help also don't know how to ask for Ramadan donation from other people so that they can also chip in for a greater cause.
Daraz brings to you all the convenience you need to make your Ramadan daily donations without a hint of hassle. Furthermore, with online donations with Daraz, not a soul will find out about your generous charity – a real example of naiki ker, darya mein daal!
Why Should You Donate with Daraz for Ramadan 2021 in Pakistan?
Meal-Matching by Daraz in Ramadan 2021
This Ramadan 2021 in Pakistan, Daraz wants to double the impact! Daraz wants to help the world heal and for this, it brings you an all-new meal-matching online Ramadan charity ideas 2021. Meal-matching means that for every meal you donate, Daraz will donate another! Yes – your one donation means two if you donate with Daraz online donations 2021!

Buy 1, Donate 1 with Daraz in Ramadan 2021
Daraz has partnered with some of your most trusted brands to bring you the Buy 1 Donate 1 initiative during this Ramadan 2021 in Pakistan. The idea is pretty simple – you can buy any product with the Buy 1 Donate 1 sticker from the below mentioned brands . In response to your purchase of Buy 1 Donate 1 product, the brand or Daraz will donate another product to one of its partner NGOs. This year, stay with us during our Daraz Ramadan initiatives and together, we'll try to help the world heal.
Which Brands Have Partnered with Daraz?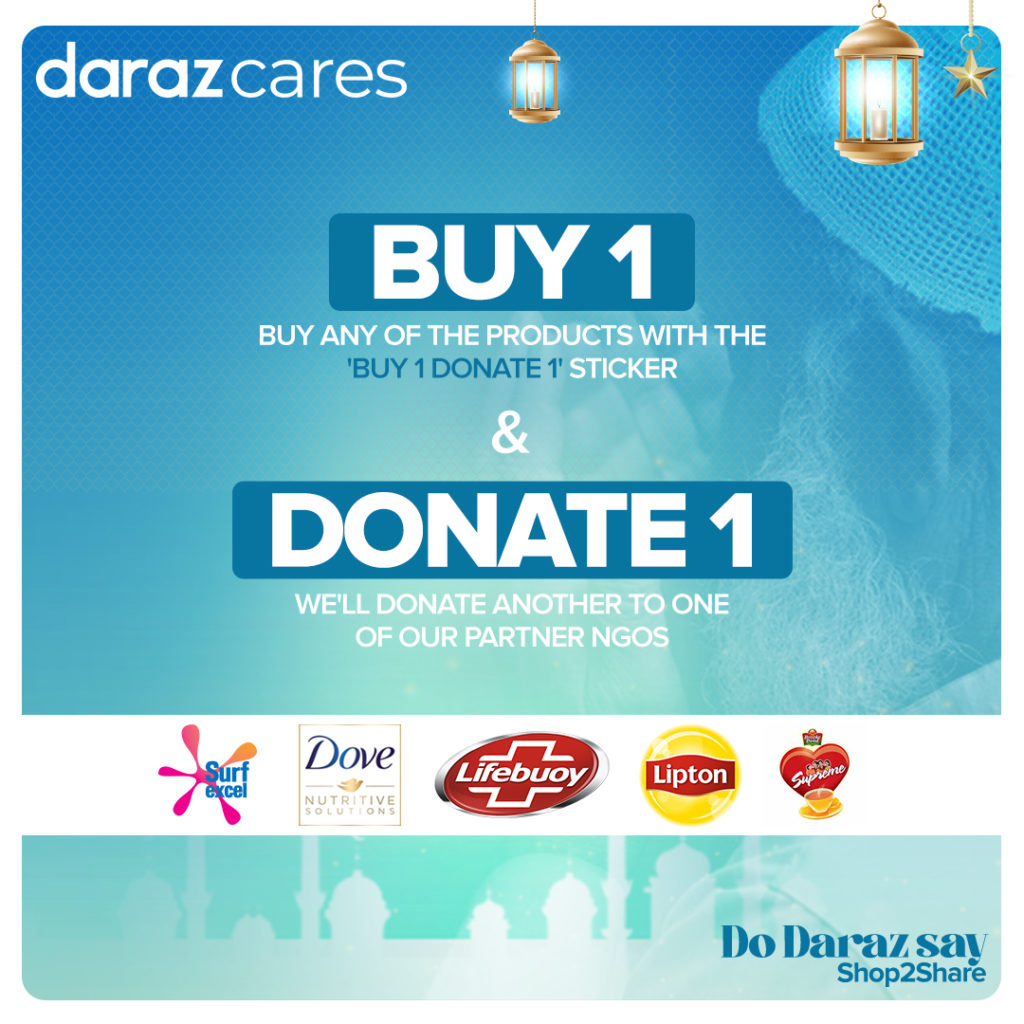 How do I donate for Ramadan 2021 in Pakistan?
To donate for Ramadan 2021 in Pakistan, make the most of Daraz online donations! This Ramadan 2021, you can make a quick and hassle-free online donation with Asaan Donations Daraz say! While Ramadan charity can be as simple as a smile as well, if you've the means and resources, then we highly encourage you to help out the needy in this Ramadan!
Does Fidya have to be paid in Ramadan?
Fidya has to be paid by people who were unable to fast in Ramadan, are unable to make up for their missed fasts later as well, or are not expected to ever get the ability to fast again. Check out Ramadan food packages 2021 offered at Daraz.
Can zakat be given after Ramadan?
Zakat must be paid before the Eid ul Fitr 2021. Every adult Muslim who has excess food beyond their needs is obliged to Zakat al-Fitr (Fitrana). Zakat in Pakistan (basically, zakat in general) can be given to the poor or those in need.
Where can we give zakat in Pakistan?
To give Zakat in Pakistan 2021, simply head over to Asaan Donations Daraz Say page and find the zakat/donation package of your choice. Daraz has partnered with the top prominent NGOs of Pakistan to bring to you the option of easy online donations for your Ramadan charity 2021.
List of Top Zakat Accepting Organizations in Pakistan Daraz has Partnered With:
Shaukat Khanum Cancer Hospital
Edhi Foundation
The Citizen Foundation
Shifa Foundation
Baitussalam Welfare Trust
Saylani Welfare International Trust
Alkhidmat Foundation
Akhuwat Foundation
Pink Ribbon
Indus Hospital
---
Don't forget to check out the Ramadan calendar 2021 in Pakistan! This way, you'll always be on time for your iftar and sehri timing 2021. Plus you won't have to worry about when is Eid 2021 in Pakistan – we will be here to kepe you updated!