15 Seriously Cool Games to Buy on Daraz for Your Next Game Night
Organizing a game night is a nice change of pace to simply going to eat in order to hang out with friends and family. If you're looking to stock up for your next game night, here are 15 games available right now on Daraz that you should definitely add to your collection!
1.    What Do You Meme?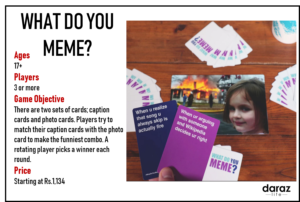 Are you that friend who always has the perfect meme in reply to anything someone says? Well, good news for you – you're going to be a pro at this game! What Do You Meme? is a card game for this generation that's going to put your wit to the test and result in some serious laughs.
Click here to buy What Do You Meme in Pakistan.
2.    Cards Against Humanity
If you're looking for some naughty laughs, Cards Against Humanity is the game to go for! Be warned though – it's not for the easily offended. There's nothing this deck of cards doesn't joke about. But the best part is you can censor the cards easily according to the people you're playing with.
Click here to buy Cards Against Humanity in Pakistan.
3.    Exploding Kittens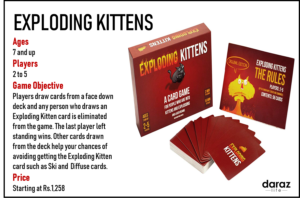 Card games of chance will never be the same once you play Exploding Kittens. The game is just as much about strategy as it is about luck. You will literally feel like you're sitting on a ticking time bomb when you play this because it takes. There's no guessing who will win – and that's the best part.
You can also add the infamous expansion pack 'Imploding Kittens' to have even more cards to play with.
Click here to buy Exploding Kittens in Pakistan.
4.    Jenga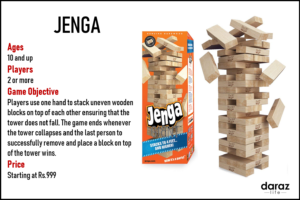 If you're a klutz, this game is going to push you to the limit. A great option to play with a large group of friends, Jenga is all about balance and precision. One wrong move and you're out! Find a variety of Jenga games online with Daraz!
Click here to buy Jenga in Pakistan.
5.    Taboo

Taboo requires all the creativity you have to offer. Race against the clock to help your team members guess your prompt word. Good communication and self-restraint are key because if you end up speaking what's taboo you and your team will end up suffering!
Click here to buy Taboo in Pakistan.
6.    Ludo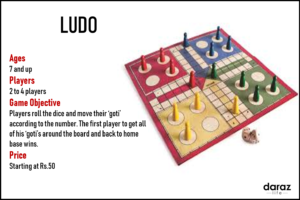 A classic board game that never goes out of style – Ludo is something kids and adults alike can enjoy. There are a number of Ludo boards available from mini sized and magnetic to play on the go to larger boards so you can play for longer.
Click here to buy Ludo online in Pakistan.
7.    Monopoly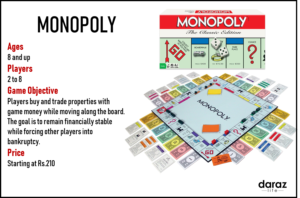 Monopoly is another classic game that just seems to get more popular the older it gets. Find a variety of Monopoly versions on Daraz from Marvel and Minions version to electronic Monopoly, Las Vegas Monopoly, and Ultimate Banking Monopoly.
Click here to buy Monopoly online in Pakistan.
8.    Pictionary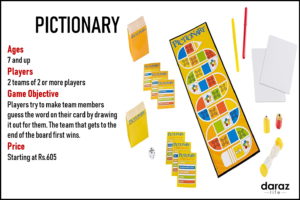 Pictionary is a game that can be played with just a white board and a few paper chits. But the great thing about having this complete set of tools and cards is that you never run out of words to play with and the nifty timer and board mean that you have an easier time keeping track of everything.
Click here to buy Pictionary and Pictionary Junior online in Pakistan.
9.    Risk
In the age of strategy computer games, Risk is a nostalgic throwback to where it all began. If you're feeling particularly old-school, or really want to invest the time in bonding over friends, family, or kids with something hands-on, this is a great option to consider.
Click here to buy Risk online in Pakistan.
10. Scrabble

This classic brain teaser Scrabble remains as relevant as ever today. Show off your vocabulary, and bend the rules by incorporating some modern-day slang to up your score. This is one game that be as creative as you want to make it because that's exactly what language is!
Click here to buy Scrabble online in Pakistan.
11.                       Sequence

Sequence's recent popularity is probably due to the fact that this game combines the best of both worlds bringing together cards and board games in a combination that can result in hours of entertainment.
Click here to buy Sequence online in Pakistan.
12.                       Snakes and Ladders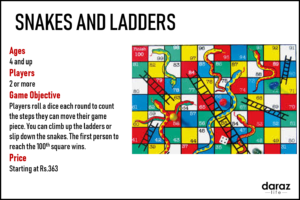 We've all probably heard of snakes and ladders but did you know the game actually originated in South Asia? It was used to teach tough life lessons to children by showing them how life comes with its ups and downs and you can never predict where your luck will have you land.
Click here to buy Snakes and Ladders online in Pakistan.
13.                       Trivial Pursuit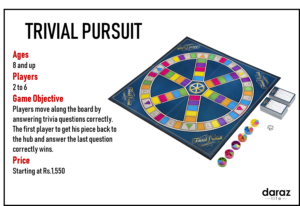 Enjoy trivia? Then you'll love Trivial Pursuit. It's your chance to show off all you know and race your way to the end of the game. It's also a great way to learn some random pop culture and general knowledge facts to wow others even when you're not playing the game!
Click here to buy Trivial Pursuit online in Pakistan.
14.                       Uno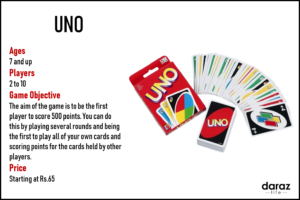 A simple, enjoyable card game – Uno may be more enjoyable for those who still hold some nostalgia for it. But it's a great way to get younger generations involved too!
Click here to buy UNO online in Pakistan.
15.                       Clue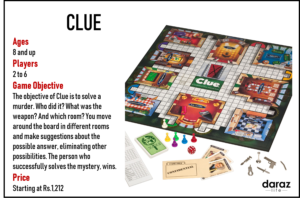 If you're someone who had dreams of becoming a detective, you're going to love playing Clue! It comes in a number of varieties from the classic murder mystery, to themed version like Harry Potter and Star Wars. It's sure to bring out your inner Sherlock Holmes!
Click here to buy Clue online in Pakistan.
So, which one of these evergreen games will you be adding to your collection for game night? Or do you have any favorites that we've missed? Let us know!