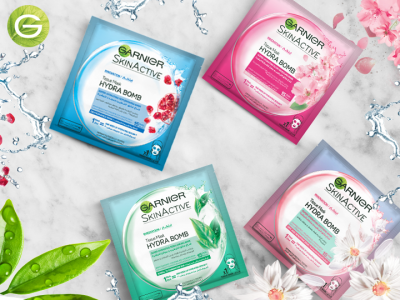 4 Antioxidants That Your Skin Needs
When it comes to healthy skin care, antioxidants are essential. The more you apply to your skin, the better! These beneficial molecules not only prevent visible signs of irritation, dullness and ageing but also reveal a more glowing and youthful appearance in no time. The new and innovative collection of Garnier Hydra Bomb sheet masks provide just that! With key antioxidant ingredients present in every algae mask, these products ensure that all skin types receive special treatment.
Here are the top 4 antioxidants which we think you should definitely look into!
Green Tea
Green tea has become one of the new age super foods and possesses some serious skin care benefits. It is full of chemicals called catechins which help get rid of wrinkles, blemishes or any other impurities you don't want to see on your face. It even does an amazing job of defending your skin's surface from environmental damage like pollution and sun damage.
Chamomile
Chamomile is considered the best herb for soothing skin. It works wonders for those who have to deal with sensitive skin since it has many active ingredients which fight redness, dryness and irritation. This plant quickly gained popularity for its calming effects and natural healing properties.
Pomegranate Extract
This seedy fruit is full of amazing beauty benefits. It is loaded with antioxidants such as vitamins K and C which keep your skin looking young and radiant. Pomegranates help stimulate collagen-producing cells which plump up your skin and get you that healthy flush!
Cherry Blossom
The cherry blossom is more than just a pretty flower and is known to possess secret ingredients which can give you lively and blooming skin. This pastel pink flower is rich in essentail fatty acids which promotes smooth and supple skin. Also known as Sakura, this flower appears almost ethereal and is an elegant symbol of Japanese beauty.