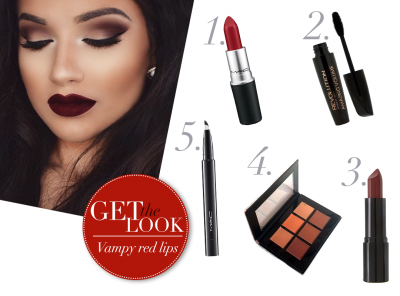 5 Beauty Trends You Need To Try Out This Fall
We've gone through all the fashion weeks, celebrity looks and makeup artists to bring you the top trending beauty looks this fall. Here are five makeup trends which are defiantly worth the try!
Vampy Red Lips
This fall is all about ruby reds and deep maroons with a slight ombre effect. Pair this look with a thin layer of eyeliner, long lashes and some light contouring to get the perfect dramatic look without over doing it.
Playful Pops of Color 
From powder blues and caribbean greens to bold metallic shades, this time its all about making a statement with your eyes! So we suggest you go for some bold hues and add some silver highlighter and sheer pink lipstick to flaunt your creative expression!
 The No Makeup Look 
We feel that the subtle no makeup look is here to stay. This fall, enhance your natural beauty by sticking to light lip and cheek stains and brown eye pencils and look fresh and flawless!
Fresh Beach Waves 
This naturally chic and fun look is back on trend and easy to achieve with just a few products! Make sure your hair is clean, add some texture by using volume spray and just divide your hair in sections and use a hot iron in alternative directions to curl your hair. You'll definitely look like you've just got back from the beach!
Extreme Manicures 
This season is about going all out with nail art by experimenting with a variety of designs and patterns such as stripes, polka dots, stars. Glam them up with glitter and rhinestones!