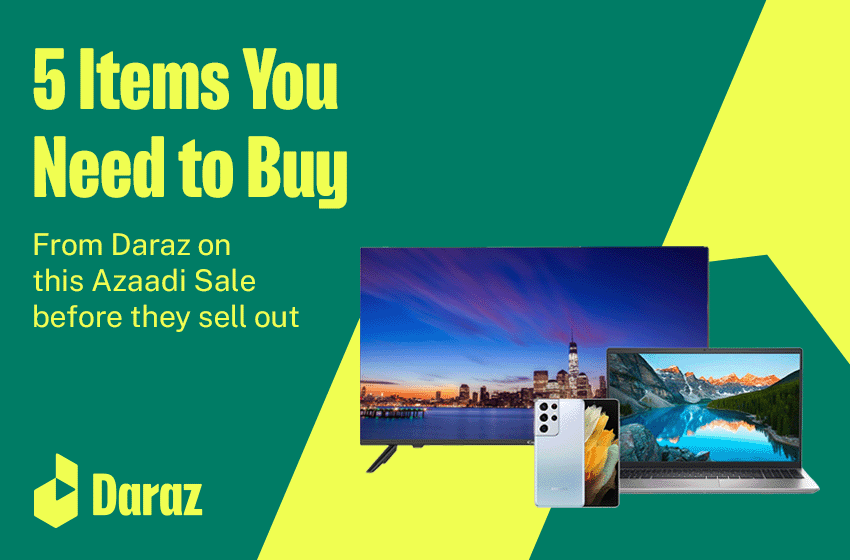 5 ITEMS YOU NEED TO BUY FROM DARAZ THIS AZADI SALE BEFORE THEY SELL OUT
TCL TV
If you are currently on the lookout for a new television for your living room, then opt for TCL. It is budget-friendly, and the best part is that you can get it in installments from Daraz. Overall, TCL TVs offer good picture quality and great features. 
XIAOMI SMARTWATCH
Are you looking for a smartwatch? If yes, you should definitely consider Xiaomi. If you have a smartwatch on your wrist, you no longer need to bring your phone out of your pocket. You can receive calls or reply to messages on the go. With a health tracker, you can track your heart rate, BP, stress levels, and many more. We would recommend this for an overall performing smartwatch. 
COFFEE TABLE
If you have noticed for a while that something is missing in your living room, then you need to consider the very likely possibility that the problem is a missing coffee table. It can tie together the rest of your room and make your decor uniquely your own. You can find a coffee table on Daraz for only Rs. 1,599 and style it in so many ways.
SMARTPHONES
Smartphones can be quite an investment these days if you are going for a new one. Whether it is a budget one, or a flagship one, the investment factor is the same. Daraz has a huge variety of phones and they are the latest ones. In fact, in this Azadi sale, you can find the price reduced by a significant amount. Not only does it have smartphones at discounted prices, it even offers quicker delivery than most. 
WOMEN'S FASHION 
Daraz is offering up to 70% off on all top fashion brands like Sapphire, Lama, Generation, image, Shein, etc. From kolaporis to sunglasses, you can find everything on Daraz. You can also avail of free shipping on orders above Rs.2000 from 6 pm to 9 pm this 15th August to 24th August. 
Have you done your shopping yet? Let us know in the comments below.