5 Kinds of Brides You'll Encounter This Wedding Season!
Wedding season is right around the corner! If you love attending weddings and have been an active part of them, you know exactly how brides can be. Some of them could be absolutely chill and careless while some can be total bridezillas!
Here are at least 5 brides that you might find at a wedding.
The Last Minute One
Not one of those typical overly excited brides. She's calm in the beginning but leaves every thing last minute and tries to assure people that everything will get sorted. You'll even get the invites the very last minute.
The Perfect One
This one has been planning her wedding for a very long time. She just wouldn't let anything go wrong. Everything is researched and planned before hand and if things don't go as planned, she might as well turn into a bridezilla. All she wants is a fairy tale wedding with everything absolutely perfect!
The Bridezilla
Bridezilla? Yes, the one probably creating a fuss out of the tiniest mistakes happening around. You'll probably just see her shouting at everybody! This one again expects everything to be just perfect but if anything goes wrong, you'll find her losing her mind. She wants the perfect event and the perfect dress and her mood swings are touching the roof!
The Nervous One
She'll only take a sigh of relief once she's done with it. For her, things are preplanned, invites are sent out, everything is well-managed but she's still nervous about everything. Weighed down with so much stress, you might just see her feeling dizzy or nauseous before the event.
The Budgeted One
Bride on a budget? Yes! For her, everything fancy is converted to a cheaper DIY version. She might just get the dress made herself rather than picking one from a designer. She'll make sure to cut out all the unnecessary expenses without breaking the bank. She'll probably also do her own makeup and decorate the venue and even bake her own wedding cake!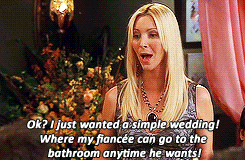 Comment below if you're one of them!
In case, you're also planning a bridal shower for yourself or your friend, the Bridal Shower Guide will be just perfect for you!