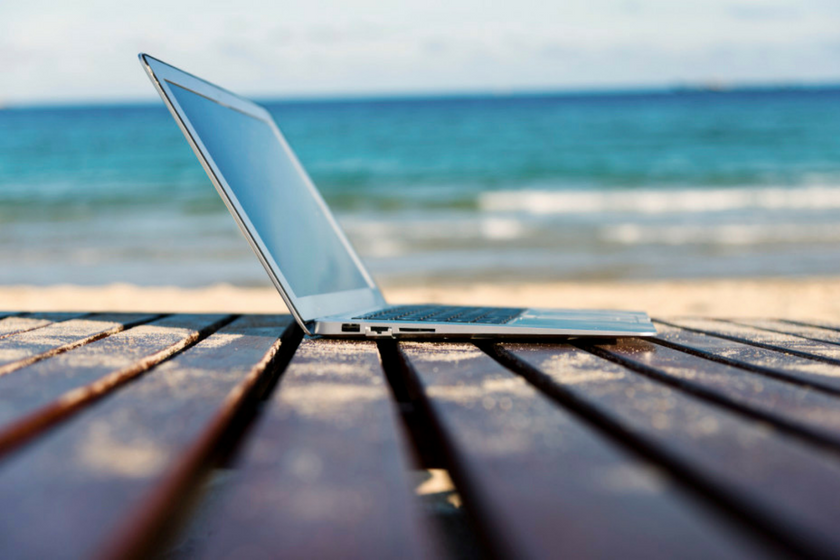 5 Laptops You Can Take On The Road With You
One of the most difficult choices to make when preparing your luggage for travel is to decide what to keep and what to forego. But one essential tech item you can't miss out is your laptop! Whether you're out on a business trip or be it a vacation with your family, your laptop is a must have to satisfy your versatile needs which may not be fulfilled by a smartphone or tablet. There are many essential factors to consider when purchasing a travel laptop and striking the right balance between them all isn't easy, but it is possible.
Portability, battery life, connectivity and price are some of the key factors that should base your buying decision for a travel laptop. Whenever you are planning to go away from home, it is important you consider the basic specifications like RAM, storage space and processing power, but at the same time it's highly essential that your laptop be light in weight & versatile, easy to use, and must have all the basic features you may need abroad or on the go.
We have picked out the top 5 travel laptops based on their portability, price and performance for all the nomads, frequent travelers or anyone else who is always on the go.

1. ACER One 10
If you're looking for a basic and inexpensive travel laptop then the Acer One 10 can be the perfect choice, as long as you know what to expect from it. The Acer One 10 has a 10.1 inches screen, is equipped with a 1.4GHz Intel Atom x5-Z8300 processor, a 2GB DDR3 RAM and a 32 GB storage. You can't run a professional-grade video rendering software or photoshop on it, but for internet browsing, watching movies, composing and reading your emails, basic photo editing and everyday Office suite use, Acer One 10 would easily get the job done. With the Windows 10 operating system, you can install apps that could assist you during your travel and add to your convenience. This laptop gives you an 8 hours backup time, making it one of the best travel companion one could have. 
2. HP Elite x2
If you're wallet allows you to spend a little more, the HP Elite x2 could be the best travel companion one could ever have. This laptop helps finding the balance between specs and portability which is something every traveler would look for. The HP Elite X2 is a powerful machine with a 12 inches touch screen, 4 GB SD RAM and 128 GB hard disk storage space. It also features a 5 megapixel rear and 2 megapixel front camera. It is powered with a 2.2 Ghz 6th generation processor that would enable you to carry all the tasks you would rather do on your home or office laptop. Whether you're a businessman, an intern or an undergrad, this laptop is within your range for only a price of Rs.45,999.
3. DELL 5567
The Dell 5567 is crafted to be portable, so you can sustain your productivity and keep in touch wherever you are. It's slim and sleek, only 23.3mm and is light in weight and had an easy-open design. It features a 7th Generation Intel Core i5 processor, 4 GB RAM and 1 TB storage. Show off its stylish brushed hairline palm rest and the optional backlit, bottom-mount keyboard making typing extremely comfortable. With a 15.6 inch screen and TrueLife LED backlit display, you can get this beauty for under Rs. 64,999. 
On of the world's most ultra portable laptop is available at Daraz at an astonishingly flabbergasting price of Rs.104,000! This sexy beast is equipped with a powerful core i5 processor, 128 GB storage space and 8 GB RAM. With all these wonderful features and top notch specs, this is your wonder machine! The MacBook Air marches on as a solid, lightweight laptop with enough performance for a large number of users to serve both on the road and on an office desk.
As long as you're not wanting any features that are off the roof, the Dell Inspiron is the best option to go for. It's gives you optimal value for money. This laptop compared to others mentioned above has a best price to performance ratio with a 7th Generation Core i7 2.7 Ghz processor, 1 TB storage and 8 GB of DDR RAM. This laptop might not be the top choice for gamers but it does have a good enough 2GB AMD Radeon R5 M430 graphics card. With that said, this laptop suffices most of your basic needs of a laptop while you're travelling. The laptop has a 4 cell battery which would give up a backup time of 4 hours maximum which is good enough considering the price you're paying. You can get this laptop for a price of Rs.68,999 and have it delivered on cash on delivery at your doorstep.
Top trending Laptops in Pakistan: Hp Laptop | Dell Laptop | Lenovo Laptop | Acer Laptop | Asus Laptop | Apple Laptop | Toshiba Laptop | MSI Laptop | Dell Inspiron 15 laptop | Core i5 Laptop | Nvidia GTX 750 ti | AMD RX560 | AMD RX580 | Lenovo Ideapad 3 | Apple Macbook Pro 13 | Hp Probook | Nvidia GTX 1060