5 Statement Pieces to Add to Your Eid Table Décor This Year
Snacking at table after table during Eid house visits to friends and family is one of the best things about Eid (aside from eidi of course)! If you're struggling to find ideas for Eid table décor, here are some elements you can add to make your Eid tablescape stand out among the crowd!
1.    Hang Up This Beautiful Wreath to Add a Festive Touch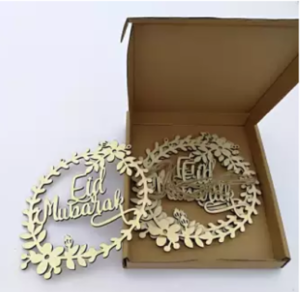 Special occasions deserve special attention! Make your dining table Eid ready with some special additions. It's all about the little details!
This beautifully rustic Eid Mubarak wreath is made of unfinished wood and can be hung on your front door, a mirror, or even laid down flat on your dining table as a beautiful, festive addition to your home.
Price: Rs.615
Buy now!
2.    Save Space by Using These Multi-Tiered Trays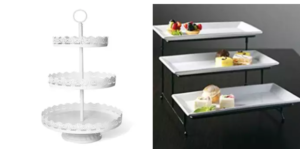 Not only are layered serving trays incredibly useful, they also bring another element to your dining table by adding some height to your serving platters! If you're squeezed for space, a tiered serving dish can be just what you need.
These platters work great if you're serving up some bite sized snacks. You can divide them into layers each for savory and sweet items. They're sure to make a statement!
Price for Round Tiered Tray: Rs.6,513
Buy now!
Price for Rectangle Collapsible Tray: Rs.4,000
Buy Now!
3.    Add Some Glow with These Bird Cage Lanterns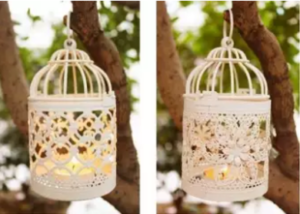 These intricately designed lanterns are perfect for adding some flair to a plain and boring dining table. You can choose to light a candle in them, or if you prefer to skip the additional heat in this humid summer, you can go for an artificial candle that will still give a subtle glow.
These lantern cages will look beautiful even on their own if you place them as accent pieces between your dishes. The simple, white design will go with any kind of cutlery and décor making our Eid table decoration
Price: Rs.490
Buy now!
4.    Create a Buffet Feel with These Chalkboard Name Cards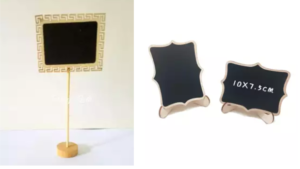 You may have seen these fun mini chalkboard table cards on Instagram and Pinterest. The versatile addition to your table can be a unique and creative way to add some flair to your Eid table décor.
You can use the stands to name cards in front of dishes if you have a buffet style layout. Or, if you're having a sit-down dinner, you can use this to write down the name of your guests on their seats. It'll be a small, personal touch but it definitely won't go unappreciated!
Price for Tall Chalkboard Card: Rs. 450
Buy now!
Price for Smaller Chalkboard Card: Rs.426
Buy now!
5.    Artificial Flowers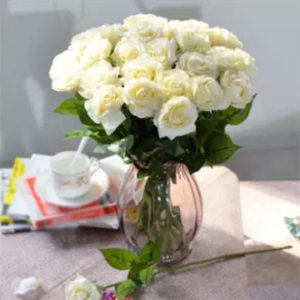 Flowers are a beautiful addition to any tablescape – especially on an occasion like Eid. However, buying fresh flowers and keeping them looking in prime condition can be a difficult task, especially in this weather! This is why investing in a beautiful, realistic bunch of artificial flowers is a good idea.
These can look just as fresh and lively (especially if you spritz it with some water) and will add an elegant touch to your Eid table décor. They're available in a variety of colors and styles so you're sure to find something that suits your tastes.
Price: Rs.512
Buy now!
You don't need everything we've listed above in order to make your Eid table look special. Adding even one or two new elements can refresh the way your table looks and is sure to wow your guests!