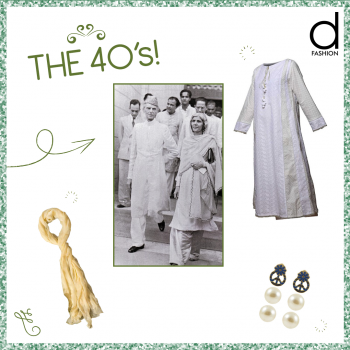 70 Years Of Pakistani Fashion
Pakistani fashion has transformed over the years. Some styles were a one shot while others have made a comeback in later years but they all have contributed to the vibrant and booming Pakistani fashion industry today. This independence month let's take a trip down Pakistani fashion's memory lane.
The 40's fashion was defined by the simplistic yet elegant style of Fatimah Jinnah and Madam Liaquat Ali Khan . Apart from being the founding women of Pakistan, they were also major style icons. They were usually spotted at public events wearing traditional shalwar kameez as well as cotton ghararas, dhaka pajamas and aligarh pajamas.
The ultimate diva of the 50's, Madam Noor Jehan transformed the trend of being basic and understated to being all about glitz and glamour. The dazzling 50's were all about the 'Noor Jehan style' consisting of silk sarees, glittering jewelry and unique hairstyles which were loved and replicated by women across Pakistan.
The infamous fashion designer Maheen Khan blazed the trail for all the latest looks in this decade and she propagated novelty and experimentation. Being influenced by the prevalent hippie culture and London mod fashion, she modeled leopard prints, maxi dresses, pedal pushers and bell bottoms.
The 70's bought along with it longer sideburns and shorter shirts. Film star Shabnam was a famous trend setter with her bell bottoms and shoes which added 5 inches to her height. However, this decade also witnessed the Awami style due to Bhutto's policies of nationalism and conservatism. This led to the 'PIA look' comprised of button down shirts, masculine collars and epaulets giving an overall androgynous look.
When we look back on the 80's we are reminded of Marina Khan's patchwork shalwar kameez in Tanhiyan and Nazia Hasan's flashy look in her prime years. The 80's bought with it shoulder pads, chunky jewelry, bright prints and patyala shalwars.
In this decade, super models such as Amna Haqq and Attiya Khan were the ultimate fashionistas who blended old and new trends and bought back western styles such as denim jackets, choker necklaces and flashy sneakers. Also, designers such as Rizwan Beig, Sana Safinaz and Amir Adnan stepped in to transform the fashion industry into the current age of fashion brands and a variety of ensembles.
The turn of the millennium also led a boom in the fashion industry bought about by trained icons such as HSY, Nomi Ansari and Maria B who showcased a variety of styles and looks. The early 2000s was defined by bedazzled bell bottoms, short shirts and patyalla shalwars whereas the mid-2000s took a turn with flowy long kurtas and a more toned down smart casual look.
The current day is all about diversity and being making your own fashion statement. Whether its statement sleeves, 80s neon prints or 90s chunky earrings, you get to choose your own style.
Now try out 70 years of Pakistani fashion with sales up to 70% off along with amazing flash sales, mega deals and new launches only with HBL Shop Fest!
https://www.daraz.pk/independence-day-sale/