A Guide to Buying Products from Daraz Global Collection
What is Daraz Global Collection?
Daraz's Global Collection is all about bringing you internationally sourced products to Pakistan through a platform you love and trust. Enjoy exclusive pieces from brands you already know and love or discover something new by trying popular brands from China and UAE – all available seamlessly through Daraz!
The best part about buying Global Collection products from Daraz is that you don't have to pay any additional or hidden duties or taxes. The prices that are shown to you on the website/app are the same price you have to pay (exclusive of standard shipping charges).
In case you are asked to pay extra by customs or logistics, you can always reach out to Daraz through live chat or email to get help.
What Kind of Products Are Available in Daraz Global Collection?
That's a tough question to answer because the simple truth is – you can get just about anything from Global Collection. From the latest fashion trends to chic home decor, nifty gadgets for everyday life, and even electronics!
Want a better idea of the kind of products we're talking about? Check out the buying guides we've done below for Global Collection products!
1) Minimalist Everyday Jewelry That Can Go With Every Outfit
2) 6 Kinds of Handbags You HAVE to Buy from Daraz's Global Collection
3)16 Unique Lamps You Won't Believe Are Available on Daraz
4) 6 Gym Accessories Every Man Should Own
5) 7 Cool Gym Accessories Every Woman Will Want RIGHT NOW!
How to Find Daraz Global Collection Prodcuts on Daraz
There are two ways to identify Global Collection products while you're browsing the Daraz website.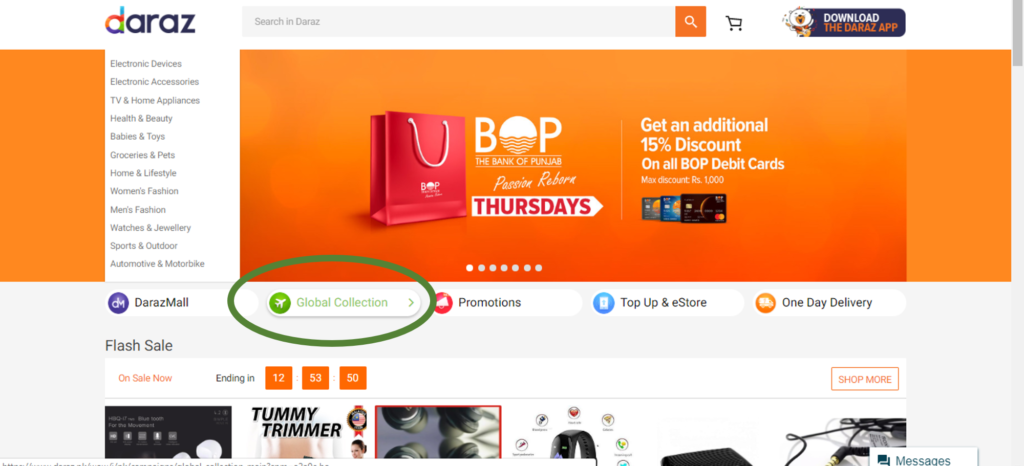 This button is your one-stop solution to all Global Collection products. You'll find categories devoted to help making searching through Global Collection products easier.
Filter Any Search Results
Another way to ensure that you're seeing Global Collection products across the site is by adding a location filter whenever you search for something. This ensures you are only shown products that ship from/are sourced from overseas.
Get to know more about your product by chatting with sellers through live chat and reading user reviews before you make a purchase!
How Long Does Daraz Global Collection Shipping Take?
Overseas shipping on Daraz takes 15-25 days working days. This means that weekends are excluded from the calculation.
However, if you want faster shipping, there is a hack! Daraz has certain products from the Global Collection available at Daraz warehouses in Pakistan. You can filter your search results further by choosing 'Service' > 'Fulfilled by Daraz'. The delivery time for these items is between 1-2 days.
Can You Return Products on Daraz from the Global Collection?
Yes, you can return products from the Global Collection on Daraz provided that the product you purchased is eligible. You can check whether your product seller offers a return policy or not by checking the product details.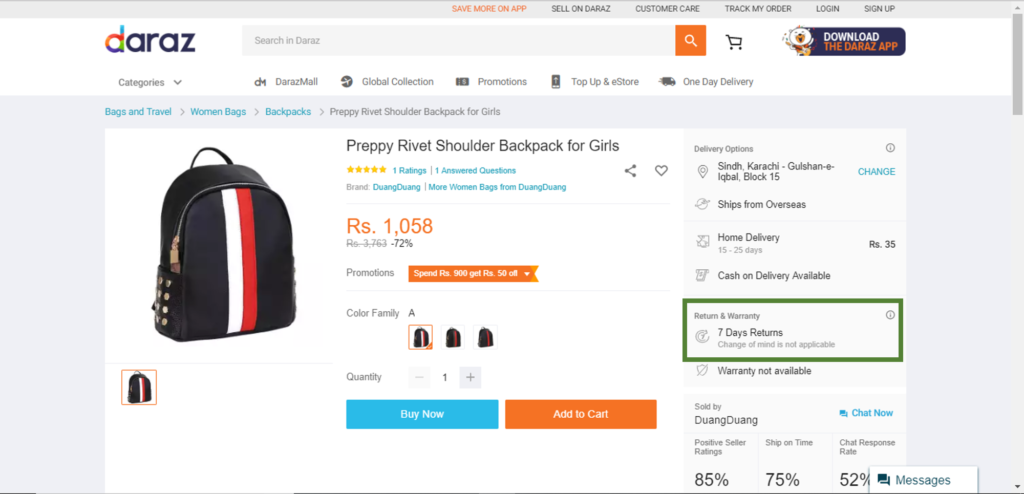 As you can see in the example above, the product is not eligible for returns. However, if the product you've selected is eligible here's a guide on how to return products on Daraz successfully.
Worried about fake products on Daraz? Don't worry! We help you understand how to buy authentic products from Daraz in this guide.
Happy Shopping!