Aamir Khan Denies Making INR 15,000 Donation in Ration Bags
There has been rumors that Bollywood actor, Aamir Khan, donated INR 15,000 in ration bags to helps the needy people.
But as it turns out, the actor shot down the hearsay about him secretly donating money to help the daily wage earner during this ongoing pandemic.
He took to Twitter to deny these claims and wrote, "Guys, I am not the person putting money in wheat bags. Its either a fake story completely, or Robin Hood doesn't want to reveal himself! Stay safe. Love. a."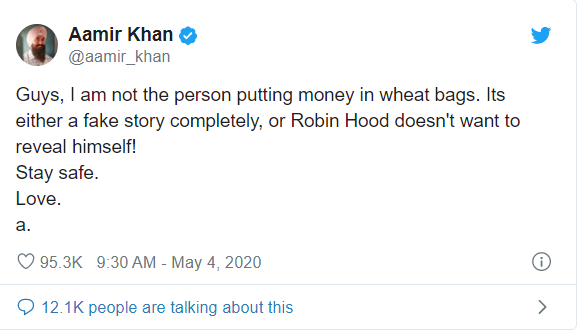 According to the Himdustan times, the rumor started after a video went viral which claimed that Aamir Khan had sent a truck full of wheat bags to help the people in the slums. The video also mentioned that the people were told that they could each only take one bag. People who took the bags later found Rs. 15,000 inside.
However, It's been reported earlier that Aamir Khan has made contributions to the Indian PM Narendra Modi's PM_Cares fund, Maharashtra chief minister's relief fund and film workers' association along with some NGOs. The actor has also extended support towards the daily wagers with his upcoming film, Lal Singh Chaddha.
When the virus started spreading in India, the actor said the following in a special video message:
"A very warm hello to all my friends in China. Since I read about the outbreak of coronavirus over there, I have been extremely concerned. I have been in touch with a few of my friends and I have been following this tragedy with a lot of pain in my heart. My heartfelt condolences to those who have lost somebody close."