All You Can Expect From the New Samsung Galaxy S20
Check out the best phones in 2021 in Pakistan!
Samsung has finally disclosed the all new Galaxy S20 series at the unpacking event in San Fransico and the devices are Galaxy S20, S20+, and S20 Ultra LTE.
Considering the amount of features that these phones are packed with, calling it S11 and an upgrade of single number wouldn't have done any justice to the line. These devices have been revamped inside out and are equipped with 5G, new camera systems and a number of other great features along with revamped looks and feels.
Samsung Galaxy S20 Price is expected to start from $999.99 while S20+ will be $1,199.99. Samsung Galaxy Ultra LTE is probably the most expensive starting at $1,399.99.
Depending on the configuration, the Samsung Galaxy S20 Price will start at $999.99, while the S20+ comes in at $1,199.99. Samsung mobile's luxe Galaxy S20 Ultra is the most expensive of the bunch, starting at $1,399.99. Samsung Galaxy S20 series will launch in stores from March 6. However, you can preorder from February, 21.
Here's a detailed post on the specifications and features that you should expect from this new Samsung series.
Design
S20 comes in three colors that include Cosmic Gray, Cloud Blue and Cloud Pink. S20+ comes in Cosmic Black, Cosmic Blue and Cloud Blue while S20 Ultra comes in Cosmic Gray and Cosmic Blue. The phones are 6.2″, 6.7″ and 6.99″ respectively. The phones easily fit the palm of your hand and give you a cinema-like experience with bezels pushed way back and no notch. There's just a mini camera hole. The refresh rate has been leveled up for smooth gaming and scrolling. Along with face detection, the phone also has a built-in ultrasonic fingerprint detection and has an eye care display to prevent eye strain and sleep disturbance. The phone is also water-resistant to 1.5 meters of water for around half an hour.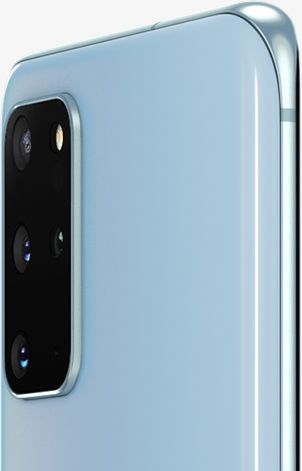 Camera
S20 comes with a triple camera that includes a 12MP wide-angle lens /1.8 aperture, 120-degree 12 MP ultra-wide lens with f/2.2 aperture and a 64MP telephoto lens with f/2,0 aperture.
S20+, on the other hand, incorporates the same rear camera sensors but also addsa depth-sensing Time of Flight sensor to make it a four camera phone.
The Ultra version too have four cameras which includes a 108 megapixel wide-angle lens with with f/1.8 aperture, a 120-degree 12-megapixel ultra-wide lens with f/2.2 aperture, and a 48-megapixel telephoto lens with f/3.5 aperture and just like S20+, it also has a Time of Flight sensor.
Other than that, S20 and S20+ are equipped with 10MP front camera and fast AF in order to capture your best angles for clear selfies that stand out. On the contrary, S20 Ultra has a 40MP front camera that shifts to 10MP with large pixels for low light selfies.
Performance
The phone has an outclass performance, something that Samsung has never offered before. The S20 series sports 5000mAh battery but the batteries are intelligent and adjust to your mobile habits so as to save power and last longer on a single charge. The phone comes with a super fast charger an you can easily charge your almost dead phone within minutes. Not only this, the phones possess a very powerful RAM and an advanced AI built-in processor. The phones have ultra-vast storage to save all your photos, HD videos and heavy files. The internal storage space is 128GB while you can add external storage card up to 1TB. The phone is also great for gaming thanks to the smooth touch.
Connectivity
The real hype of this phone is because the new S20 phones will be equipped with 5G. So, with this, you'll get sub-6 5G capabilities in S20 and sub-6 and mmWave capabilities in S20+ and S20 Ultra.
So, what's your opinion about getting this new Samsung Galaxy S20 series? If you have your eyes on it, make sure you preorder from Samsung's Online Store so they don't run out of stock!
Check out our Samsung S21 and Oppo Find X3 Pro reviews | Best Battery Life Phones in Pakistan