All You Need to Know About the New iPhone 11!
Apple is back with a new phone and we've rounded up all that you need to know about this new iPhone 11!
When Will iPhone 11 Be Released in Pakistan?
All we know is that iPhone 11 is officially launching on 13th September, 2019. That's when preorders begin too. Shipment is expected by 20th September however, the release date in Pakistan may vary as per the shipment.
What Will Be the iPhone 11 Price in Pakistan?
Starting prices of iPhone are expected to be from $699 / £729 / AU$1,199 but price for iPhone 11 in Pakistan is still unknown.
Overview
Here's an overview of all the tech specs and features that the new iPhone 11 possesses.
Size
The height of the new iPhone 11 is 5.94 inches while the width is 2.98 inches. Good enough for standard hands.
Weight
The new iPhone 11 weighs 6.84 ounces (194 grams) which is slightly heavier than iPhone XS but can be easily carried.
Storage Capacity
For iPhone 11, you get to choose from three different storage capacities.
Display
The new iPhone 11 has a diagonal 6.1 inch display. It is a liquid retina HD Display with true tone display which makes everything look amazing. , Haptic touch helps you do everything faster with contextual menus and shortcuts. Moreover, it has finger resistant coating and a 1792‑by‑828‑pixel resolution.
Camera
Quite evidently, the new iPhone 11 has a dual camera system which has a whole new perspective. You can now click ultra-wide photos and vidoes and you can also easily edit videos as well. The camera also offers a night mode which turns on automatically for low light photos. The portrait mode has also improved and now you easily shoot everything you wish to in a portrait mode. Lastly, you can also shoot a slo-mo selfie (slofie)! So, no need of photo/video editing apps. iPhone 11 has it all!
Chip
The new iPhone 11 uses A13 Bionic Chip which claims to be the fastest chip and gets you extra hours of battery life. So, a performance boost is always a great idea!
Colors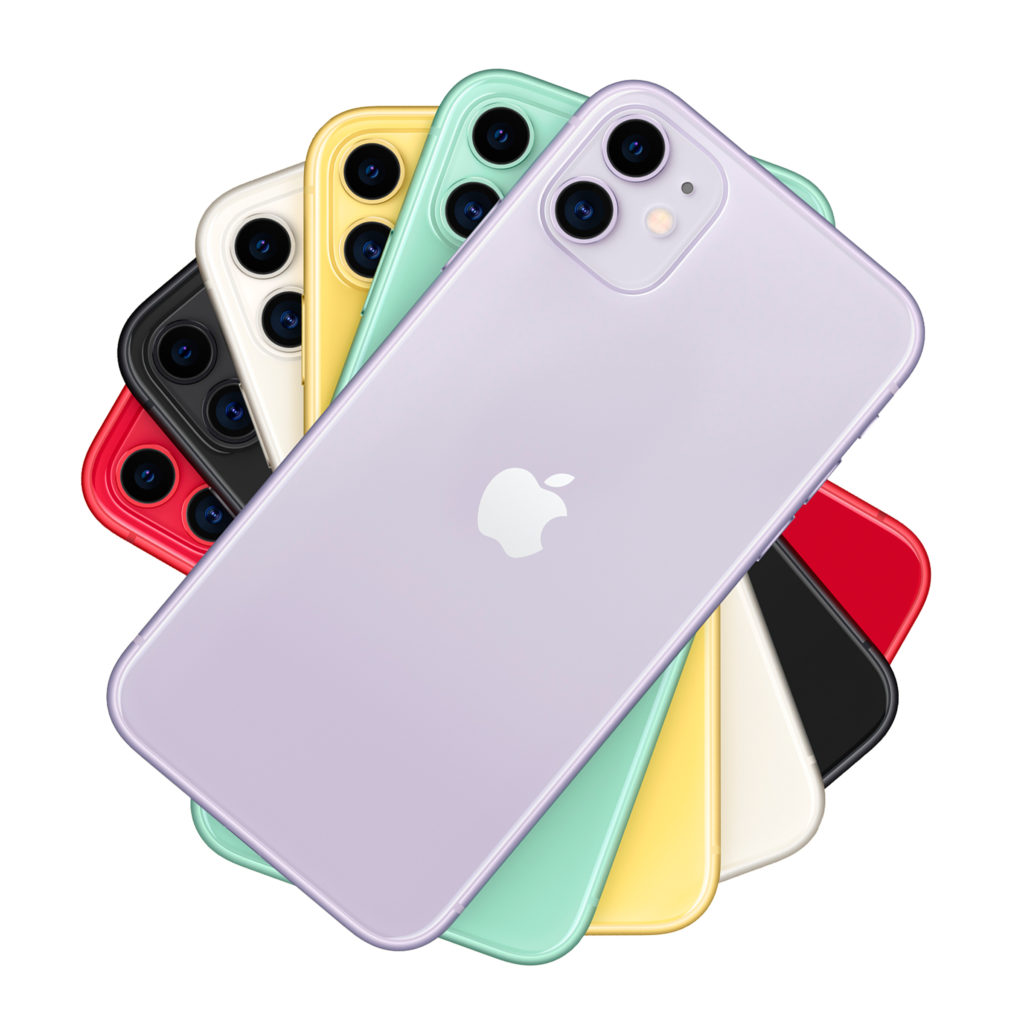 You get to choose from a variety of colors like Black, Green, Yellow, Purple, (PRODUCT)RED and White.
What's in the box?
Along with your iPhone 11, you get a few more products.
iPhone with iOS 13
EarPods with Lightning Connector
Lightning to USB Cable
USB Power Adapter
Documentation
Other than these great features, the phone is water resistant up to 2 meters for 30 minutes. Moreover, it offers Spatial Audio, faster Wi-Fi, Fast charging capability, wireless charging and a lot more!
Love it already? Preorder yours now!