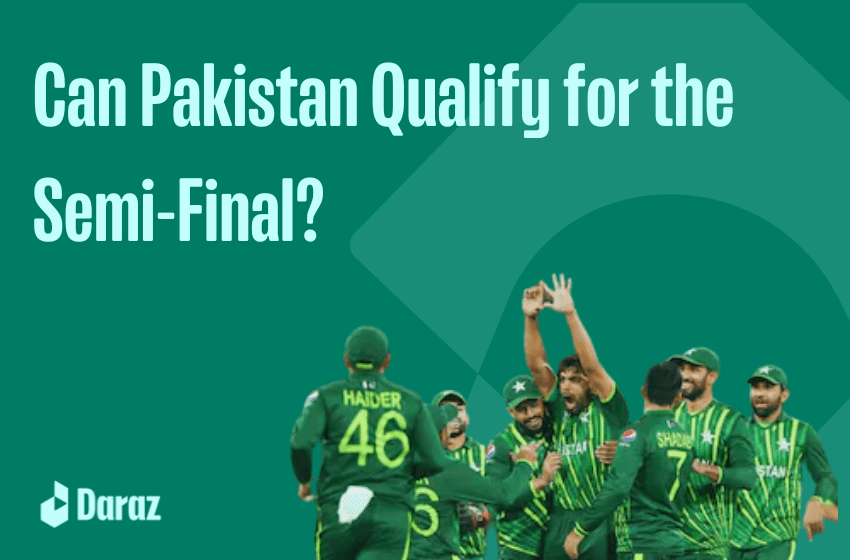 How Pakistan Can Qualify for the Semi Finals of World T20 2022?
Spoiler Alert: It's a long shot!
After playing the nail bitter with arch rival India, the unpredictable Pakistan cricket team did something out of the box that knocked the socks off every cricket fan by losing from the least favorite team, Zimbabwe.
Virtually, Pakistan is out of the World Cup. However, low-key we are all looking for some miracle and ifs-and-buts that somehow pushed Pakistan over the line of semi-finals.
We attempted to ease everyone's pain by looking at scenarios where Pakistan can qualify for the next stage of T20 World Cup 2022.
The top two team of each group from Super 12 will qualify for the semi-finals. Pakistan is in Group 2 along with India, Zimababwe, South Africa, Netherlands, and Bangladesh.
We examined the current situation and describe how Pakistan may yet be able to qualify.
The Current Situation of Pakistan's Group
Getting five points from their first three games, South Africa leads the group and is in great position to advance to the semi-finals. With a Net Run Rate of +2.772, the team is off to a strong start. To finish in the top two, Bavuma's team will need to avoid any slip-ups.
After thrilling win against Zimbabwe, Bangladesh stands at third position with four points. After losing their game with South Africa, India stands at second position with four points with +0,844 net run rate.
With two games remaining, and the rain-interrupted draw with South Africa, Zimbabwe stands at fourth position with three points.
Pakistan finally opens its accounts with comprehensive win over Netherlands, and stands at fifth position with 2 points with a decent run rate of +0.765.
Currently, South Africa and India have a decent change to advance to the semi-finals stage of ICC World T20.
Can Pakistan Make it to the Semi-Finals of World T20?
Although it is looking increasingly unlikely, Pakistan still has a small chance of making it to the top two and it is still mathematically possible.
Since Zimbabwe won, Pakistan's chances of making it out of Group 2 and into the semi-finals are more slim.
However, Pakistan can reach the semi-finals in the following scenarios:
Pakistan must win each of their final two games.
Second, in order to sustain a positive net run rate, the men in green must triumph in each of the three games by a substantial margin.
Thirdly, they need to hope that Bangladesh beats India in their upcoming game.
Lastly, Zimbabwe must lose their matches against India.
If everything goes in according to this calculation. Then Pakistan can secure the second position in the group stage.
The Remaining Group 2 Super 12 Fixtures are Listed Below:
October 30 — Bangladesh vs Zimbabwe, Netherlands vs Pakistan and India vs South Africa
November 2 — Zimbabwe vs Netherlands and India vs Bangladesh
November 3 — Pakistan vs South Africa
November 6 — South Africa vs Netherlands, Pakistan vs Bangladesh and India vs Zimbabwe
Wrapping Up:
Pakistan's tournament dreams took a hit after they failed to attain a modest target of 131 against Zimbabwe at Perth Stadium. Pakistan, who lost to archrivals India in their opening encounter, now finds its tournament hopes in jeopardy.
However, we can only hope for the best and we know that all cricket fan will tune up to Daraz live on the next Pakistan cricket match to cheer our team even after utter disappointment. We just can't help!
---
Download Daraz App Now to Catch Live T20 World Cup Cricket Action!