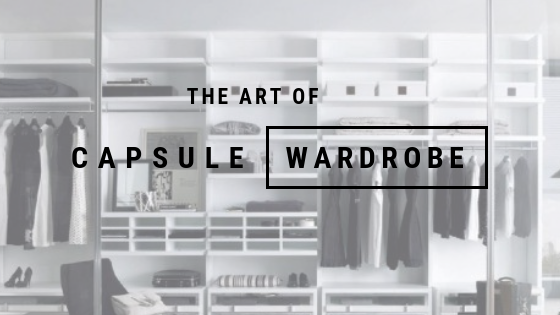 The Art of Capsule Wardrobe
The Art of Capsule Wardrobe
The concept of minimalism has collected a wide-spread appreciation for its versatility. And if you're a minimalist, you are going to love the concept of Capsule Wardrobe. You might have come across this term before the start of each season. If you haven't, you're missing out on an assortment that will help save time, money and space.
What's a Capsule Wardrobe?
For those readers wondering what a Capsule Wardrobe is, it's a wardrobe designed to minimize your clothing options, depending upon the season. It involves taking away the clothes that are not fit for the current season out of your wardrobe and work with the clothes you have picked out specifically for the season.  By limiting your choices, you can spice up the decision making with a challenge.
Why Go Capsule?
Why consider Capsule Wardrobe? Firstly, it helps ease up the decision-making process, when you have a limited number to choose from. It also keeps the wardrobe fresh. Capsule wardrobes also helps save money on bad shopping habits and excessive spending on new clothes. You can save a lot of money limiting your options, be it shirts, trousers or shoes.
A lot of people have this misconception that capsule wardrobes is about restricting yourself from buying new clothes. That is not the case. You can buy new clothes every season, but keep the options limited instead of splurging money on every other outfit.
It also lets you experiment with what you already have so the option of different attires getting totally lost and forgotten in your closet. How many times has this happened that you bought a shirt and forgot about it, till this day, never to be included in any of your outfit?
How Do I Go Capsule?
Adopting a capsule wardrobe is pretty easy if you know what you want and what you're doing. Always apply the "One In, One Out" rule. Keep removing the clothes you don't like wearing any more, that don't match, that don't fit like they used to, even the 'maybe' outfits.
Invest in clothes that are made to last. Prioritize quality over quantity when shopping, even if they cost a lot. Look for apparel with natural fibers, thick stitching & durability that prolongs the longevity and helps you save money in the long run.
Setting up and maintaining a capsule wardrobe takes effort. But it's the best way of realizing your signature style. Keeping your 'best of the best' belongings, sounds simple, doesn't it?