The Best Cheat Meal Ever: Chicken Parmesan and Mushroom Pasta Recipie
Looking for delicious and easy pasta recipes to spice up your meal plan? While this chicken and mushroom pasta may not be the healthiest meal, it definitely makes for a delicious cheat meal. You can play around with the ingredients to adjust the flavor based on what you like and add extra toppings like corn, spinach, or sundried tomatoes if you prefer some more flavor.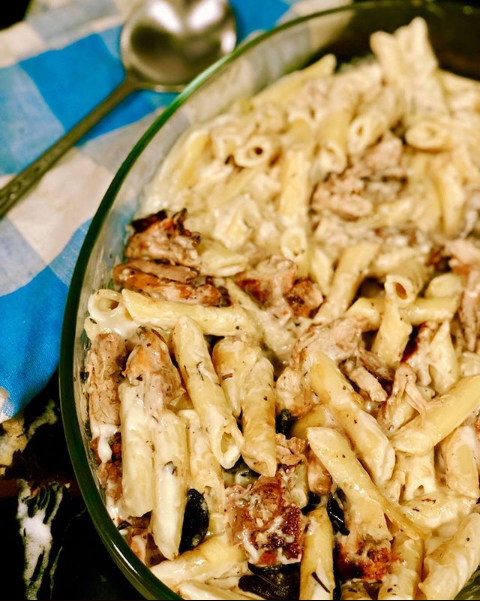 Chicken Parmesan and Mushroom Pasta
Ingredients
2

cups

penne pasta

boiled as per package
For Chicken
olive oil

as needed

1/2

kg

chicken breast

1

tbsp

chilli sauce

1

tbsp

mixed herbs

2

tbsp

lemon juice

1

tsp

salt

1/2

tsp

black pepper

1/2

tsp

paprika
For Sauce
1/2

cup

fresh mushrooms

1

clove

garlic

crushed

2

tbsp

butter

2

tbsp

oil

4

tbsp

flour

1/2

cup

chicken stock

1

packet

cream

1

packet

milk

1-2

tsp

mixed herbs

1/2-1

tsp

white pepper

1-2

tsp

salt

1/2

tsp

paprika

1

tsp

garlic powder

4

tbsp

paremesan cheese
Instructions
Marinate your chicken in the ingredients above for a minimum of 30 minutes up to 2 hours.

Heat olive oil in a grill pan and cook your chicken on medium high heat until it's tender and juicy with a crispy exterior.
For the Sauce
Start by adding your mushrooms to a pan with a tiny bit of butter. Saute until the mushrooms have released their water and reduced in size. Keep aside.

In a pot add your butter and oil. Once it's melted, add your crushed garlic and saute until fragrant.

Add flour and mix until the color changes to a very light brown and the flour no longer looks raw.

Take the pot off heat and add your chicken stock slowly, whisking to keep any lumps away.

Put your mixture back on low heat and continue to stir until the sauce begins to thicken.

Once you're close to the consistency you want, add salt, white pepper, garlic powder, paprika, and mixed herbs and stir to combine.

Turn the heat off once your sauce is thick enough for your liking.

Slice or dice your cooked chicken and add it to your sauce along with the cooked mushrooms.

Add your pasta right before serving, sprinkle with cheese.
Shop the ingredients for this recipe below!