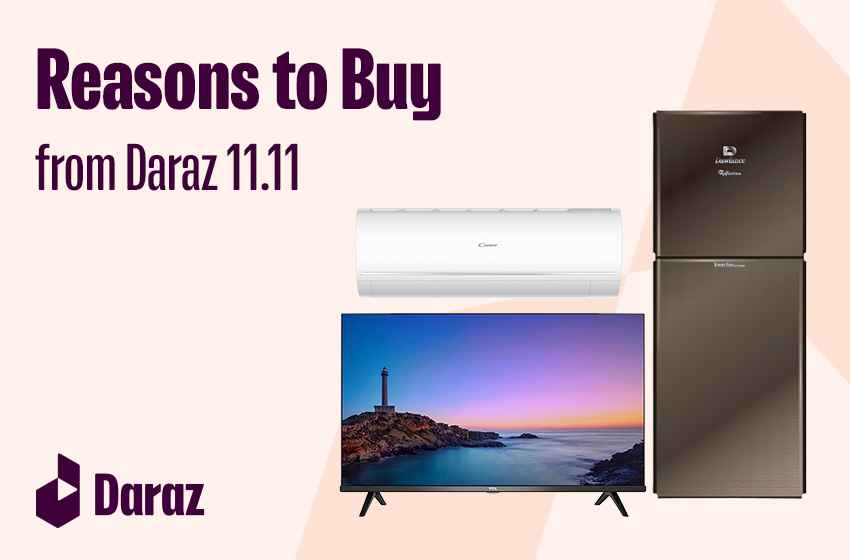 Reasons to Buy from Daraz 11.11 sale
As you know Daraz 11.11 is coming and it's high time that you start gathering your products in Add to Cart. What are you waiting for? We're talking about the Daraz 11.11 and giving you the elevator brief as to why this app needs you. It'll make an already convenient online shopping experience doubly effortless. Go get yours only in Daraz 11.11
Why buy from Daraz?
1. Your purchase is safe and sound

When we say your purchase is 100% protected, that means your transactions on Daraz take place in a safe and secure virtual environment.
Daraz only deals in genuine articles. Not only can customers avail of multiple payment methods, but they can also enjoy free and easy returns. Of course, regardless of whether you shop Daraz's site, or use the app, 100% purchase protection is a fundamental Daraz promise.
2. Fast interference

The Daraz website is optimized for mobile. You'll experience a fast and user-friendly interface with easy navigation. Why remain dependent on your home computer when you can easily enjoy Daraz on your phone.
3. 1 App and 5000s of different category brands
Shop effortlessly from 1000+ international and local brands and almost all shopping categories under one umbrella. including Mi Huawei Samsung Infinix Haier, Honor, SONY, Hewlett Packard, Anex, TCL, Bonanza Satrangi, PEL, Dawlance, and, L'Oreal Paris
4. Convenience of getting products on time!
WWW has another meaning at Daraz: whatever, whenever, wherever. It's a testament to the sheer convenience the Daraz app provides. Mobile shopping is the future. Long queues and exhausting trips are now at your fingertips!
5. Never miss out on sales and launches
With the 'Save for later option, you can add your favorite products to the wish list and purchase them later.
That way, your Daraz app becomes a kind of wishlist on the go.
6. Flash Sales and Push Notifications
Be notified of the latest that Daraz has to offer. Shopping festivals, exclusive product launches, flash sales. You'll be alerted to the hottest happenings!
Conclusion
Now, what are you waiting for? Go Grab yours and make this 11.11 memorable! Also, check out Daraz Like New blog, that'll allow you to purchase your favorite tablets and laptops in slightly used condition with up to months of Daraz warranty at absolute steal prices!
Also, Read 11.11 voucher discounts and get unlimited discounts!