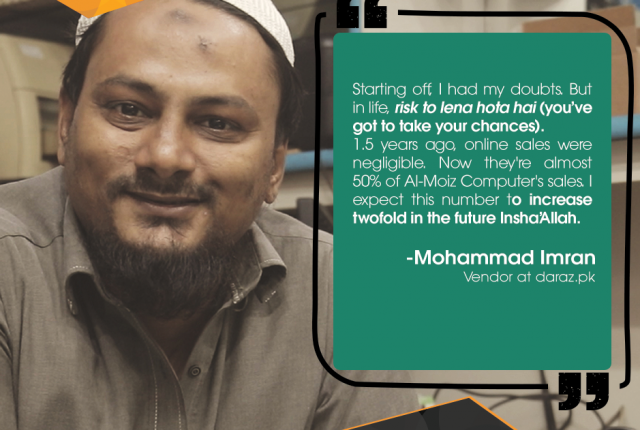 Daraz Seller Stories: Mohammad Imran
Daraz Vendor Mohammad Imran: A little less conversation, a few more e-commerce conversions!
You'd never guess Mohammad Imran runs an e-commerce business. This father of three is unassuming in appearance and mild in demeanor. A man of much experience and few words (aren't they the best kind?), he calls the metropolis of Karachi his home and has overseen Al-Moiz Computers' offline store since 1996.
We were led to Imran by his neighbor- fellow Daraz vendor at Techno City, Abdullah Bawa.
Mr.Bawa's success on Daraz inspired Imran -the first in his family to be educated till Intermediate- to try his hand at e-commerce.
When he started out on Daraz in January 2016, he had a 100 products. Now his store Al-Moiz Computers, specializing in printers, sells 500+.
As with any enterprise situated on a frontier, right on the cusp of enveloping the entire market in its fold, Imran had his doubts at first, doubts that were soon allayed by Daraz's healthy reputation for releasing payments in a timely fashion. Of course, that two-day sale total of 9 million rupees during 2016 Black Friday didn't hurt either.
In a matter-of-fact way, he says:
I'm a no-fuss, no-nonsense type of guy. I'm in it for the convenience. Asaani. Simple si baat hain. Payment time pe milti hain. This encourages vendors to increase their business on Daraz. Because they know they won't be left waiting for payment. Cash flow is good.
We press Imran to divulge some of his best kept e-commerce secrets. But he hasn't the interest in, nor the time for idle talk.At the rate Al-Moiz Computers is growing, who could blame him?
_________________________________________________
Join us in celebrating Mohammad Imran's progress in the world of e-commerce on the 13th and 14th of August! 🙂