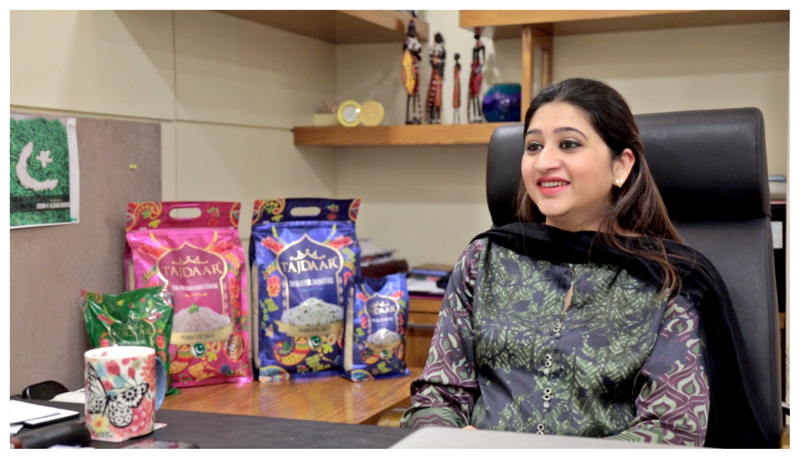 Daraz Seller Stories: Seemin Kabir and Tajdaar's basmati calling
Basmati's reputation as the aromatic, slender-grained rice of choice, precedes it. Bāsmatī باسمتی , literally means "fragrant" and the world's leading purveyors of this 'fragrant' rice type are India and Pakistan. Tajdaar's vision? Grow Pakistan's stake in the basmati market. And what better place to bring this vision to fruition than starting where good things often begin: home.
Tajdaar Rice is Seemin Kabir's passion project, run and managed under its parent company, Rice International. Tajdaar's premium variety of Basmati rice, native to the subcontinent, makes the brand truly ambassadorial of Pakistan's natural bounty. Nutritious food bringing people together at the table of time-honored traditions, across the nation- that's what it's about for this driven female entrepreneur.
Ms.Kabir thought it was high time a locally sourced and produced brand of Basmati was introduced into the Pakistani market.
'We identified a gap in the market. Rice International has been in the rice exporting business for years now. Our basmati has been exported worldwide- the USA and Europe included. It was time for basmati to come home, so to speak.'
Seemin is as much a daughter of the soil as the brand she owns is. A dyed-in-the-wool pro- Pakistani, her vision for Tajdaar is to lend basmati rice an authentically Pakistani, homestead signature- one she aspires to see recognized internationally. She emphasizes: 'I wanted to position it internationally and register it as a Pakistani rice.'
Tajdaar found an appetite in the local market for basmati done right; an appetite for a brand that reflects, and energizes the end users' identity right back.
One need not look too far to see the brand's commitment to the narrative of a Pakistan that grows it own. The packaging is conspicuous, eye-catching, and marinated in the colours of Pakistani truck art. The colours pop, and proclaim 'Pakistan' as if from the top of a six-wheeler truck.
These folk art accents are, of course, deliberate, an attempt to project the brand's desi allure and 'made in and of Pakistan' appeal.
'I want Pakistani consumers to come across a rice brand that reflects their identity whilst delivering premium quality.' Tajdaar's Super Kernel Basmati Rice is allowed to age for 16 months before packing and processing, allowing it to dry completely and making it non-sticky.
I'd like people to hear the words 'Made in Pakistan', as Tajdaar is, and feel pride in local             product. Fukhr ki baat honi chahye.     

– Seemin Kabir, Director Tajdaar Rice 
Brand of the soil goes online: The Tajdaar–Daraz relationship
Tajdaar's truck art inspired packaging is eye-catching and conspicuous. It wasn't until Tajdaar joined hands with Daraz that the company was able to deliver their product to cities and towns nationwide, extending the brand's footprint and deepening its market penetration.
Daraz has taken Tajdaar nationwide. From Karachi to Mandi Bahauddin to Azad Kashmir, Daraz and Tajdaar deliver to Pakistan's doorstep.
On being part of a growing number of women selling on Daraz
Seemin swears by Daraz's services as a long-time customer of the online shopping portal, ordering electronics, gifts and appliances for friends and colleagues. She is, of course, also part of Daraz's extensive and diverse ecosystem of sellers.
'Daraz has an easy-to-use platform for sellers of all persuasions to sign up and sell their product, provided it is of a certain standard and quality.'
Speaking from years of industry experience, Seemin maintains that Pakistan is evolving as a marketplace and a culture, increasingly responsive to the needs and wants of working women. Though aware of the long journey that lies ahead, she is confident about women's prospects in business and trade, provided they put their best foot (product) forward and combat the inevitable risk and doubt that often attend pursuits of this nature.
She motions: My advice to enterprising women all over Pakistan is: go for it. You're as good as the idea and product/project you have. Invest your time and skills. Get diligent. Go digital. When Tajdaar started, we had our doubts. Chawal kaun online khareeda ga? But we persevered and now…our rice is sold all over Pakistan via platforms like Daraz. You have to get past the initial phase of fear and self-doubt.