#DarazEidHacks: 27 Snack Ideas for Your Eid Table
Bakra Eid is around the corner and that means it's time to start brainstorming ideas for what to serve your guests.
Desserts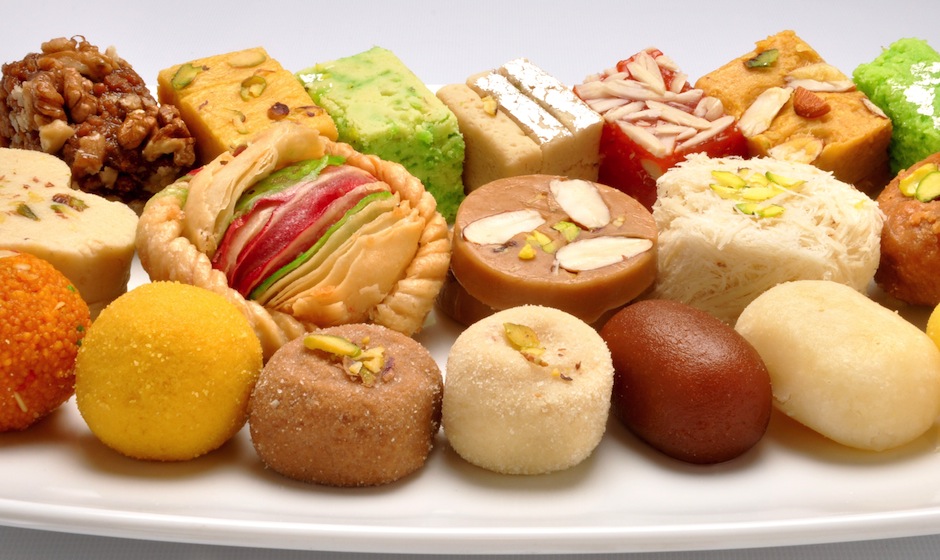 Sivaiyaan/Sheer Korma
When you think of eid desserts, the first thing that likely comes to your mind is sheer korma or sivayaan. This classic Eid staple is something you can never go wrong with. If you're completely lost at what to serve your guests – this is a good dessert to start with!
Mixed Mithai Platter
The wonderful thing about adding a mithai platter to you table/trolley is that not only does it add a lot of color, it also brings a lot of flavor. From ladoos to gulab jamun and those delicious pista rolls everyone loves – you can serve a number of desserts without any extra effort.
Bite Sized Cake Slices
A cake may seem like a hassle to serve because of the need to keep cutting slices. But if you cut small squares beforehand and lay it on a serving tray, it'll make it simpler for guests to just pick up and much on!
Classic Trifle
Cake, custard, jelly, fruit – a trifle is a quick, easy, and comforting dessert to add to your Eid table and serves as a lighter option compared to some heavier dishes. You can also play around with a number of flavors and fruits for a trifle that is uniquely yours.
Baklava
If traditional mithai is not your thing, try shaking things up by adding some baklava to your table. The rich nutty taste of baklava is right up there with other eid meethas.
Fruit Platter/Fruit Chaat
If you're feeling like skipping the overly sweet desserts, you can never go wrong with a fresh fruit platter or some classic fruit chaat! Make it super desi with chaat masala and zeera or add some honey and lemon for a more continental twist!
Halwa
Dense, flavorful and perfect for special occasions – a good halwa is something you can never go wrong with!
Snacks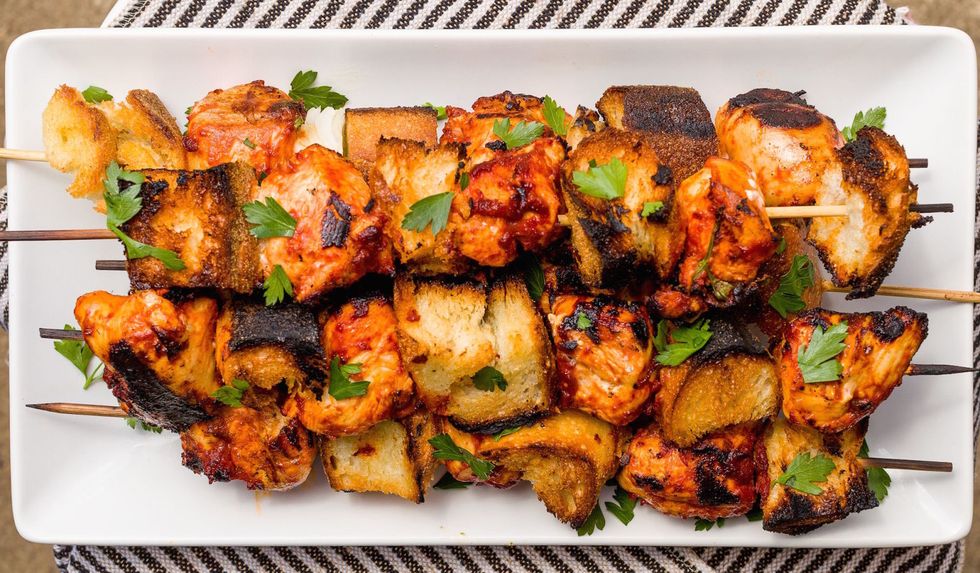 Make Your Own Chaat Station
Channa chaat can go bad if its left outside for too long but if you seperate the individual elements, it can last much longer. Chop up onions, tomato, coriander and place them in small seperate bowls.
Have your boiled channas, chutneys, and papri toppings in different bowls and let your guests get creative with how they want to mix and match flavors!
Pulled Meat BBQ Sandwiches
Pulled meat simply means meat that is slow cooked until its so tender that it falls apart. You can do this with beef, chicken or mutton – depending on your preference.
We prefer adding bbq sauce but you can add any seasoning or sauce you want! The melt-in-your-mouth texture of the meat means your sandwiches will never run the risk of being too dry.
Puff Pastry Treats
A puff pastry is a very versatile ingredient. You can use it as a kind of pizza crust and add toppings of your choice. You can fill it with meat, cheese, vegetables, roll it up and cut it into slices like a stuffed sandwich. You can even make individual pies, rolls, or pastries.
Dahi Baray
A vegetarian option for those who don't enjoy meat items – dahi baray are a flavorful addition to your eid snacks and loved by many!
Samosas
A Pakistani street food favorite, samosay make for a great snack to go along with heavier meat dishes. The best part is you can use any stuffing you want!
Crackers with Toppings
Don't underestimate how nice a light snack of topped crakcers can be. Use Tuc or Butter Puffs as your base and add on whatever flavors you like. It can be warmed cheddar cheese, chicken spread, shredded veggies, tomato paste and pepperoni, or even feta, cream or cottage cheese.
This is a great snack that can be made ahead of time, isn't too heavy (unless you want to add shredded meat, sausages, or boti) and is very pretty to look at it if you decorate well.
Hummus
This Arabic inspired dish is a delish accompaniment to some warm pita, fresh veggies or crackers. You can add roasted garlic, chilli flakes, beetroot, carrots, and roasted peppers for extra flavor!
If you want to add even more zing – top off your hummus with some spiced boti chunks and you'll have a showstopper!
Peri Bites
You can either make your own or buy frozen peri bites and serve them with a range of different sauces. Ketchup, chili garlic and sriracha mayo are popular choices. It's a bit unconventional as an Eid snack but we're sure your guests will LOVE it.
Bun Kebabs
The classic daal-anda bun kebab is very easy to make at home but if you want to be more meaty, you can always add a chapli kebab or shami kebab into the mix. Some green chutney and imli chutney with a simple slaw of cabbage and onions and you're ready to go!
Pasta
Again, this may not be a very Eid type dish but pasta is quick and relatively easy to make. You can make a cold pasta salad or a warm, creamy variation – either way its going to be a dish that can pack some flavor without being too much of a hassle.
Meat
Haleem
Haleem/Daleem is the ultimate comfort food for so many. And what better time to make it than eid? Whip up a batch of rich, creamy haleem and place it with an array of accompaniments and you'll have a winner on your hands!
Kebab Skewers
No matter what cut of meat you're working with, grilled kebab skewers are a beautiful addition to your eid table. Use cubed onions and capsicum to sandwich between the kebabs on your skewer and it'll be a quick grab-n-go snack!
Kaleji
This is a bit of a novelty item but Bakra Eid is the perfect time to play around with it. If you have a family and friends group who likes eating kaleji, making it a part of your Eid menu will definitely make them happy!
Chapli Seekh/Shami Kebab
If you don't like the idea of serving these kebabs as part of bun kebabs, you can serve the kebabs on their own or add some chutneys along with them. It's going to be a crowd pleaser and can easily be eaten with a simple fork.
Fry/Kachri Kebab with Poori
A Karachi specialty, fry kebab and poori is a combination that will not only be unique but also packs a lot of flavor and is a deviation from the simple kebabs. Give it a try!
Pasanday
If you want some beef dish ideas for eid, why not give pasanday a shot? You can cook them dry enough to eat with a fork or leave a little masala or curry to serve with naan or poori.
Malai Boti
If you don't have a lot of red meat lovers around, a safe meat option is chicken malai boti. It's also usually a favorite among children too and not too heavy on the spices.
Drinks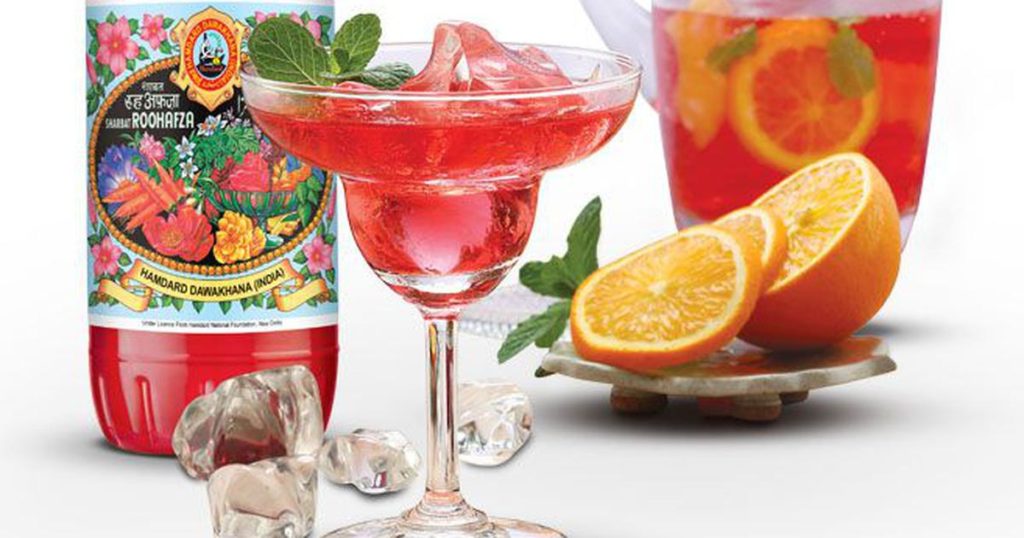 Tang Fruit Punch
We've shared a recipe for a Tang fruit punch here but the best part about it is you can literally add whatever flavors you like the most to create a combination that is refreshing and bursting with flavor.
Rose Cooler
A little Rooh Afza in some 7up with sliced lemon and mint sounds simple but when put together is an amazing combination. Give it a try! It's going to be a beautiful pink color and the flavor will be a welcome light change from dense meat flavors.
Mint Lemonade
Mint and lemon are a great accompaniment to heavy meaty flavors. A large jug of mint lemonade is going to be a total treat for your guests!
If you enjoyed these #DarazEidHacks, you might be interested in reading about how to prevent your house from smelling like meat during qurbanis and how to cook your qurbani meat without that raw smell.