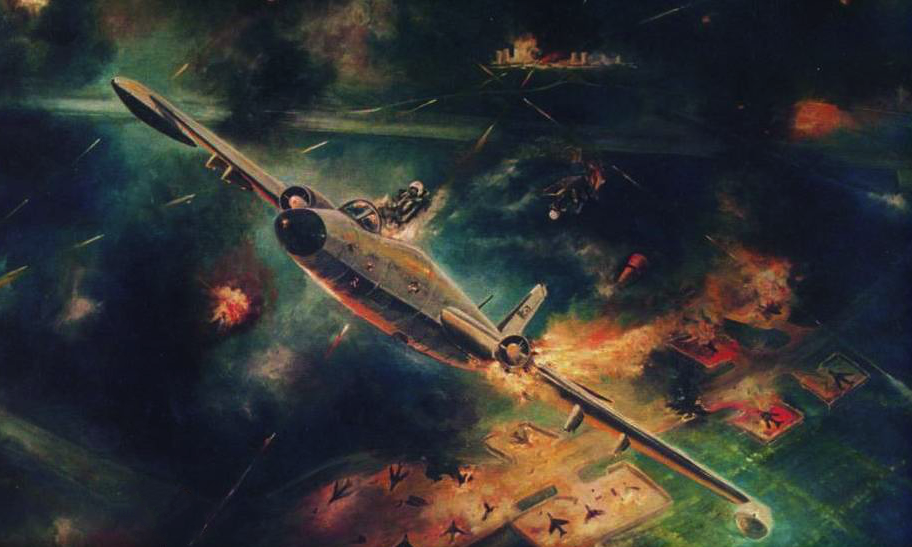 This painting by Gp Capt Hussaini shows a B-57 crashing while attacking an Indian air base
Defence Day Memoirs: Remembering the Brave
Defence day is an important day for all Pakistanis, home or abroad. It is today that we remember the valiant efforts of the men and women who stood against the Indian army to defend our 18-year-old nation acquired after floods of bloodshed. As Pakistanis, lets open our hearts once again as the auspicious day arrives and pay homage to the sons of this soil.
Major Raja Aziz Bhatti Shaheed (Nishan-e-Haider)
As the Commander in the Burki area of Lahore, Maj Aziz Bhatti managed his platoon with great responsibility protecting the Bambawali-Ravi-Bedian (BRB) Canal also known as Lahore Canal. Under his command, him and his fleet marched through the shooting and bombarding for five continuous days. Complimenting his fearless attitude, he ordered his fleet to keep on shooting until he got hit by a tank shell.
Flt Lt. Yunus Hussain Shaheed (Sitara-e-Jurat)
Braveheart Yunus Hussain disregarded his own safety despite the fact that his own plane was damaged, he continued his mission to attack the Halwara Airfield. His courage and devotion for the nation was evident in his continuous acts to defend Pakistan several times earlier fending off against six enemy aircrafts yet managed to return safe to the air-base.
Brigadier Ahsan Rashid Shami (Hilal-i-Jurat)
As the war struck, Pakistan called upon Brigadier Ahsan Rashid Shami who was nearing his retirement. He was martyred upon falling too close to enemy's area to seek a closer view of the situation. Targeted furiously by heavy artillery, he was buried near the border, following a formal burial after the War.
Squadron Leader Sarfaraz Ahmed Rafiqui Shaheed, (Sitara-e-Jurat,Hilal-i-Jurat)
Despite the encounter of an unfortunate event, Sarfaraz Ahmed Rafiqui has his name etched with the top army personnel. As he led a formation of 3 F-86 aircraft, his guns jammed up. This is when he ordered his No. 2 to take over as a leader while he refused to leave the battle field. He then continued to serve & protect his formation until he was gunned down and martyred.
Major Muhammad Fazil Shaheed
Despite being cut off from his platoon, Major M. Fazil fought back against the enemy with great energy. Unfortunately, while on the field, his ammo exhausted while attacking the enemy and a bullet wound to the head resulted in his martyrdom.
These are but a few names of the freedom fighters this Nation is proud of. Their selfless passion and sacrifices resulted in the freedom we treasure since the Dawn of Pakistan. Bless the lionhearted soldiers of the Nation.