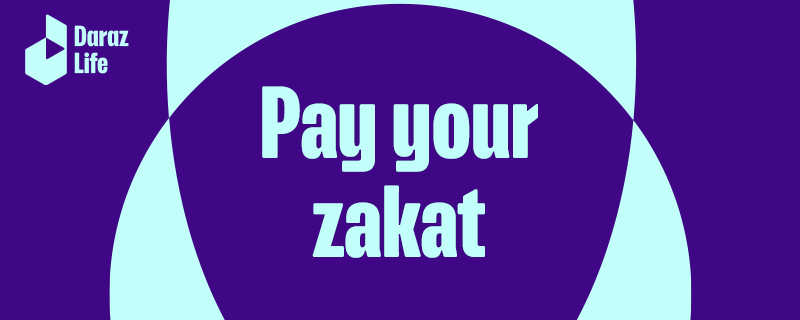 Donate and Pay Your Zakat in 2022 with Ramadan Daraz Se!
Every year, Daraz Ramadan takes initiatives to assist you in carrying out your good deeds throughout the Ramadan in Pakistan. So, are you looking for ways to pay zakat in Pakistan? This blog explains the best way to pay your Zakat in Pakistan in 2022. And if you're looking for ways to make donations in Ramadan 2022, then we've got the answer for that too.
Now that the Ramadan Calendar 2022 in Pakistan is all set, Daraz also brings to you its 'Ramzan Daraz Se' campaign that offers several zakat and donation options for you to choose from. Daraz has onboarded many NGOs for its Asaan Donations Daraz Se. Some of the most prominent NGOs include JDC, Shaukat Khanum, Akhuwat Foundation, Al Islam, Orange Tree, and many more.
Why Should You Donate with Asaan Donations Daraz Se?
You should donate with Asaan Donations Daraz Se because of the infinite ease and convenience for something that is otherwise often filled with many complexities.
Asaan Donations Daraz Se offers:
0% Daraz profits which means no commission on transactions.
International donations through Visa and/or MasterCard.
Make safe and secure payments with easy digital payments.
How Can You Make Online Donation in Pakistan?
To donate online in Pakistan, simply go to Daraz and check out Daraz charity donation page! Offering you quick, easy and secure donation and zakat options, Daraz brings to you many NGOs with their individual donation and zakat packages. Choose the donation package of your choice and make easy donation in Pakistan during Ramadan 2022.
List of NGOs Daraz has Partnered With for Asaan Donations:
Al Khidmat
Bait us Salam
The Indus Hospital
JDC
Saylani Welfare Trust
Orange Tree Foundation
UNAP
Alamgir Trust
Hope Foundation
Zindagi Trust
Pink Ribbon
Akhuwat Foundation
Edhi Foundation
TCF
Rizq
Bint e Fatima
HotPod (RHA)
Shaukat Khanum
Head over to Ramzan Daraz Se main campaign page.
Click on the Asaan Donation banner.
Find the donation package by an NGO of your choice .
Select your donation SKU, add it to your cart and check out.
Select your preferred choice of digital payment method.
Once you've paid, you'll receive a payment confirmation email, confirming you about your order!
---
JDC and Daraz
If you want to pay zakat with JDC, then JDC offers a Rs. 1000 package that you might be interested in. And if you'd like to donate for dastarkhwan, then JDC has two offers for you:
Click on the images!
JDC also has several donation and sadqa packages that gives you a good variety of how you'd like to make your donation in Ramadan 2022. From goat sadqah options to donating for an orphanage, from donating for Corona hospital to other causes – JDC and Daraz partnership brings you several means of donation this Ramadan 2022.
Click on the images!
---
Orange tree Foundation and Daraz
Next in line, we have the Orange Tree Foundation. This Ramadan, pay your Zakat for Ramadan 2022 by sponsoring a student's school starter pack! Other zakaat options by Orange Tree Foundation include:
Click on the images!
Orange Tree Foundation also offers you easy to pay sadqah options. You can donate ration bag for OTF families by paying your sadaqah or zakaat. OTF also includes other sadaqah options:
Click on the images!
---
Saylani Welfare Trust and Daraz
Saylani Welfare Trust has noot fallen behind in this race. Saylani offers some feasible options to donate ration packages for Ramadan 2022 along with sadqa options too:
Click on the images!
---
Bait us Salam and Daraz
Bait us Salam has also partnered with Daraz for Ramzan Daraz Se. For Asaan Donations and Zakaat options, you could avail one of the Tuhfa e Ramzan packages:
Click on the images!
You could also be part of Bait us Salam's meal distribution drive or put your money in some sadqa or donation packages. Check these out:
Click on the images!
---
Akhuwat Foundation and Daraz
Akhuwat Foundation also brings you some really good zakat donation and ration donation packages. And don't miss out the sponsor options that Akhuwat offers as well!
Click on the images!
---
This Ramadan 2022 in Pakistan, make the most of this holy month with Asaan Donations Daraz Se! Who thought making donation and paying Zakat in Ramadan 2022 could be so easy!