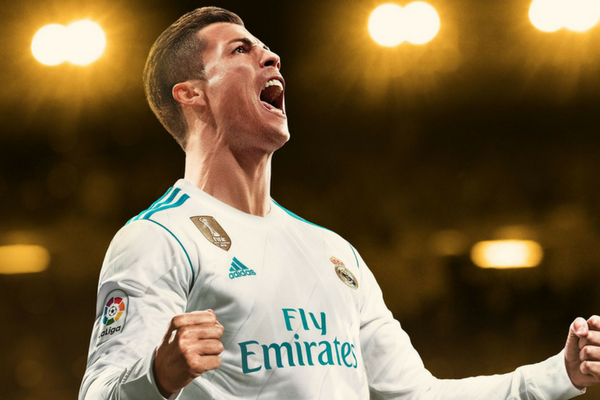 FIFA 18- What's in the game?
FIFA 18 has gripped gamers and football fans alike, with the chance to try out new kits as well as players in updated squads. However, FIFA 18's main selling point is the improvements EA Sports has made to its flagship game. Best enjoyed on the PS4, Xbox One and PC, players can also compete Ultimate Team Champions League, and adjust their FIFA Ultimate Team (FUT) squads in the web app as well as the smartphone app, available on both Android and the iOS.
Real Player Motion Technology
Real Player Motion Technology ensures that players replicate the form and movement of their real-life counterparts, making for  smoother gameplay. This new level of responsiveness and "player personality" particularly applies to big-name players, and you can see it reflected in the likes of Cristiano Ronaldo.
Team Styles
The in-game tactics for teams mimic those of real-life clubs, ensuring that clubs which employ high-pressing up the pitch in real life don't drop off and start defending deep in the game. This also brings us to the main issue with the gameplay – the New Player Positioning engine which allows players more control over the players. Supporting players find space and make attacking runs freely, while the human in control of the game controls every aspect of the player's movement.
Pro Tip: Press X (PS4) or A (Xbox One) to make your player stick to the defender; then tackle with O or B when the attacker gets close enough.
Immersive Atmospheres
The best thing about FIFA is the atmosphere. You can hear actual club chants while you play! The crowd is more realistic, and club-specific banners can now be seen in the crowd, adding to the game's verisimilitude.
Heading and crossing
While FIFA has reverted to the old penalty-taking system, crossing and heading have graduated to a new level, with players having more control of arching, whipped and pinged crosses. Striking and heading has been much-improved as well.
The Verdict: GOTTA HAVE IT!!!
If you have a next-gen console, this game is a must-have. As with all new FIFA titles, this takes some getting used-to, but the additional control and updated kits/stadia/atmosphere makes FIFA 18 worth every rupee.