Finger Mehndi Design Ideas 2022 for Every Occasion
Whether you love mehndi or aren't a huge fan, there's no denying that gorgeous finger mehndi design ideas can make you fall in love with mehndi. It's the perfect amount for those who don't like really heavy looks while still adding that festive touch for all your events.
Finger Mehndi Designs in 2022
Finger mehndi has grown incredibly popular in recent years. There are lots of ways to wear finger mehndi. You can either go for a full finger mehndi design or opt for one finger mehndi designs that will just highlight one part of your hand.
Full Finger Mehndi Designs
Full finger mehndi designs in 2022 are a mixture of simplistic boho designs and more traditional patterns. You can either go for a simple finger block designs or pair finger mehndi with full hand henna. It's completely up to you! If you're going to go for a really full finger mehndi design, it's a good idea to go lighter on your hand mehndi unless of course, you're looking for bridal mehndi looks! A mehndi wrist cuff also looks super trendy when you pair it with your finger mehndi.
One Finger Mehndi Design
Single finger mehndi designs are a great idea if you don't want a really full looking hand. The best way to ensure you look festive but chic is to opt for more bohemian style mehndi as opposed to traditional designs.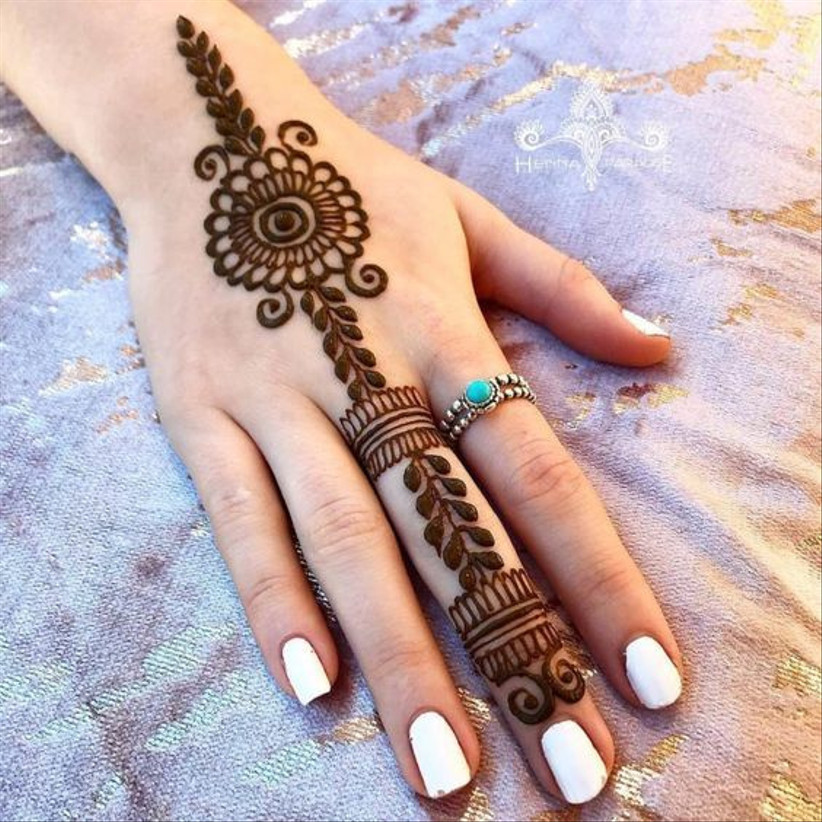 Single finger mehndi designs can act like a really elaborate jewelry piece if done correctly. This design flows beautifully into a floral design on the back of your hand and looks excellent for a bridesmaid look.
This floral vine pattern is great for younger kids because of the youthfulness of the design. You can make it more detailed if you'd like or simply settle for a simple pattern as shown above.
This finger design also boasts a criss-cross net design for most of the finger to make a statement even though it's still just a single finger design.
Simple Finger Mehndi Design
Finger mehndi designs simple and beautiful can make just a big impact if done correctly. The formula is pretty simple. You can start with a few elements of mehndi that you like from simple dots to straight lines or flower vines and mix and match them until you get the result you desire. Check out a few ideas below!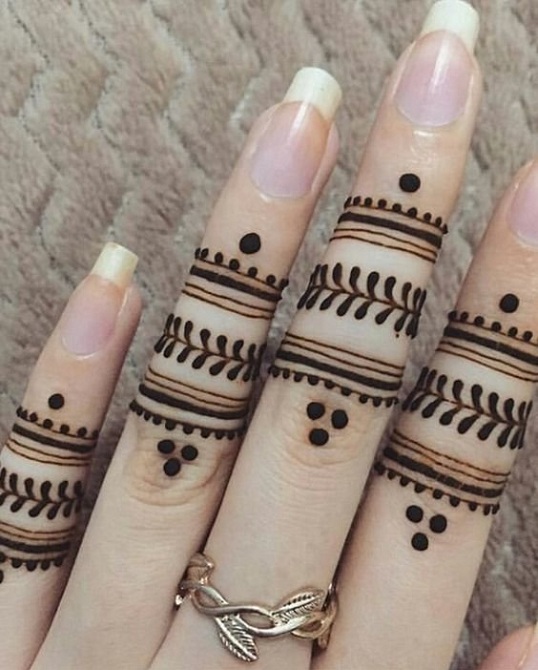 This finger mehndi design is an excellent choice if you want something modern. The mixture of lines and dots gives the effect of multiple rings and the understated design will work great with eastern and western clothing both.
This finger mehndi design relies on one full finger and only little motifs on the other. This is also a very simple but elegant design that also leaves room for you to adorn your fingers with jewelry without the mehndi getting in the way.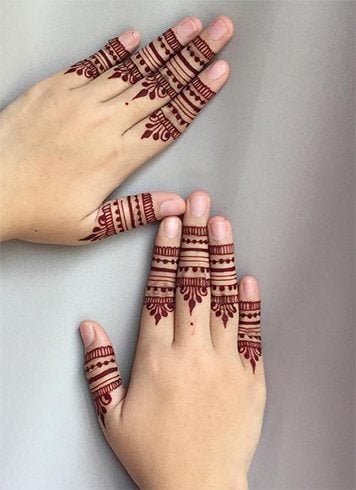 This is another simple finger mehndi design but it does a great job of blending traditional elements with simpler lines and gives a very elegant look overall. If you're a fan of this look, you can experiment and use white mehndi or colored mehndi to add even more oomph to the look!
Ready to buy mehndi and try out these designs ASAP? Click here to get the best mehndi cones and templates online with Daraz!
Interested in more mehndi ideas? Check out some more inspiration blogs below!
Gorgeous Tikki Mehndi Design Ideas for 2022
Simple and Easy Mehndi Designs 2022
Also read: Seaweed Masks in Pakistan – Worth the Hype? | Sulphate Free Shampoos in Pakistan Brand List