Get Your Groceries Delivered From Daraz in 24 Hours!
Online shopping can be very simple. It helps you save time and a lot of extra effort too. You can order all your favourite products under one roof without stepping out of the house and you can have it delivered right at your doorstep. One of the few drawbacks about shopping online can be late delivery.
Usually, online shopping takes around a week to deliver your order and sometimes even more. But, what would you do if you wanted that product urgently and it was useless for you to wait for a week or more? What would you do if you wanted to cook food or bake a cake and ran out of some basic pantry products? What if you were running out of pampers or sanitary napkins and wanted them delivered to you as soon as possible?
Daraz is always ready with a solution to your problems! With One Day Delivery, Daraz promises to deliver your products within 24 hours. So, you don't really need to wait for days for your products to get shipped.
How do I place my order?
It's very simple. You go to the Daraz Homepage and you can see the One-Day Delivery Icon right there! Click on that, choose your city, choose the products you wish to order and get them delivered to your doorstep in under 24 hours.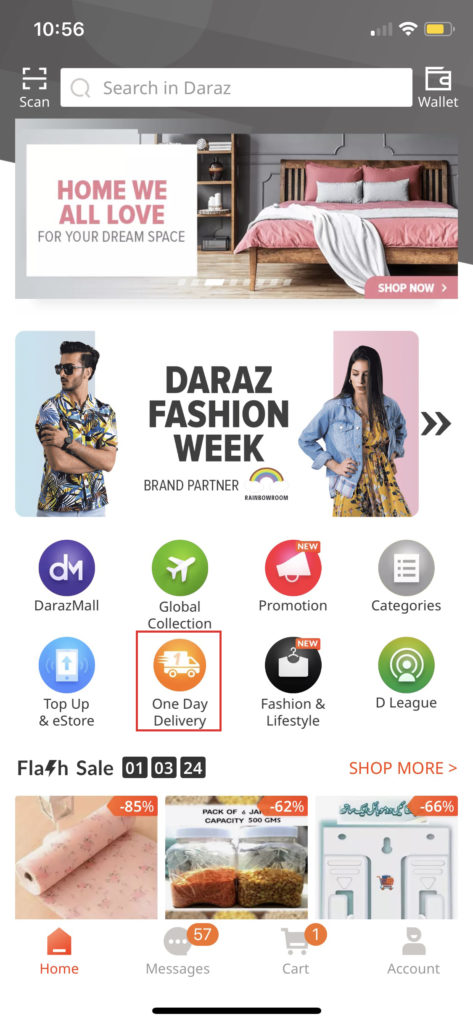 What products do I get within 24 hours?
One Day Delivery is applicable for categories like groceries, health and beauty and mother and baby.
Do I get any discounts or offers?
Yes! On orders above Rs.2500, you get free shipping right at your doorstep. Other than that, if you get your product shipped to Daraz Pickup Points, then too you can enjoy free shipping.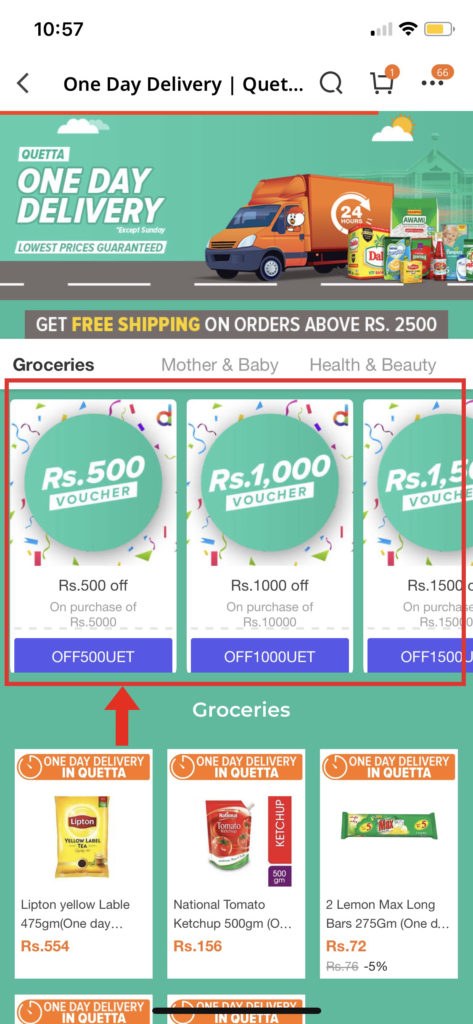 I have a voucher! Can I use it?
Of course, you can. One Day Delivery offers you a bunch of exciting vouchers that you can redeem. You can also apply any other Daraz voucher that you have at the time of checkout to avail your discount.
Do I get more benefits?
You do. With different campaigns coming up multiple times during a year, you can get a chance to win special gifts from Daraz if you order through one day delivery.
Daraz is offering Bank Discounts! Is that applicable?
Absolutely! You can make your payment with your bank card on assigned days to enjoy the discounts. Daraz is currently collaborating with banks like HBL, Meezan Bank, MCB, Bank Alfalah, Silk Bank, Bank of Punjab and many more. So, if you own any of these cards, you get to avail discounts at checkout.
Why should I choose Daraz?
Daraz is the biggest ecommerce platform in Pakistan. You'll get products lower than market rates, a number of additional discounts and doorstep delivery without a hassle all under 24 hours!