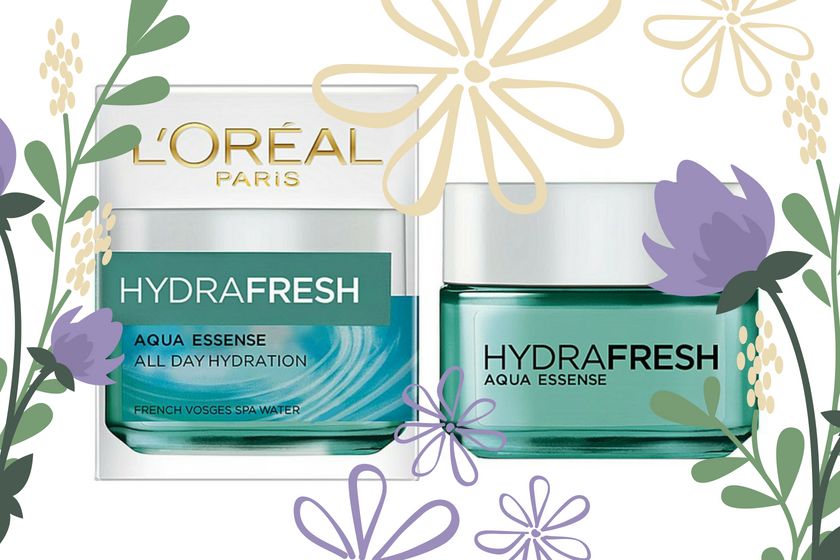 Intense hydration booster – L'Oreal Hydrafresh Gel
When I first heard about the product, I honestly just thought it would be like any other expensive branded moisturizer that makes fancy claims but actually just leaves the skin feeling just as dry after a fews hours of the application. To my surprise (and this is no exaggeration) but L'Oreal Paris Hydrafresh Aqua Essence moisturizer locks in the moisture for up to 24 hours! That's right 24 hours. I don't even feel the need to re-apply because my skin feels so fresh and supple. Sounds unbelievable right ? A rapid-dissolving essence that contains essential minerals including calcium magnesium Vitamins C E & B5 which replenishes the skin with 24-hour intense moisture and preserves an optimum level of hydration by sealing in moisture. This intense product is perfect for the drying affect of this warm weather on our skin.
Although the weather is extremely hot these days i'm sure most of us must have noticed areas of our skin drying out. This happens due to extreme warm and drying conditions in the atmosphere as well as not enough water intake ( which is very common during Ramadan). Hydra fresh is a daily gel-creme moisturizer enriched with vitamins (C, E and B5) and essential minerals (Magnesium and Calcium). It refreshes skin instantly , maintains skin's optimal hydration level for 24H and reinforces skin's natural protection. After using the product i felt like this is just what i needed for my skin intense moisture therapy. Once applied it has a tingling cooling effect on the skin making you feel fresh instantly.
Product Review
Product: L'Oreal Paris Hydrafresh Aqua Essence
Price: PKR 999
Packaging: Neat, clean and strong packaging. A beautiful glass jar with an air tight cap and sealing lid on the inside to ensure the freshness of the product. The jar contains a refreshing seas green shade of gel – Hydrafresh Aqua Essence.The box has enough information on the front and back about the product, its benefits and ways to use it.
Company Claim: Enriched with 5 times more French Vosges SPA Water and naturally rich in minerals this gel like formula is a unique water that helps to strengthen skin barrier to prevent water loss from the skin!
Formula: Enriched with vitamins (C, E and B5) and essential minerals (Magnesium and Calcium)
Texture/consistency: Thick and smooth gel formula that easily breaks into water and absorbs into the skin within seconds of application. The gel formulation helps massage the product into the skin easily.
Perfect for: Normal to dry skin or combination.
Usage: Apply morning and evening on perfectly cleansed skin. Smooth into skin until gel is fully absorbed. Avoid contact with eyes. For optimal hydration efficiency, use after Hydrafresh Foams and Toners.
Result: L'oreal Paris Hydrafresh All Day Hydration Aqua Essence is formulated with 5 times of French Vosges SPA water that are rich in minerals to repair skin's barrier and lock in moisture with double effectiveness. Immediately, skin is replenished with moisture and comfort after using L'oreal Paris Hydrafresh All Day Hydration Aqua Essence. Day after day, skin becomes softer and more radiant. After usage you will notice a visible change immediately and continue to see changes over time – Immediately skin feels fresh, supply and comfortable; All day long skin is irrigated with hydration and day after day usage will make the skins texture softer and more radiant. It feels a lot like aloe vera gel but it instantly absorbs in the sin without leaving it the slightest bit sticky or greasy. its actually perfect to use in the day and night. The light weight oil free gel is enriched with sea minerals that help rejuvenate the skin restoring its natural moisture and glow. I personally found it to be a dryness solution for all seasons especially the winter season. Also, its great base for make-up application. It priced reasonably and just a light application goes a long way so i would consider the product be offer a good value for money.
Where to buy: https://bit.ly/2IDDYlM
Product rating: I love it! Must buy!