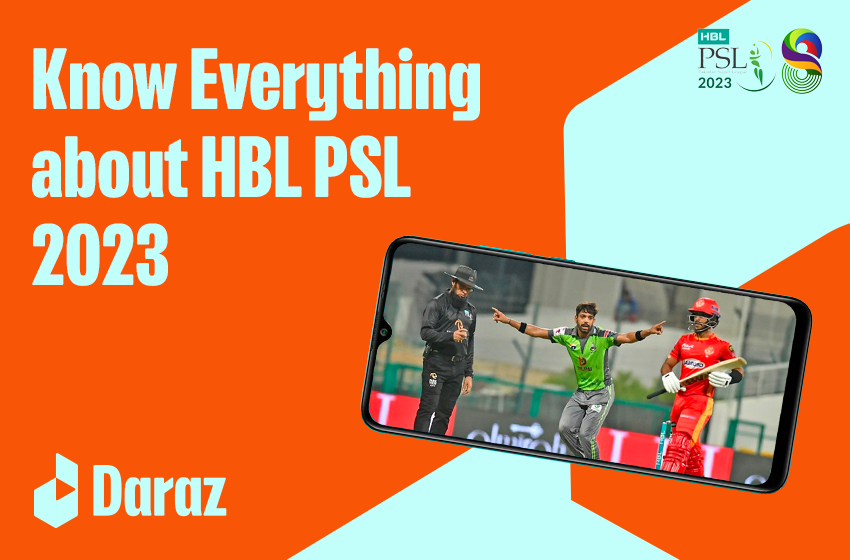 PSL 2023 Team Squads
Play This PSL Quiz and Get a Chance to Win a 1000 Rupees Daraz Voucher!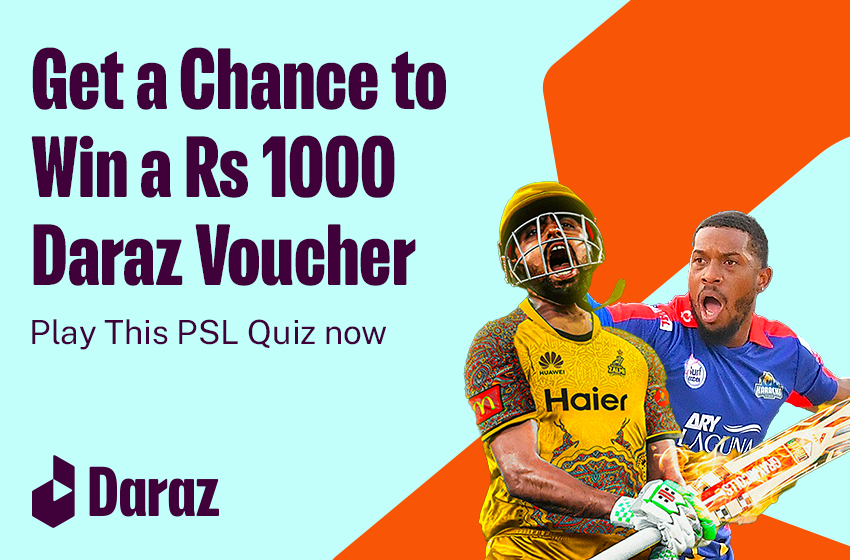 Get set to witness an epic T20 tournament this season! This time, it will be conducted in a double round-robin format with 6 participants and 34 matches. To make it even better, each team will get the chance to play all other teams twice – that's 10 intense fixtures for every squad! What's more exciting is that after the completion of the league stage, the top four contenders on the points table will fight for the title in slots determined by their standings – Playoffs are ON!
PSL 2023 Full Schedule (PSL schedule 2023)
Hold onto your seats and strap yourself in for an epic adventure, because the utterly thrilling Pakistan Super League is beginning its magical run on February 13th, 2023! Get ready to jump into a world of heart-stopping cricket matches that will keep you enthralled until March 19th on the Daraz app. Don't miss out – be sure to join the celebration!
PSL 2023 Match Fixtures
Date
Match
Venue
Feb 13, Monday
Lahore Qalandars vs Multan Sultans, 8pm
National Stadium, Karachi
Feb 14, Tuesday
Karachi Kings vs Peshawar Zalmi, 7pm
National Stadium, Karachi
Feb 15, Wednesday
Multan Sultans vs Quetta Gladiators, 6pm
National Stadium, Karachi
Feb 16, Thursday
Karachi Kings vs Islamabad United, 7pm
National Stadium, Karachi
Feb 17, Friday
Peshawar Zalmi vs Multan Sultans, 6pm
National Stadium, Karachi
Feb 18, Saturday
Karachi Kings vs Quetta Gladiators 7pm
National Stadium, Karachi
Feb 19, Sunday
Islamabad United vs Multan Sultans, 2pm
National Stadium, Karachi
Feb 19, Sunday
Karachi Kings vs Lahore Qalandars, 7pm
National Stadium, Karachi
Feb 20, Monday
Peshawar Zalmi vs Quetta Gladiators, 7pm
National Stadium, Karachi
Feb 21, Tuesday
Quetta Gladiators vs Lahore Qalandars, 7pm
National Stadium, Karachi
Feb 22, Wednesday
Multan Sultans vs Karachi Kings, 6pm
National Stadium, Karachi
Feb 23, Thursday
Islamabad United vs Peshawar Zalmi, 7pm
National Stadium, Karachi
Feb 24, Friday
Quetta Gladiators vs Islamabad United, 7pm
National Stadium, Karachi
Feb 26, Sunday
Karachi Kings vs Multan Sultans, 2pm
National Stadium, Karachi
Feb 26, Sunday
Peshawar Zalmi vs Lahore Qalandars, 7pm
National Stadium, Karachi
Feb 27, Monday
Lahore Qalandars vs Islamabad United, 7pm
Gaddafi Stadium,
Lahore
March 1, Wednesday
Peshawar Zalmi vs Karachi Kings, 7pm
Gaddafi Stadium,
Lahore
March 2, Thursday
Lahore Qalandars vs Quetta Gladiators, 7pm
Gaddafi Stadium,
Lahore
March 3, Friday
Islamabad United vs Karachi Kings, 7pm
Gaddafi Stadium,
Lahore
March 4, Saturday
Lahore Qalandars vs Multan Sultans, 7pm
Gaddafi Stadium,
Lahore
March 5, Sunday
Islamabad United vs Quetta Gladiators, 7pm
Gaddafi Stadium,
Lahore
March 6, Monday
Karachi Kings vs Quetta Gladiators, 7pm
Gaddafi Stadium,
Lahore
March 7, Tuesday
Lahore Qalandars vs Peshawar Zalmi, 2 pm
Gaddafi Stadium,
Lahore
March 7, Tuesday
Islamabad United vs Multan Sultans, 7pm
Gaddafi Stadium,
Lahore
March 8, Wednesday
Peshawar Zalmi vs Quetta Gladiators, 7pm
Gaddafi Stadium,
Lahore
March 9, Thursday
Lahore Qalandars vs Islamabad United, 7pm
Gaddafi Stadium,
Lahore
March 10, Friday
Peshawar Zalmi vs Multan Sultans, 7pm
Gaddafi Stadium,
Lahore
March 11, Saturday
Quetta Gladiators vs Multan Sultans, 7pm
Gaddafi Stadium,
Lahore
March 12, Sunday
Islamabad United vs Peshawar Zalmi, 2pm
Gaddafi Stadium,
Lahore
March 12, Sunday
Lahore Qalandars vs Karachi Kings, 7pm
Gaddafi Stadium,
Lahore
March 15, Tuesday
Qualifier (1st vs 2nd position), 7pm
Gaddafi Stadium,
Lahore
March 16, Wednesday
First Eliminator (3rd vs 4th position), 7pm
Gaddafi Stadium,
Lahore
March 17, Thursday
Second Eliminator (Loser of Qualifier 1 vs Winner of Eliminator 1), 7pm
Gaddafi Stadium,
Lahore
March 19, Sunday
Winner of Qualifier vs Winner of Second Eliminator, 7pm
Gaddafi Stadium,
Lahore