How To Give Review on Daraz (2021)
Don't Know How To Give Review on Daraz Pakistan? Learn How To Write a Review on Daraz.pk App in 2021.
Watch Ali Gul Pir act out perfectly the reason why reviews on Daraz are so essential – so you don't end up like Chaca!
Online shopping has, without any doubt, been a remarkable innovation that has made our lives easier! With the ease of access to millions to thousands of products of different assortment, Daraz aims to make online shopping in Pakistan a safe, easy and convenient method of shopping!
Daraz offers strict strict guidelines for its vendors and strives to make its customer experience better with every step, however, with the ease of access to the internet by everyone in this age, everybody wants to make the most of it and among them can exist a black sheep.
Which is why you should always look for reviews and seller ratings. Seller ratings and reviews help identify buyers of honest and genuine vendors and get your desired products delivered to you.
How to Write A Review on Daraz?
To Write Review on Daraz, Open your Daraz App or website.
Click on "My Account" and select "To Review" icon on top of the page.
You'll now see your previous orders that you have to review.
Select an honest rating and write a review on Daraz product.
You can even post pictures of the product you have received.
When you're done, click on Share Review to make it public.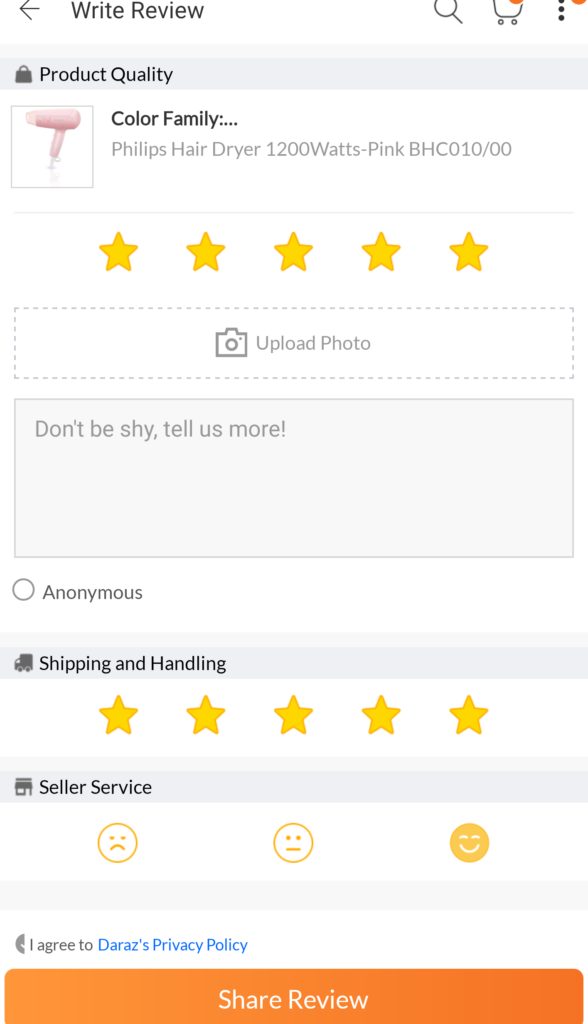 ---
Review Now and Get a Chance to Win Free Products!
Reviews can work both ways, you can even share the positive reviews that could help the vendor grow more and gain trust if you were satisfied with your dealing.
E-commerce is relatively new in Pakistan, Daraz's understands how big a difference seller/product reviews by its customers in enabling a smooth shopping experience which is why Daraz rewards those customers who are loyal and give frequent reviews by selecting them as Star Reviewers.
With Daraz's Star Reviewer Programs, you can win products for free to review them! So, make sure you check reviews and give reviews back for a smooth online shopping experience!

---
So, with your help, Daraz can maintain to be Pakistan's reliable online shopping a platform by focusing on checking the seller reviews, and in return, make a habit of reviewing back so other customers can have a happy experience as well!
Find more solutions for you queries here!