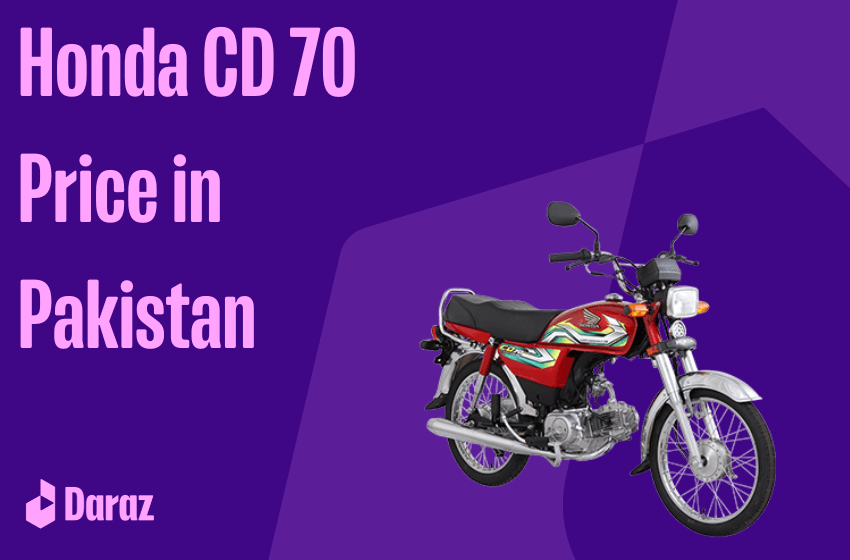 Honda CD 70 Price in Pakistan [2023 Updated]
The Honda CD 70 has proven to be a lifetime investment that, with regular maintenance by the owner, keeps running for generations. If you ever run into any issues, the components are readily available everywhere you go and the majority of mechanics are familiar with working on motorcycles.
Price of Honda CD 70 Model
The price of the Honda CD 70 2023 is PKR 157,900 in Pakistan as of November 2023.
Honda CD 70
Since there was no competitive pressure for the two-wheeler when the Honda CD 70 was originally produced in 1984 by Atlas Honda, the motorcycle was innovative for its time. The Vespa, which was a common method of transportation at the time, was utterly destroyed by the bike, which ultimately dominated the market. This was made possible by the Honda CD 70's durable engine and ability to use little fuel.
The business has subsequently modified the two-engine wheeler multiple times, and it now complies with Euro II standards, making it the top option for many clients searching for an inexpensive yet dependable ride to travel around their daily life. Over the years, the Honda CD 70 has also had a number of other alterations, such as new carburetors, rear signals, seats, headlights, etc.
Honda CD 70 2023 Model Atlas 
The Honda CD 70 2023 model has been presented by Honda with a brand-new sticker, but there aren't many other visual changes to the motorcycle. The structure and engine taken together, according to the manufacturer, have undergone 101 design revisions.
| | |
| --- | --- |
| Engine | 4-Stroke Single Cylinder Air Cooled |
| Horsepower | 5.1 HP @ 7500.0 RPM |
| Petrol Capacity | 8.5L |
| Fuel Average | 55.0 KM/L |
| Top Speed | 80 KM/H |
| Wheel Size | 17 in |
| Tyre at Back | 2.50 – 17 |
| Tyre at Front | 2.25 – 2.25 |
What to Look for When Buying Honda cd 70 Online in Pakistan?
Below are the details you need to know when you want to buy Honda CD online in Pakistan.
Specs
The 4-Stroke OHC Air Cooled engine in the CD 70 2023 model has a 72 cm3 capacity with a bore and stroke of 47.0 x 41.4 mm, correspondingly. It has measurements of 1897 x 751 x 1014 mm and 136 mm of ground clearance. It has dual wet clutch plates and a 4 Speed Constant Mesh Transmission.
The CD 70 has a dry weight of 82 kg and an 8.8:1 compression ratio. The tyres on the front and back are 2.25 – 17. (4 PR).
Features
New color graphics and a newly developed engine are features of the CD 70 2023 model. A high-quality drive chain makes the great brand comfy, and the muffler exhaust reduces noise during operation.
Design
The design of the Honda 70 2023 model is svelte and barely distinguishable from the prior iteration. The CD 70 has a frame-like backbone. Its design aims to provide the car a sleek appearance while also providing a comfortable ride. A seated bar is included with the cozy seat to give extra security. Additionally, the gasoline tank's exterior appearance has been modified for the new 2023 model, and a brand-new sticker is on the cover. The spokes on both wheels are thicker than previously, and the rear wheel is significantly more robust.
Ride and handling
The performance of the bike is significantly better thanks to the improved engine in the CD 70 2023 model. The back wheel is more robust than previously, and the wheels have been modified with thicker spokes for increased stability. Its engine is strong and has a 3-year warranty in the event that anything goes wrong after purchase.
Competitors
Honda CD 70 didn't have any rivals when it was first introduced in 1984, but now that other firms have introduced their own versions of CD 70, the Pakistani market is saturated. United US70, Super Power SP 70, and Road Prince Classic 70 are some of these rivals.
Colors
Black and Red are the two available color options for the Honda CD 70.
Reasons to Buy Honda cd 70
The Honda CD70 is substantially more reliable than similarly priced rivals and offers significantly higher fuel efficiency than any other 70cc motorcycle produced in China. It uses a fair amount of fuel, and some owners claim that their bikes can go more than 60 kilometers per litre, making them the most fuel-efficient bike in Pakistan. The Honda CD70 is undoubtedly the best motorcycle and the real road king of Pakistan. Considering the country's current gas prices, the Honda CD70 is a much better choice because it needs little to no maintenance and may potentially save you a significant amount of money.
FAQ
How much mileage does the honda cd 70 gives?
According to the manufacturer, the CD 70 Motorcycle has an amazing 70 km/l, which is adequate for regular usage. It has an 8.5-liter gasoline capacity with a 1-liter petrol reserve.
What is the honda cd 70 price in Pakistan?
The cost of the most recent Honda CD 70 model, which the corporation will be releasing on August 1st, 2023, in Pakistan is Rs. 116,500. Given that Atlas Honda is renowned for offering high-quality motorbikes at relatively competitive prices, the motorcycle has a sizable client following in Pakistan.
Can we get a honda cd 70 in installments?
You can buy Honda CD 70 in installments from Daraz on up to 12 monthly installments with a 0% markup.
---
Do you like our post? Also read Best Fuel Average Bike in Pakistan & Honda CG 125 Price in Pakistan!