How to Buy Mobile on Installment from Daraz Pakistan (2021)
Don't know how to buy mobile on installment from daraz.pk? Learn step by step method on how to purchase mobile on installment from daraz pakistan.
We all wish to own a new mobile phone in Pakistan with the latest specs and features! However, with the rising prices of mobiles phones, to make that wish come true means breaking our banks a little bit too much!
This is why buying mobile phones on installment is a great way to enjoy having the latest phone from a top-rated smartphone phone brand!
If you're a student or a salaried person, this is most convenient way to purchase a mobile phone, but, most people often back out due to the high percentage of mark up fees and interest rates that follow up with buying mobile phones on installment because in the long run, it ends up costing more!
How to Buy Mobile on Installment from Daraz?
To purchase mobile on installment from Daraz pakistan.
First select only one mobile with a minimum value of Rs 10,000.
Select "Installments" in checkout as your payment method.
Choose your bank from list and select EMI tenure.
Enter credit card details and receive OTP through SMS.
Input the OTP received and place your order.
Many banks in Pakistan offer easy monthly instalment plans, whether you want Samsung mobile on installment or an iPhone on installment, you can easily avail it by learning more about what your bank offers. However, sometimes the down-payment and interest rates are often high in Pakistan.
Which is why, Daraz brings you the perfect solution!
On Daraz, you can buy all the latest mobile phones on installment in Pakistan with Daraz's Easy Monthly Installments (EMI) plans for Silkbank, MCB, Standard Chartered, and Bank Alfalah credit card holders!
Daraz EMI Plan features:
0% Mark Up

There is no markup fees or hidden charges on Daraz EMI plans!

Instant Approval

Just enter your credit card details and your approval will be sent you instantly!

No Down Payment

Shop and enjoy your product instantly without having to worry about down payments!
You can opt to buy any mobile phone with an EMI plan that is priced above Rs. 10,000. All you need to do is head over the Daraz app or website and loo for the filter that states "Installment Available"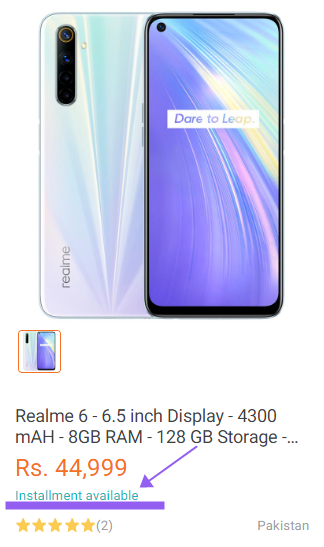 And all you need to do is follow these easy steps to buy your favourite phone on installment!
It is simple and convenient. Just make sure you follow the terms and conditions and confirm the one-time activation processing fee from your bank, so you can enjoy shopping now and paying later!
---
Find the best smartphone for you with our blogs below
---
Looking for phone reviews? Find our review for Samsung Galaxy A71 vs Samsung Galaxy A51. Which is better Samsung A51 or A71? Click here to read about our list of waterproof mobiles in Pakistan!
Download the Daraz App now!