How to Style Your Monotone Outfits Without Being Boring!
One of the most popular fashion trends today is the monotone outfit look. The great thing about this look is that it's excellent for casual wear and would work for semi-formal too – so long you know how to style your monotone outfit!
We've got some fantastic tips to help you style your monotone outfits in an exciting way! Just when the traditional jewelry was starting to feel outdated, we decided to pair it up with our monotone look, and voila! The final look was to die for!
So here we are to show you all the traditional jewelry that you can pair with your monotone dresses to make them 'pop'!
---
This dress from Generation is an absolute delight! The mustard colored outfit is perfect for work or casual wear – something every girl needs!
Accessories to make this dress pop
Throw on these accessories to embellish your monotone look. The idea is to wear contrasting traditional jewelry to spice up the outfit! These earrings, necklace, and the ring – they're all in a noticeable size and a contrasting shade! Put these on and you'll be surprised what a little bit of jewelry can do to a dress!
---
This blue monotone dress is just right for an evening tea party or a hi-tea. It already has some slight colors on the kurta, so all you need to do is add a little bling!
Accessories to make this dress pop
These jewelry pieces will take your all-blue outfit to another level. You want to bring the focus to your gorgeous gulubandh style neck piece. Don't forget that big Afghani mirror ring and the long traditional jhumki-style earrings!
---
A monotone green dress – who wouldn't like it! This dress has very slight contrasting design on its top. This outfit would be your best friend for parties you need to head to right after work!
Accessories to make this dress pop
Because the dress has a pattern design on it, it'd be a good idea to focus on the neck pieces. A traditional choker style necklace and another long neck chain would add the perfect glam to your outfit. Top off the look with a fancy hoop-style jhumkis and tada!
---
This light colored monotone outfit already has embroidery in the front. How can you make this gorgeous, but perhaps a tad bit simple, dress work for a mehndi/mayun? With just a little bit of accessory!
Accessories to make this dress pop
A multi-colored matha patti, a fancy traditional choker in gold, and traditional-style anklets (or payal) is all you need to transform this dress to an on-point mehndi outfit!
---
This fuchsia-colored outfit is great for all kinds of hangouts – casual or semi-formal. The color is just perfect for an evening or night time plan and would compliment well with the right jewelry!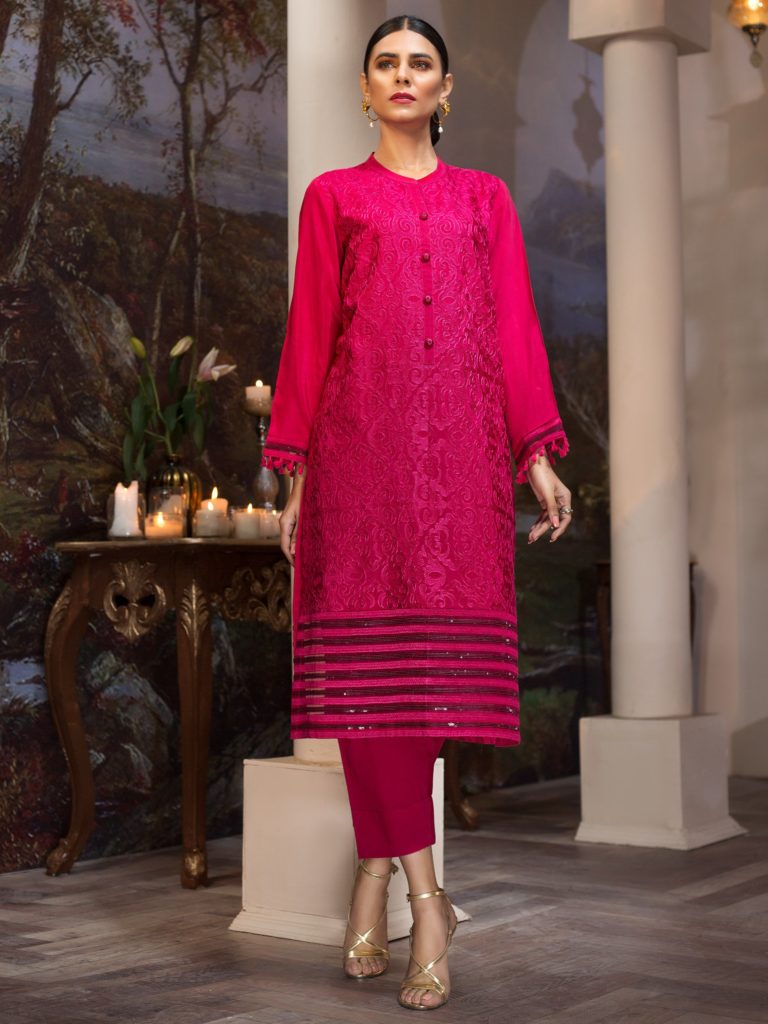 Accessories to make this dress pop
Fancy up this gorgeous monotone outfit with traditional boho-style accessories! This necklace and earrings in a lighter tone would go well with the outfit. Complete the look by putting on another long locket, along with some gorgeous boho-style rings!
---
Here's another blue monotone outfit, but this time with a dupatta and hints of orange contrast. The dupatta adds color to the dress and gives the outfit a dual role – without dupatta, you go to work (or college) ; and with dupatta, you're all set for an elegant party!
Accessories to make this dress pop
Embellish the look with a choker-style traditional necklace. This would compliment with the buttons on the kurta. Finish off by throwing on a classy bracelet with some Boho-style rings!
Here are some more accessories to interchangeably pair up with your monotone outfits!
Download your Daraz app and enjoy exlcusice discounts, flash deals, and more!