Hydrating Face Masks You NEED to Include in Your Skin Care Regime!
As much as we all may love Winters, our skin sure hates it!
During this cold and dry weather, we need to make EXTRA efforts on our skin so it looks fresh. If you suffer from dry skin, you must be tired of the way your skin starts flaking out even with the slightest touch!
Moreover, in this weather, we tend to get super lazy as well. The thought of standing on the cold bathroom floor and moisturizing and oiling our face is clearly dreaded by most of us but we still like our skin looking flawless and soft. Which is why we're left with not much of a choice. Especially with the amount of weddings that take place in the Winter season, those dry patches look terrible under the make up!
If you're looking for a quick fix and need to get rid off that dull skin fast, you need to have the following face masks in your skin care regime. So, sit back and take care of your skin and have your mini spa day!
1) Freeman Face Masks
Freeman is a famous face masks brand among Pakistanis due to it's affordability and excellent results. You suffer from dry and dull skin, the rejuvenating Cucumber Face Peel-off Mask is super hydrating and leaves skin looking fresh and dewy. Whereas, if you're looking for a mask that leaves your skin smooth and clean your pores, you'd love the Oatmeal and Avacado Clay Mask.
2) Garnier Hydra Bomb Tissue Mask
The Garnier Tissue Mask has been described as a holy grail by most skin care enthusiasts. It's the perfect mask when you're looking a for a quick skin fix. These leave your face cleanses your face without letting the moisture escape from your skin.
3) Innisfree Masks
Innisfree is a Korean skin care company that has been a super hit when it comes to skin care products lately! Innisfree masks are highly effective, especially if you have dull and dry skin that tends to flake out. The best part about this Korean skin care brand is that it used all natural ingredients. So, they don't have harsh chemicals which can dry out your skin in the long run.
5) The Body Shop
The Body Shop is everyone's cult favourite. More than just smelling amazing smelling, their products are cruelty free and work miracles for your skin! Thier British Rose Fresh Plumping Mask is especially effective and targets the dry patches leaving your skin moisturized how it should be!
6) St. Ives Sheet Mask
St. Ives has been a favourite skin care brand since years now. Almost all of us have used their scrubs and loved it. Now, you can get their sheet masks which are twice as amazing! Their Cactus Water and Hibiscus is extremely hydrating and leaves skin smooth and instantly leaves your skin soft and glowing!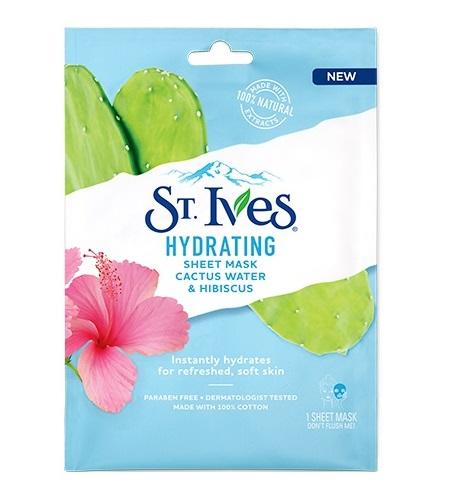 If you're looking for don't and dos for your dry skin, then you might want to check out these Dry skin hacks and tips!