LIMELIGHT Products to Get From Daraz on 11.11 Sale
With the biggest sale of the year approaching us, it's time to start planning and prepping our shopping spree! Limelight is an official partner for this year's Daraz 11.11 Sale 2019. With a flagship store on Daraz Mall, all their products are absolutely original and one of a kind!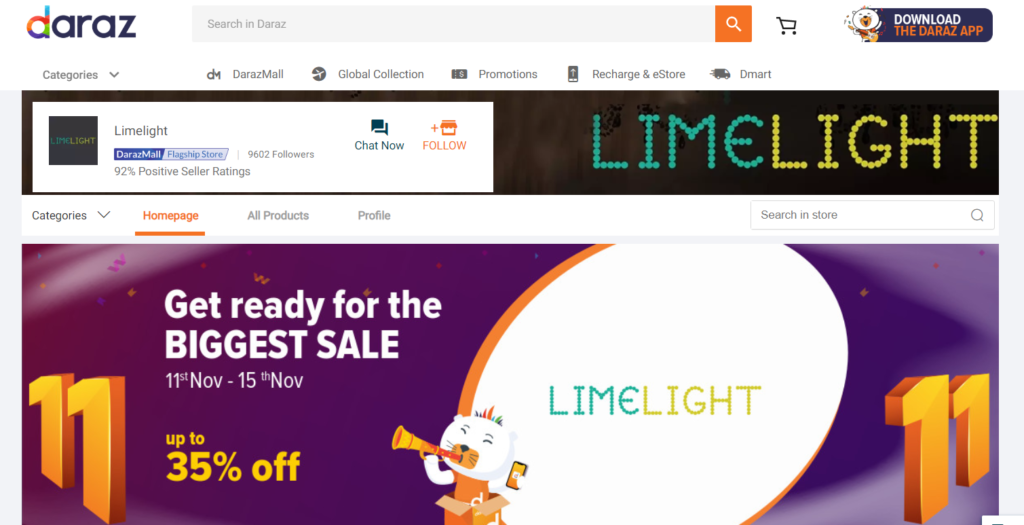 During Daraz 11.11 Sale, you can avail discounts up to 35% off on Limelight items. And what's more, their current sale also gives you all the more reason to grab their finest products at unbelievable prices!
Take a look at all the fabulous items that you can get during the 11.11 sale!
Grab your favorite Limelight items from the ongoing sale with up to 45% off.
Click here to browse through more sale items!
Get the best designs, colors, style and fabric from Limelight's women's wear collection.
New Black & White Lawn Collection
Grab your favorite pick from their latest B&W lawn collection!
Ready-to-Wear Kurtas & Shalwar Kameez
Looking for something for work or university? Here are some great Limelight ready-to-wear designs you can rock:
Un-stitched Suits
With these un-stitched designs, you can get a fabulous design and tailor it to your fitting and preferred design.
If you're always searching for Trousers, Pants and Palazzos of the perfect fitting, size and design, then you'll be pleasantly surprised by Limelight's variety.
Whether you're looking for handbags, cross-body bags, backpacks, clutches or wallets, Limelight's jaw-dropping designs and quality will have you hooked!
Style your eastern wear with Limelight's soft and gorgeous scarves, stoles and dupattas!
Dupattas
If you need a dupatta to go with your desi wear, then Limelight has a variety of options you can choose form.
Scarves and Stoles
Here are some amazing stoles and scarves in a variety of colors and designs to go with your eastern or western outfit!
Accessorize your outfit with Limelight's fashion jewelry made in intricate designs and style.
So start adding your picks to the shopping cart today because Gyara Gyara is coming!
Visit our Daraz 11.11 news and buying guides page to learn how to build your shopping list, what 11.11 discounts you can get and how to avail them by playing games, how to deal with common problems during 11.11, and much more!