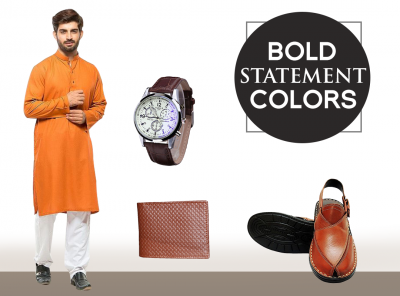 Men- Which Eid Look Will You Opt For?
With Eid being right around the corner, everyone is in search for the perfect outfit. This time there are so many options you can experiment with including interesting color options, unique styles and different twists on the typical shalwar kameez. We've made a list of different styles which you can explore and choose from!
The classic white on white is one look which never goes out of style and can be worn on every occasion. Pair it up with some stylish shades and oxford shoes to give a mod touch to the traditional look!
Life is too short to wear boring colors! The Eid opt for something colorful and vibrant and balance out your look with some statement tan accessories.
Add a retro touch to the classic shalwar kameez by investing in a well fitted waist coat and some sleek loafers. An impressive pocket napkin will add perfect finesse to the outfit!
Step away from the monotony of plain kurtas and try on various styles of innovative collars such as the high collar, the manderin collar and many more!
A well fitted kurta pajama can make anyone look well-groomed and on point and that is why we love this look! Add some premium shoes and a high class wallet and you'll be turning heads everywhere you go!