Now You Can Trade Your Old Phones on Daraz with Trade Up!
What is Daraz Trade Up?
Trade Up is the latest Daraz feature that aims to provide users a platform to trade in their old phones for a fair value voucher that lets them purchase a new phone instantaneously!
This feature is going to go live very soon so you'll have the chance to take advantage of this very soon!
So how does Trade Up work?
Trade Up is fairly straightforward. You fill out a form on the website with all the details regarding your phone and Daraz then gives you an estimated value for your phone. If you deem the estimated value worthy, you can choose to proceed with the trade up by visiting your nearest Daraz Hub. Here, a third party vendor will do a quick quality check for your phone. Once that's cleared, you will instantly be issued a redeemable voucher for the final value of your phone. Easy!
If you want to know more details, check out our guide below!
Step One: Fill Out Your Phone Details
Visit Daraz's Trade Up page and fill out the details regarding your phone brand, model, and condition.
Currently, Daraz Trade Up supports the following mobile brands:
Apple
Honor
Huaewi
Infinix
MI
Samsung
Vivo
Once you've chosen your phone brand and model, you'll have to choose one of the three tiers provided to describe your phone's condition. The tiers are as follows;
| Tier | Condition |
| --- | --- |
| Tier A | Mint condition with no scratches on the phone accompanied by all original accessories and box. |
| Tier B | Minor scratches/dents with or without accessories within 3-9 months of purchase |
| Tier C | Minor cracks on body or screen |
Once you've filled out all the details, you will get an estimated value for your phone as shown in the example below.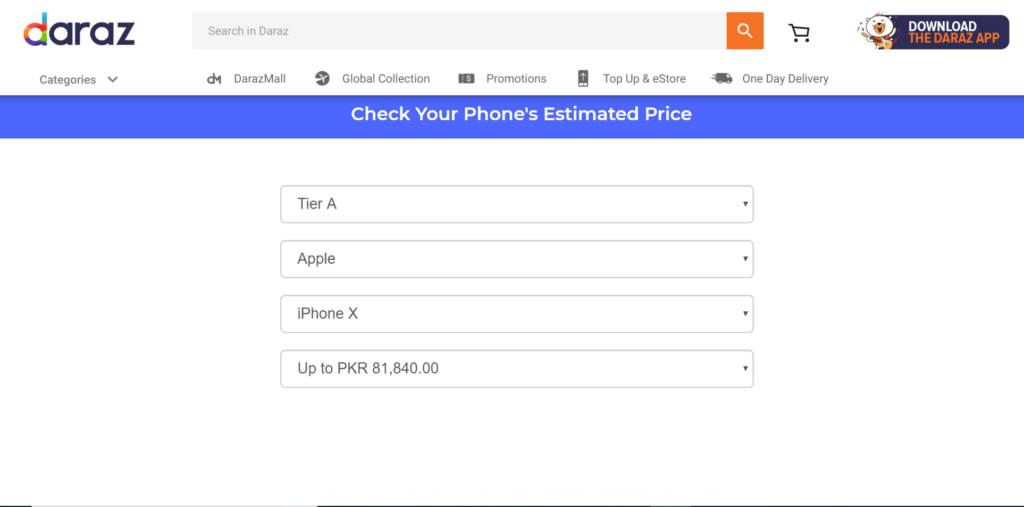 Step Two: Visit a Daraz Hub

Trade Up is currently only available in Karachi, Lahore, and Islamabad. You can visit the respective hubs in your city to get a quality check done on your phone by a third party vendor. Once the vendor clears your phone and offers you a final value, you will be given a voucher that you can redeem immediately from Daraz. This entire process will take between 15-30 minutes in total.
All that's left to do is browse your favorite mobile phones on Daraz and pick the one you want to buy next. Your voucher will be valid for up to 6 months.