Bridal Velvet Dresses For Winter Weddings 2021
Winter and weddings go together hand in hand when it comes to Pakistani culture. You might have your calendar full of wedding invites and a desi wedding can never last for just one day which is why it's always a struggle deciding what to wear! With the always changing fashion for every season, you don't often know what are the latest trends are.
Winters can often prove to be difficult season when it comes to looking stylish in weddings. The typical desi wedding wear comprises of cold fabrics like chiffon and banarasi which is bound to make us freeze.
If you're struggling with styling ideas and have thrashed your wardrobe trying to find something to wear or can't figure what to buy? We've listed down the trending designs below so you don't have to worry about what to wear!
Unstitched Velvet Wedding Wear Collection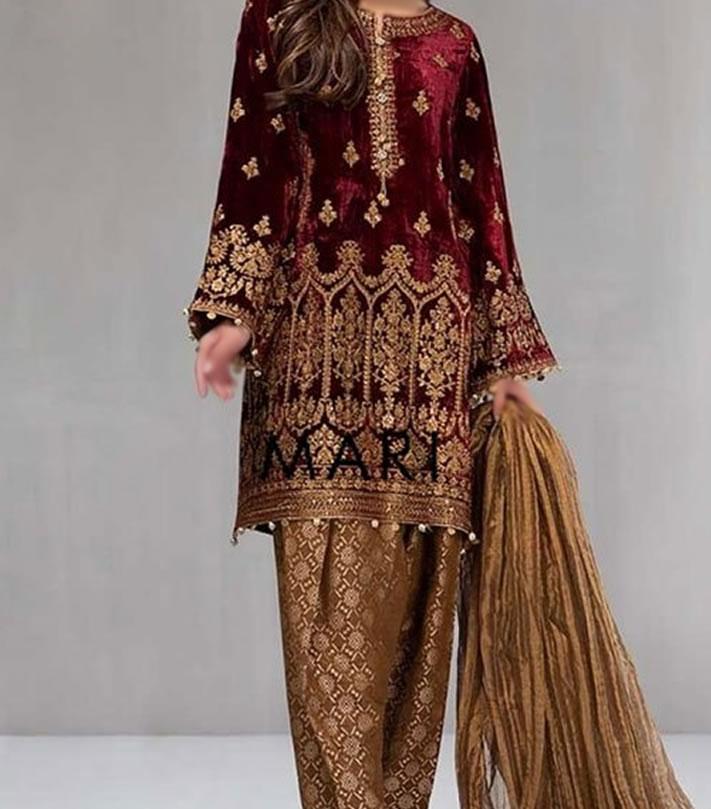 Red and golden is the classic wedding vibe when it comes to fashion and style. This Brosha net dupatta will lift the look of your dress and give it the perfect wedding look!
Embroidered Velvet Suit With Brosha Net Dupatta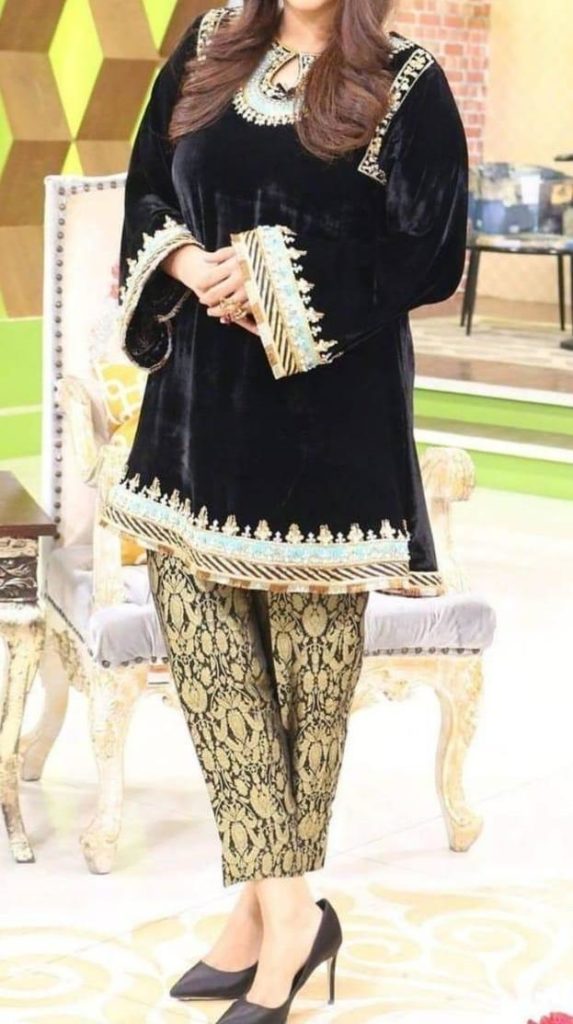 Short shirts with patterned pants has been super trendy since the start of the year! You can style this look with a plain velvet shirt and a patterned trouser and pair it up with a fancy cuff lace!
Stylish Velvet Embroidered Suit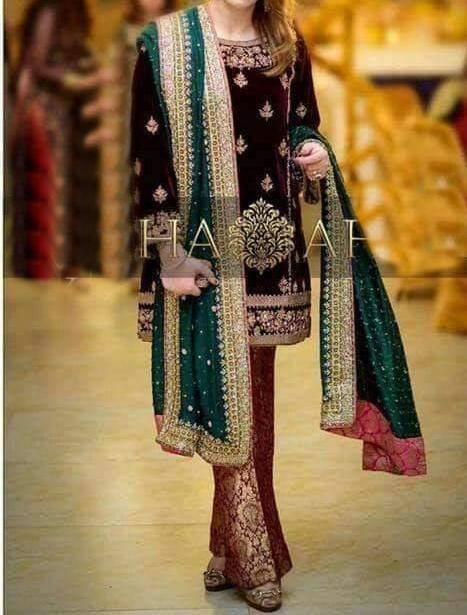 Looking for a dress that is perfect for the ongoing Shendi trend? This multi coloured suit with a chiffon duppata is going to be the perfect blend!
Stylish Velvet Party Wear Dress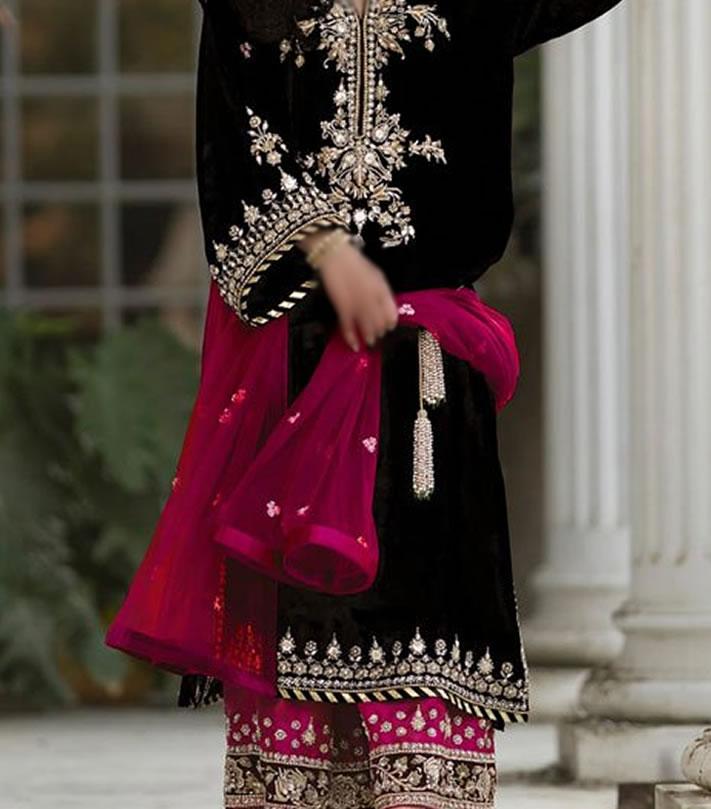 An intricate gold work on a velvet dress is something that is something can never grow old. You can contrast it and pair it with gorgeous high heels!
Black Velvet Suit Embroidered with Net Embroidery Dupatta
Style Your Evening with Velvet Shawls
Already have a lot of old wedding wear collection or are you a person who loves having dresses that can be worn on all seasons? Or if you're in a fix but wasn't expecting the cold to arrive so soon?
Well, you can create a fashionable winter wedding look pairing it with embroidered shawls which keep you both warm and stylish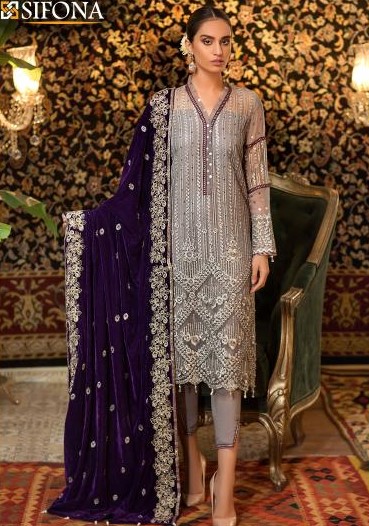 Grey and purple will be an evergreen winter colour combination. You can recreate this look and feel fabulous through the whole event.
Sifona Elmas Chiffon Suit with Velvet Purple Shawl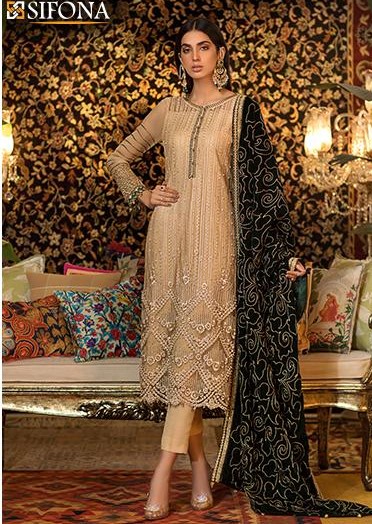 This gorgeous intricate work velvet shawl will go on almost all of your dresses! It's the perfect fix to look graceful during Valimas
Sifona Elmas Chiffon Suit Velvet with Black Velvet Shawl
Velvet Lengha Chohli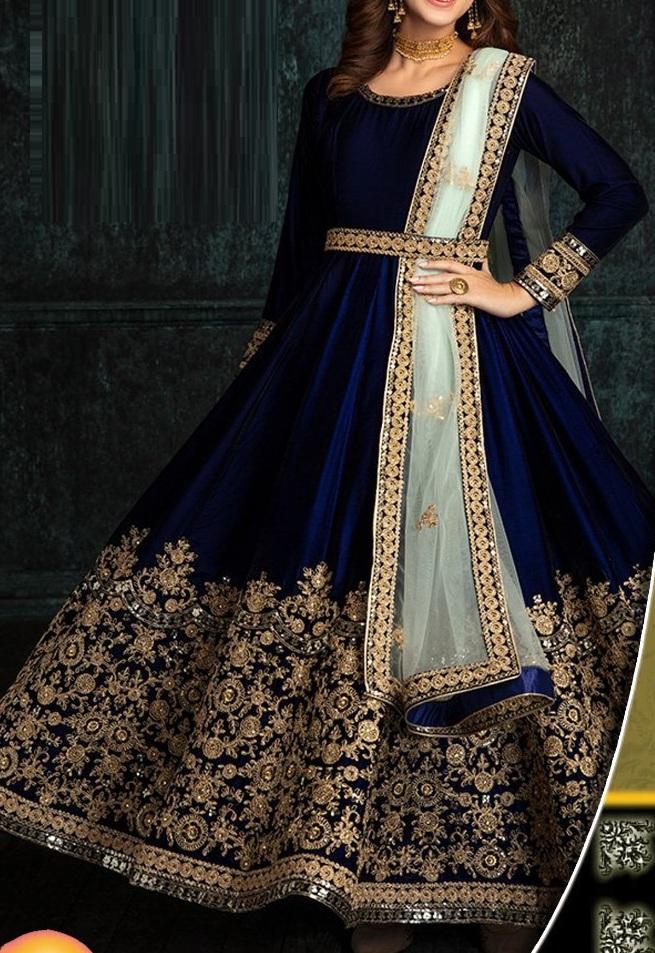 Lengha chohli is all about elegance. If your close friend or family is getting married, then you need to have this in your wardrobe!
Velvet & Chiffon Embroidered Lengha
If you're looking for more wedding inspiration or interested in fashion, you can check out the following blogs on Daraz Life