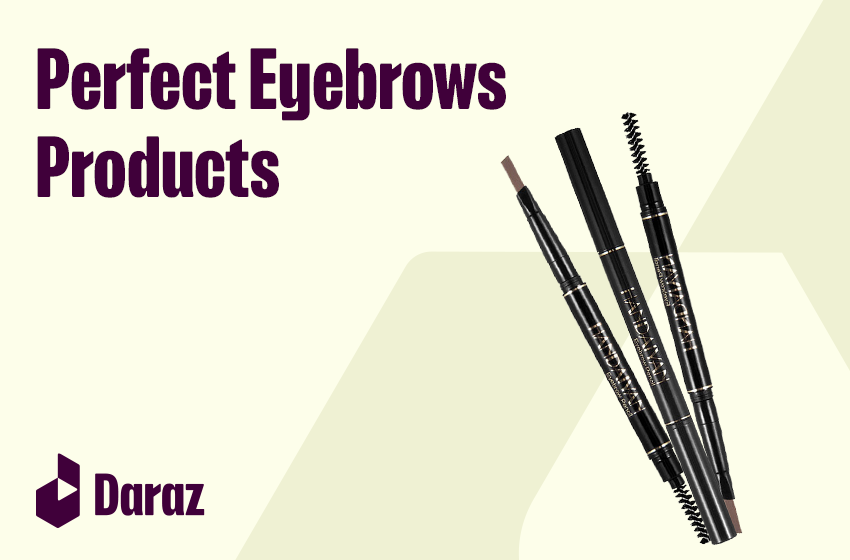 Eyebrow products
There's no denying that having well-groomed eyebrows can make a big difference in your overall appearance. Not only do they help frame your face, but they can also help draw attention away from other areas. Eyebrows that are neatly groomed help us to achieve the perfect face frame while giving your eyes all the attention they deserve. If you are looking to achieve more defined and ideal eyebrows, it may be necessary to give them a little extra shape. Just a few seconds can change your appearance from friendly to fierce by altering the arch of your brow. Eye makeup adds the finishing touch to already beautiful brows.
The difference between powders, gels, & brow mascara
We carry a variety of eyebrow templates as part of our amazing eyebrow accessories collection. These are tried-and-true techniques to avoid overplucking and ruining your brow shape. Sticking to one of these templates is a breeze.
There are four distinct designs, so you may pick the one that best complements your features. Which eyebrow form is best for your face, and how can you determine it? In that case, a good rule of thumb is to choose an accessory whose shape is diametrically opposed to your face. Make your eyebrows longer and straighter, for instance, if you want to shorten the appearance of your face. A high arch can help balance out a round face by emphasizing its contours.
Disclaimer
Do not add to the squareness of your face by drawing on boxy eyebrows. Maintain a modest arch and rounded corners to soften your features. If your face is triangular, try keeping the arches low and making the eyebrows curved. The best brow shape for a heart-shaped face is a lovely, circular arch and a straight brow.
Types of Eyebrow Products
Unfortunately, getting your natural eyebrows to look as defined as you want them can be a bit of a challenge. That's where eyebrow products come in. From powders and gels to brow mascaras and brow fixers, there are plenty of options available to help you achieve the perfect look.
Of course, with so many products on the market, it can be tough to know which one is right for you. That's why we've put together this quick guide on how to style your eyebrows using various eyebrow products.
Powders: They create a natural look
Powder eyebrow products create natural-looking, easy-to-apply brows that can be blended to perfection. They help fill in sparse areas for a fuller look. Utilizing this often helps a lot because it has a smoother touch on the brows. It may be used to create the ombré powder eyebrow appearance, which entails graduating the color of your brows from the front to the back. They don't cling to the brow and face as long as the other formulae, which is their main drawback.
Gels- develops volume
If you're looking for a more defined look, then brow gels are the way to go. They can provide a fuller, more polished look than powders and are perfect for those with sparse eyebrows. The eyebrow hair can be neatly styled to change the appearance. Brow gels are a fantastic product to use if you have unruly brows that need to be trimmed.
Brow mascara gives a dramatic effect
Her perfect eyebrows are just within reach with the help of brow mascara. Not only will it add luscious volume and definition but also fill in any sparse areas for a fuller, healthier look. Plus, it comes in a wide range of colors to suit any eyebrow color.
Brow Fixer: keeps brows in place
If you're looking for a way to keep your brows in place, you can use a brow fixer. It's similar to hair spray, but it's specifically designed for eyebrows. This product makes it easy to shape, fill in, and define your eyebrows the way you want them.
Brow gel vs. brow mascara vs. brow fixer vs. brow powder: Which is better, and what should you choose?
When choosing what kind of brow product to use, there are a few considerations. The first is your ideal result or goal. Do you want arches that are defined or full, bushy brows? Your own preferences and the characteristics of your brows will determine the kind of product you use. What kind of brow product you use may also depend on your skin and hair types. A chalky pencil or powder might work better for people with greasy skin. While fine brow hair would benefit from a thick or dense gel to thicken it out, thicker hair would benefit from a sheer colored gel. Above all, it's critical that you pick the proper brow color.
Don't forget to buy this from Daraz!