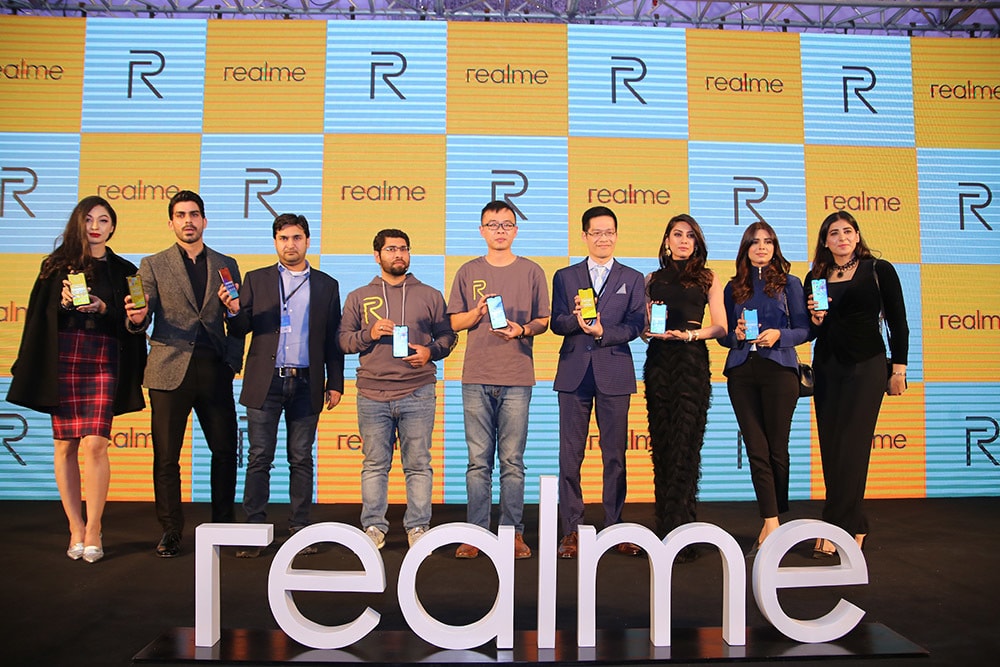 Realme Fuses 'Power and Style' to Launch Latest Devices Across Pakistan
Originally published in Dawn on January 8th 2019
Realme, an emerging smartphone brand that specialises in providing high quality smartphones, recently unveiled its line-up of devices for the Pakistani market: the Realme 2 Pro and Realme C1.
Designed with today's youth in mind, Realme's tagline, 'Proud to Be Young', is focused on revolutionizing the smartphone for the younger generation, combining great performance with contemporary style.
Realme is fully dedicated to addressing the needs of the youth. The brand has already been breaking records since its launch earlier this year in India, Indonesia, Malaysia, Vietnam, Thailand and Philippines.
Here's a look at both devices:
Power meets style
To showcase Realme's philosophy 'Power meets Style', Saud Ur Rehman, Product Manager of Realme Pakistan, introduced Realme 2 Pro and Realme C1 at its launch event together with Kedar Kondap, Vice President, Product Management of Qualcomm.
With Qualcomm committed to create paths to a smarter and more connected world, Qualcomm's partnership with Realme is unsurprising.
"We see the increasing power of the younger generation thus it only made sense to work with Realme. The brand, while young, has some deep insights about what the youth require from devices like a smartphone. We are indeed proud to be collaborating with such a foresighted brand to provide the best, affordable products for the target market," Saud said.
Commenting on Realme's great performance and style combo, Marketing Head of Realme Pakistan, He Shunzhi, said, "By embodying the spirit of 'Proud to Be Young', Realme provides an optimum combination of bold, innovative designs and a balanced integration between software and hardware. Realme represents the concept of 'Power Meets Style', or the amalgamation of fast performance and trendy designs, with remarkable prices,".
Sharp pull on both online and offline
Raising the ante at the launch, Realme also announced its collaboration with one of the leading e-commerce platforms Daraz in Pakistan.
Realme's 'Flagship for Youth', the Realme 2 Pro, will be sold exclusively on Daraz platforms.
Faisal Malik, Commercial Director of Daraz, said, "Realme is another big name which has and is breaking through the walls in other parts of Asia. Soon it will be launched on Daraz Pakistan platform exclusively on competitive prices. And it hopes to break all past records".
Price and availability
Realme 2 Pro (8GB RAM + 128GB ROM) retails at Rs. 46,999, whereas Realme C1 (2GB RAM + 16GB ROM) is priced at Rs.18,999.
As the 'Entry-level King', the Realme C1 will be sold exclusivelywithin the time period from 9th Jan to 31st Jan on Daraz, the first sale of Realme C1 will begin from 8pm on 9th Jan with the special offer Rs.17,999.
The first sale of Realme 2 Pro will begin from 8pm on 10th Jan with the special offer Rs 43,999.
In order to improve users' experience, Pakistan will have the chance to have an exclusive look at the devices before purchase. Realme C1 will be available in more than 600 authorized stores across Pakistan from 31st Jan 2019. This is in line with Realme's aim to introduce smartphones that the youth needs to help provide ease in their daily lives.
Special offers
To further cater to the lifestyles of the Pakistani youth, a collaboration between Zong and Realme was announced at the event.
Da Fu, Regional Director of Zong Pakistan said "The deal we offer to consumers who purchase Realme will get 12GB data from Zong. This will allow individuals to get their hands on these fantastic smartphones with convenience, ease and speed in both devices and fast online surfing."