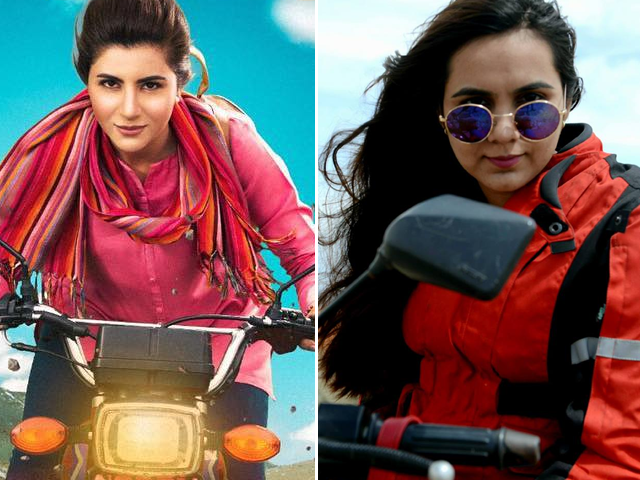 Review: Motorcycle Girl is one girl's odyssey. The destination? Herself.
Motorcycle Girl is, only superficially speaking, a biopic about a biker-girl, who defies the odds as she ventures on a motorcycle to Khunjerab Pass from Lahore. That's one story the film tells on a literal level. And tells well, giving us a front-seat look at Northern Pakistan's gorgeous vistas along the way. When Motorcycle Girl is on its wheels, it is at its most panoramic. It doesn't reinvent the wheel- this is a fairly paint-by-numbers film- but it's not dry paint. Its cliches feel earned and in earnest. Travel is fashioned as homecoming in Motorcycle Girl. And this just might be the film's most resonant theme.
Motorcycles aside, Sohaee Abro's feminist 'girl comes into her own' tale concerns itself with the inward journey we disembark on when faced with tough odds and prohibitive circumstances. And those are journeys not usually of the postcard variety. These are journeys frequented by judgmental frowns and an omnipresent male gaze. The scenery ain't always pretty- and Motorcycle Girl does well to acknowledge this. The cultural terrain plays as much a role here as the geographical. When misogynist forces rear their head, they do so in sharp relief to the majestic mountains.
The film is sensitive to the male-dominated nature of public spaces in Pakistan, and the ways women have to circumnavigate these spaces.
The weak spots:
Perhaps the film's one drawback is how its social messaging verges on the obvious. Like the screenwriters sat with a checklist and ticked off one issue after the next.
All the male characters are under-written caricatures, with little humanity or nuance to recommend them. Perhaps this was a deliberate attempt on part of the filmmakers to shore up the film's progressive stance against patriarchal norms. But the ultimate result is a dumbing down of the drama.
We also don't see our eponymous protagonist struggle during her initial rides. We don't get to witness the maturation of her riding abilities. Seeing her fail and falter would have made the taste of her success all the sweeter. A musical montage doesn't turn you into an overnight motorcycle traveler audacious enough to undertake a solo journey to the high altitudes of Khunjeraab. These practical aspects would have served Zenith's narrative well and lent them a material gravity that is missing in places.
Conclusion: 
For much of its runtime, however, Motorcycle Girl's heart is in the right place. Anchored by Abro's warm, effusive on-screen presence, and a noteworthy supporting turn by her on-screen BFF, this is a winning film that makes me want to pack my bags and tour our breathtaking Northern Areas.
One part journey of self-discovery, one part biopic, and one part travelogue, Motorcycle Girl makes up for its thematic 'ticking-all-the-boxes' excesses by staying true to the road, and true enough to the real-life story of Zenith Irfan. It's a battle cry for freedom of movement, and it couldn't have come at a better time.
We'll leave you with Urr Chalay, Ali Noor's affecting ode to the open road. Because sometimes, you have to leave home, to find it.  As for your own motorcycle journey? It begins here.