Say Hello to a Better Student Life with Daraz Student Program!
Tired of budgeting for university expenses? Struggling to find the time to go out and shop for the things you need? We have a solution!
Daraz Student Program is here to take care of all your college/university related woes. Be it the ease of stocking up on late night snacks or finding great deals to update your tech, wardrobe, or dorm essentials – we've got it all. Read on to discover what this subscription plan to offer!
What is Daraz Student Program Exactly?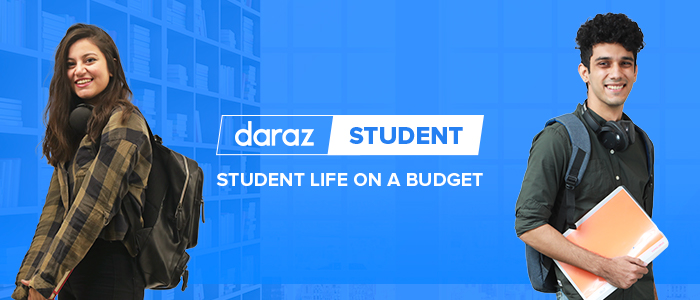 Daraz Student Program is like having a mentor help you through the crazy, overwhelming journey of student life. It's a completely free subscription based program curated specially for college and university students in Pakistan.
You get to enjoy special discounted offers within your budget, get tips and tricks on how to ace student life through our blog, and enjoy the chance the win giveaways, avail exclusive bundle discounts and vouchers for your everyday college/uni needs!
Buy Why Should I Become a Daraz Student?
You don't have to be a Daraz Student to enjoy the plethora of wonderful deals and discounts Daraz has. But when you become a Daraz Student, all of the deals and discounts you receive will be curated specifically for things that interest you as a student and are of use for you in your journey.
Additional benefits include:
A signup voucher of Rs.500 once your account is verified
A flat 10% discount on over 5 million products on Daraz.
Free shipping on all your orders
Faster shipping with our express delivery
Special discounted bundles just for you!
Enjoy giveaways? As a Daraz Student, you also get the opportunity to win giveaways from popular brands in Pakistan every month!
Sounds Good! How Do I Sign Up?
Singing up for Daraz Student is simple and free of cost! Just fill out the subscription form with your details and you're done! If you're not an existing Daraz customer, you will also have to create a Daraz account. Once you're done, Daraz will verify your application and notify you when your application has been processed and you can begin availing all the exclusive treats that await you.
Please note that this is a student subscription plan so it will expire once you graduate university. However, you can always keep an eye out on other deals and discounts that Daraz offers all year round.