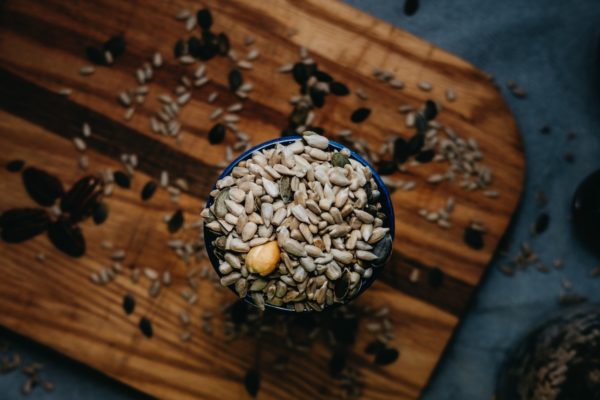 No matter how much you plan on your diet to be the best when it comes to nutrition you may feel that you need to do a lot more than just add veggies to the menu. Nuts and seeds are good options to go for. However, a lot of us are not a fan of dry fruit and hence seeds are the only option. Seeds may not be as sweet as dry fruits but these certainly are packed with nutrients. As a blessing there are multiple options to incorporate these in your meals. Let's take a look at a number of ways to get them seeds in our meals.
SALADS
Salads are a quick way to go when it comes to healthy lunching. Best way is to just sprinkle your favorite seeds on top to get all the goodness you need. Best seeds to add on salads include Pumpkin, Sunflower, Flax and Sesame seeds.
SMOOTHIES
Smoothies not only keep you filled with the help of enormous amount of fiber but also provide a great way to incorporate nutrients in you body. Adding seeds will make these super nutritious as a bonus. You can choose from multiple seeds of your choice be it ground or the whole seed version.
WATER
It is not very likely that you add seeds in your water except for chia seeds. You can add these in water and have it all day. A tablespoon or two will go long way since the size of the seed increases when in contact with water. You can also squeeze lemon in your water or other sweet flavors along for taste.
                                     CEREALS
When it comes to breakfast porridge is a great option to go for. It's the most natural form of cereal. You can use seeds as an alternate to dry fruits to top your porridge with fruits. Seeds which are creamy and have a less nutty flavor come out to be the best. If you have a better taste preference go for it.
BAKING ITEMS
Chia and Flax seeds are best when used in baked products. Bread is a good option to add seeds. However, there are multiple baking items you can add seeds to, if you love baking you can be as creative as you like.
 TAHINI
We all know the key ingredient to delicious Tahini is sesame seed. Luckily there are multiple ways you can consume Tahini. You can use it as a dip for your veggies, use it as a spread on your toast, or even as a sauce. It will not only enhance the flavor of your food but also help serve as a nutrition packed meal.
Seeds are a great option to incorporate in your food. These are a great source of Fiber, Anti-oxidants, Proteins, Omega-3 fats, Omega-6 fats, Thiamine and many more. Just the thought of the goodness of these can make anyone give these delicious fun seeds a try.