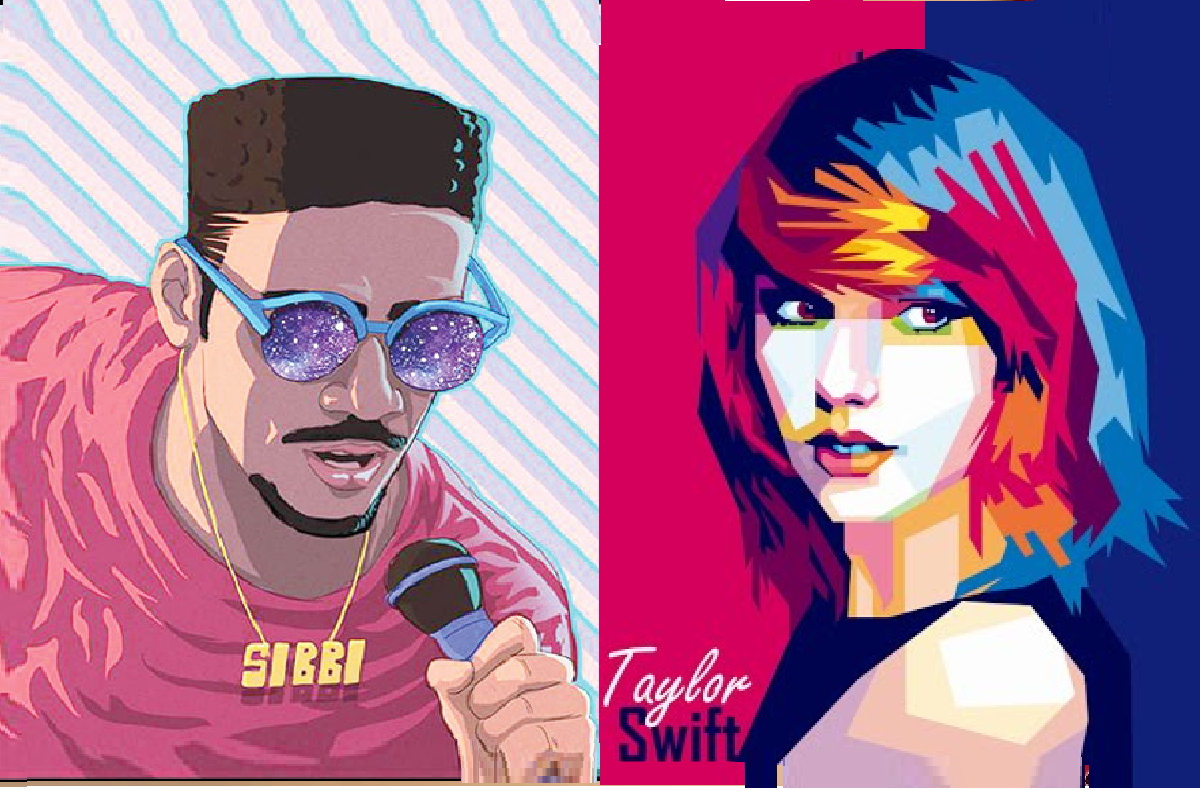 Tuned In, Turned Up: 2017's 17 most empowering songs
The editorial team at Daraz Life did a rundown of each other's playlists (trying hard not to judge each other's life-choices) and arrived at this list of the year's most affecting songs in empowerment and self-realization.
To feel empowered is to feel confident and freed of restrictions- both the societal kinds and the personal ones we place upon ourselves. These aren't mere 'feel good' songs; they're songs of promise and purpose. We're happy to share this list with you as we close the book on 2017, and turn the page to new chapters and challenges in 2018.
Which ones did we miss out? Sound off in the comments below.
                                                                                                        SomeWhatSuper ft. Abid Brohi, The Sibbi Song

                                                                                                         Kudday mila da se? (When will we meet again?)
  Abid Brohi was an errand boy. Or should we say: he was always a star but it's only with this debut breakthrough release that the rest of us got to learn about him. And we couldn't be more in awe of the natural charisma and talent on display here. He's got swag; he's got soul and he spits his verses with command and flow beyond his years. This is the face and sound of a talent who is 100% self-made.               
                                                                                                              Taylor Swift, Call It What You Want,

                                                                                                …not because he owns me, but 'cause he really knows me
Accented by moody synths and wispy backing voices, Call It What You Want finds singer-songwriter and global pop phenom Taylor Swift in familiar yet fresh confessional territory. It's her eye for narrative detail that brings intimacy and delicacy to the emotions here. The title itself reflects the assured confidence of a grown woman who is refusing the labels foisted upon her (and her relationships). The resistance against 'labels' is au courant in pop culture, but leave it to Swift to mine a personal story out of it. Sonically, this is one of the year's finest 'less-is-more' tracks. Why is it empowering? Well, it takes moral courage to reach a place where you can navigate a relationship on your terms, and no one else's. People will call it what they will. That does not diminish the joy and comfort of the relationship Swift sings about here.
Cardi B, BodakYellow

I don't dance now, I make money move 
Queens native Cardi B combines rapid-fire braggadocio with auto-biography in this tough-as-nails announcement track that made chart history this year. She's fierce, she can be savage, and she isn't afraid to show it. Don't let the adversarial tone put you off: that's a hip hop trope more than it is an endorsement of arrogance. It's a genre-staple. This is a woman who is coming into her own and is staking out her own territory in the male-skewed world of hip hop . A rising star with her eye on the prize, she ain't got time to chill.
Sahir Ali Bagga & Aima Baig, Baazi 

We have to court this danger, even if it means putting our life at stake
This updated take on the Siraiki classic, produced by Strings, is empowering insofar as its folkloric Sufi poetry urges the listener on to take their chances- on life, love and loss. If you don't risk it, how will you ever win at it? We're proud to note that Pakistan produces some of the finest Sufic music on the planet, and this number is yet another jewel in our studded Sufi crown. World: this is how it's done.
       Post Malone, Congratulations 

People hatin', say we changed and look we made it. Yeah, we made it  
This was 2017's ultimate 'look at me now!' clap-back. Ever been met with doubters and naysayers who diminish your faith in a plan or project? Congratulaions is well-aware of the hypocrisy of it all: the very folks who once shaded Post Malone are now singing his praises.
Julia Michaels, Issues

               Bask in the glory, of all our problems, 'cause we got the kind of love it takes to solve 'em 
Issues is a soulful pop song that manages to tinge its life-affirming messages with gentle but honest introspection. It's a bright, melodious peace- soothing and lilting. At its heart is a universal concern: we've all got stuff going on. We've all got issues. What can make all the difference is empathy and reciprocity: the honesty with which we communicate to each other. The song's quid pro quo chorus has it down: ''Cause I got issues/ But you got 'em too/ So give 'em all to me/ And I'll give mine to you. We feel better already.
 Macklemore ft. Skylar Grey, Glorious 

 I was born for this…it's who I am, how could I forget?
With inspirational lyrics rapped and sung to an inspired gospel-tinged chorus, Glorious has all the trappings of an anthem. The rap and sung portions of the song complement each other perfectly. The accompanying music video features Macklemore grandmother, beginning with the titlecard 'for my grandma helen's 100th birthday'. Enough said. The feels are strong with this one.  'Been chasing dreams, but I never slept.' Insert mic drop here.
Abdullah Qureshi, Wohi Khuda Hai

Do not search for Him in the idols, He is in the changing seasons
Set to a montage of urban scenes, 'Wohi Khuda Hai' is one of the most uplifting covers of Ustad Nusrat Fateh Ali Khan's iconic humd. Abdullah has breathed new, young life into the timeless praise. It's hard to not get goosebumps when listening to this young trailblazer sing God's praises with penetrating dard and humanity. Pass the tissues all around.
    The Chainsmokers & Coldplay,Something Just Like This 

    Just something I can turn to, somebody I can kiss
This was one ubiquitous. It's a powerful song about extraordinary ordinariness. If you were searching for a sonic translation of 'not all heroes wear capes', this would be it. It's about the little things. Freeing oneself from the burdens of 'fairytale bliss' and the 'legends and myths' of 'superhuman gifts' can be empowering. Sure it's swell to have superheroes of both fact and fiction to aspire to. But sometimes it's not about looking up: It's about looking in. Or something just like that.
    P!nk, What About Us?   

   It's the start of us, waking up, come on
Another stellar comeback from the powerhouse vocalist, performer and occasional trampoline artist that is Pink. The political messaging is hard to miss here. The collective pronoun 'us' signals an empowerment of a more collective, communal nature. It is a question posited as rhetorical protest- 'what about us?' That is- the marginalized, disenfranchised, forgotten, unaccounted for. Pink sings with the assured prowess of a woman who's not counting on an answer. She and her cohort of fellow 'woke' folks know that the onus is on them to engage in consciousness-building.
   Kesha, Prayer  

   And we both know all the truths I could tell
This isn't just one of the year's most empowering songs, it's one of the year's best: Period. We couldn't have asked for a more rousing comeback from Kesha. It's a song that reverberates especially loudly in the year of #metoo– with scores of women voicing their experiences of sexual harassment and abuse at the hands of innumerable predators. Keep on singing in your truth Kesha. We're all ears. Aside: if we had to nominate one singer-songwriter to TIME's 'Silence Breakers' Person of the Year cover, it'd be her.
  Imagine Dragons, Believer

  Pain, you break me down and build me up
Believer accompanied many a late night at Daraz HeadOffice. Singer-songwriter Dan Reynolds intends the song as a tribute to overcoming pain-ridden struggles. Channeling pain (personal, political, environmental as it may be) into passion and promise is the song's driving idea. In his own words, Believer is about "finding a place of perspective where I could be appreciative of the pain in my life and make it my greatest strength." All the times 2017 gave us cause for concern, we found ourselves returning to this place of perspective. No faith without trial, right? We recommend working out to this. Break down that muscle, build it up. And repeat. You know the drill. 😉
Dua Lipa, New Rules

'I got new rules I count 'em, I gotta tell them to myself' 
2017 was Miss Lipa's breakthrough year and New Rules, one of the year's biggest bangers. This is empowerment served with a strong dose of wisdom- especially pertinent to ladies. With the new year just around the corner, we have good reason to revisit this pop-dance gem and blast it out loud. Also figure out how to adapt the song's mantra into our lives. New (food/gym/life/) rules anyone?