This Simple Recipe Will Help You Make the Best Coffee Brownies with Cookie Dough Icing!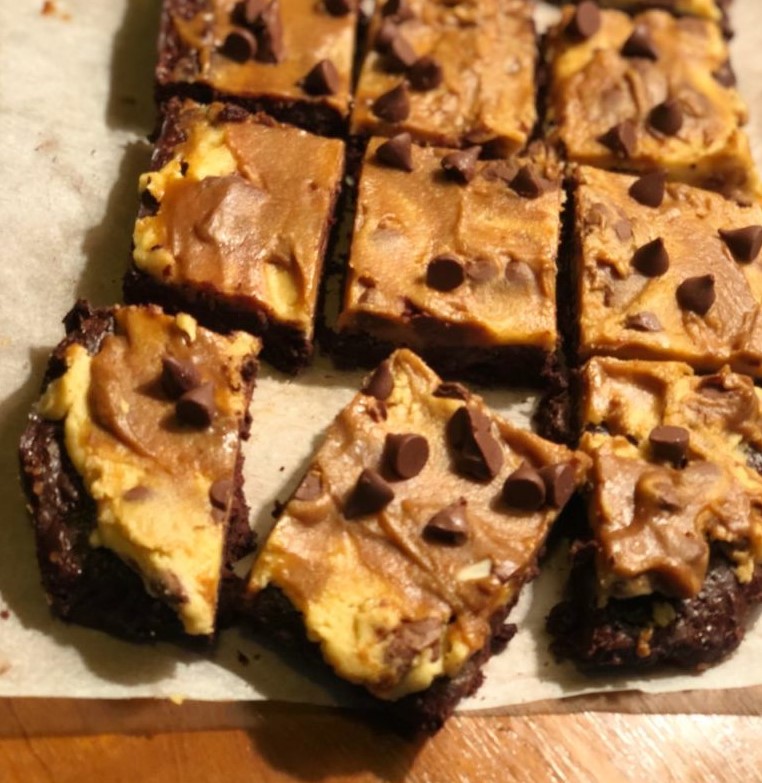 Print Recipe
Coffee Brownies with Cookie Dough Icing
Ingredients
¼

cup

softened unsalted butter

1

tsp

vanilla extract or essence

2

tbsp

light brown sugar

½

cup

flour

1

pinch

salt

¼

cup

semi sweet or dark chocolate chips

½

tsp

coffee

½

tbsp

cocoa powder

1

tbsp

boiled water
Instructions
For the Brownies
Preheat oven to 160 degrees Celsius. Line a square baking pan with butter paper. Leave a little bit over the corners to remove with more ease later on.

In a pot, melt your butter over low flame. Once it's melted, add your sugar and gently stir until the mixture is completely melted and looks shiny. There should be no large chunks of sugar left.

Remove your pot from the heat and add your coffee. Once it's dissolved, add your cocoa powder and whisk continuously until it's completely incorporated.

Allow mixture to cool a little for 4-5 minutes and then add your vanilla extract and mix to combine.

One by one, add in your eggs and whisk after each addition until the batter is smooth.

Finally, add your flour and chocolate chips and STIR (don't whisk) until it all comes together. Do not over mix.

Pour the brownie batter into your prepared pan and bake for 25-30 minutes or until a toothpick inserted into the center comes out slightly dirty. Allow it to cool before you frost.
For the Cookie Dough Icing
Combine butter, vanilla and sugars in a bowl and beat until light and fluffy. Add the flour and salt; beat until a cookie dough forms. Fold in half of the chocolate chips; mix to combine. Divide batter in half. Set one cookie dough aside. To the other, add the coffee and cocoa powder mixture and stir through to combine. (Add 1-2 tablespoons of milk or just enough to make it the same consistency as the other cookie dough if needed).

When brownies have cooled completely; scoop the plain cookie dough over the top and spread evenly. Scoop out the mocha flavored cookie dough over the top of the plain layer, and swirl with the back of a metal knife. Top with remaining chocolate chips.
Follow these steps and your mouth-watering brownies will be ready to serve in no time!