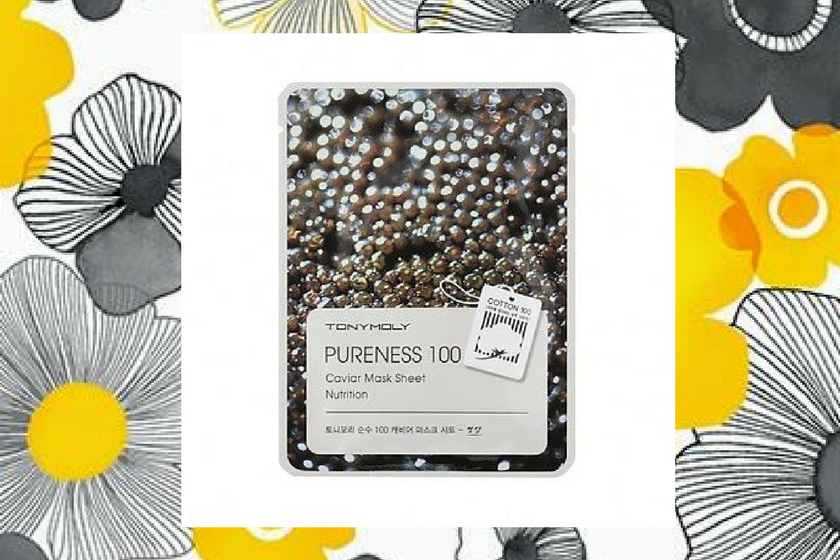 Tony Moly Pureness Caviar Mask- An Instant Hit Of Hydration!
Move over regular masks, there is a new mask which is about to take over! The Caviar tissue mask is an exciting innovation which hails from South Korea and is the perfect solution to replenish dull and dry looking skin in no time! If you're a working girl who's too busy for long and expensive skin treatments and are vary of the plethora of skincare products out there, this mask is just for you! Tissue masks are enriched with active ingredients which enhance skin's moisture levels and address signs of dullness. Besides hydrating, tissue masks are also loaded with other ingredients to nourish the skin. Plus, they are super easy to use! This means they're lighter and won't slide off your face, even when sitting or standing upright. One simple application of this caviar mask provides a glowing complexion and instantly healthy looking clear skin. If you're someone who is looking for an instant glow- this is your go-to mask!
Product Review
Product: Pureness Mask Sheet, Nutrition
Price: PKR 335
Packaging: The packet contains a sheet mask which is made up of thick cotton cloth. Since, it is made up of real cotton seeds, the mask has some black particles in it.
Company Claim: Our Pureness 100 sheet mask collection features non-bleached 100% cotton face sheets that help soothe skin instantly. The soft cotton face sheets provide moisture and nutrition to damaged skin while soothing stressed skin and giving a rich glow to skin.
Formula: Water, Glycerin, Butylene Glycol, Sodium Hyaluronate, Peg-32, Peg/ppg-17/6 Copolymer, Peg-60 Hydrogenated Castor Oil, Panthenol, Allantoin, Hydroxyethyl Acrylate/sodium Acryloyldimethyl Taurate Copolymer, Betaine, Acrylates/c10-30 Alkyl Acrylate Crosspolymer, Arginine, Xanthan Gum, Disodium Edta, Caviar Extract, Propylene Glycol, Glacier Water, Dipotassium Glycyrrhizate, Phenoxyethanol, Ethylhexylglycerin, Fragance.
Texture/consistency: The mask is soft and feels gentle on the skin but it is also quite thick and feels slightly heavy. The cloth is perfectly infused with the serum.
Perfect for: All skin types. Works perfectly well on sensitive skin.
Usage: Start off with washing your face and pat dry before application. Then, smooth the mask on the skin removing any bubbles. Preferably keep the mask on for 30 minutes to let it dry, even though it stays slightly damp even after that. Massage extra serum into the skin until fully absorbed. No need to rinse off. The serum gets absorbed into the skin nicely without taking too much effort.
Result: I kept this mask on for around 25-30 minutes and as soon as I removed it, I was extremely happy with the results. It made my skin look health and nourished. My skin looked instantly brightened up and added a healthy glow to my skin. It gives a calming sensation to the skin and is perfect for people with sensitive skin. I could even see a visible improvement in my skin texture. Overall, the Tony Moly Caviar Mask was effective yet inexpensive and is going to be a definite addition to my weekly skincare routine!