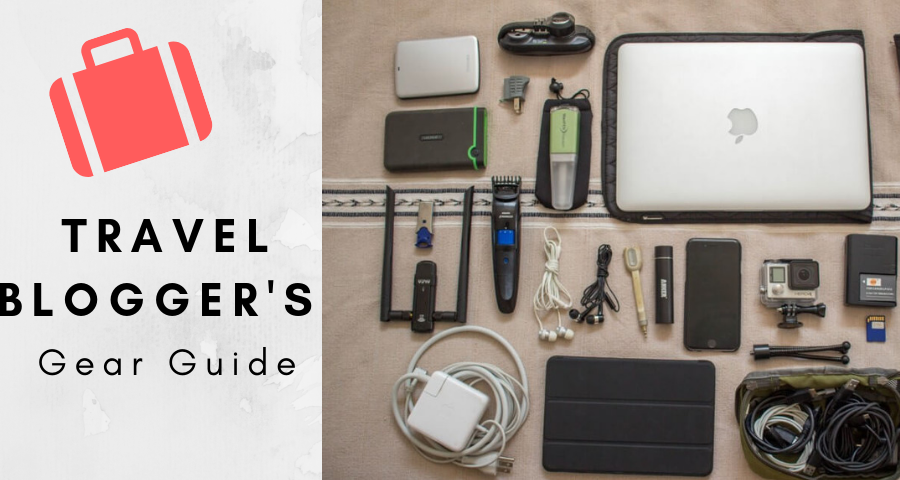 Travel Blogger's Guide to the Best Gear
The literal reaction to every backpacking trip is the sense of adrenaline and the need for adventure that invokes the inner traveler in us. And if you're an avid traveler, you can transform those trips into blogs and turn it into one of the best jobs ever. You might ask, 'hey, how do I become a travel blogger just like that?' Well, it's easy, all you need is will, determination and some gear that I will happily recommend (for all you first timers). This will be your gear guide to a happy future.
Laptops
You might already have a laptop, but if it is as bulky as mine, you'd wanna avoid taking it around when travelling. A laptop will let you keep generating and editing content for your blog and keep you updated. With portability, battery life and price being possible considerations, the Samsung Chromebook 3 is an ideal choice. With a whopping battery life of 9 hours plus, Samsung offers small size, durability and resilience. The 11.4 inch laptop can easily be tucked in a bag or underneath your arm. You will find all sorts of ports, from USB 3.0, 2.0, audio jack, SD card jack and HDMI output. The Chrome OS might be something to look forward to as well. In short, it's a complete, low budget laptop that you can carry around during your travels.
GoPro
This device will become your best friend when it comes to vlogging. And though the market may seem flooded with GoPros and their copies, the GoPro Hero 6 Black is the Go-To-GoPro. You can mount it anywhere, and is also drone-compatible. Reasons to consider the Hero 6 Black is because of superb image stabilization, better image stability, and higher frame rates. It can even withstand water depths of up to 10 meters Though it's a little pricey, the battery and the video quality both justify its purchase.
Power Banks
Power Banks are a must-have for any sorts of traveling. With the amount of electronics, you will be carrying, it's no surprise that you would want to juice them up eventually. And what better to do so than with the superior 20,100 mAh PowerCore II power bank by Anker. It's like the Mjolnir of power banks in my opinion. The PowerCore II has three output ports, all equipped with exclusive PowerIQ technology, which delivers simultaneous, high-speed charging for any devices. Saving you time with every charge. With a charging time of 5 hours, you won't have to worry about your phones and other devices dying on you when you need them most.
Microphones
Ever vlog requires crisp and clear audio quality and what better way to achieve it than having a portable microphone with you. The Samson Go Mic is the best bet for travelers in this case. It's super portable and has a USB connection, making it perfect for podcasts, field recording or even recording voices and instruments. It's a great tool for anyone who wants to add an extra element to their recording sessions.
Drones
Drones are everything you would need to take mesmerizing aerial photos and videos. The end result is as good as the entire process of filming it. Drones are an expensive addition to the list, but they are surely worth every penny. Especially if you're choosing the Yuneec Typhoon Q500 4K. It is the top-tier drone available right now, capturing at 1080p and making slo-mo videos at 120fps. With lightweight batteries, it gives users an aerial time of a half hour. And as the name suggests, it takes pictures/videos in 4K resolution, and that's just the tip of the iceberg for this mechanical marvel.
Tripods
For me, a tripod is essential for taking steady shots while capturing landscapes and time-lapse videos. From phones to cameras, whatever device needs docking, there's a tripod available for it. And then there's the GorillaPod. Joby has designed these tripods to be effective with different devices and can be adjusted on different terrains to take pictures at impossible angles. Their flexible legs can be bent in different ways to acquire the stability needed.
TL;DR? This article covers the interesting hardware that have the potential to become an important addition in your backpack. This gear is perfect for experienced vloggers or enthusiasts who are just starting their venture. I have purposely not included phones and cameras as they're an accessory everyone carries. Just make sure all these are kept in a waterproof bag and you're good to go.